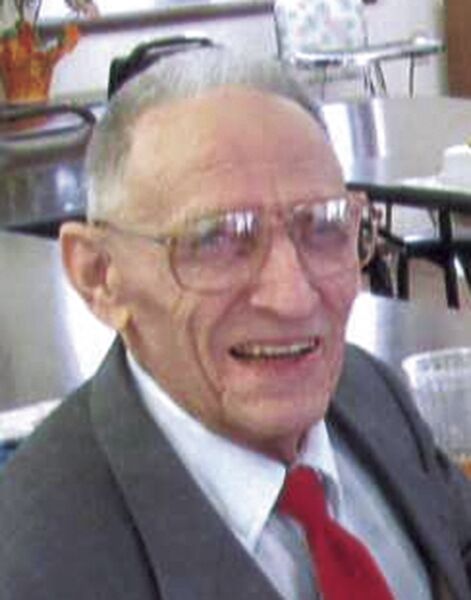 Sutton resident Thomas Nuss, 89, passed away peacefully Thursday, Oct. 1, 2020, at Legacy Square in Henderson.
Funeral services will be conducted at 2 p.m., Monday, Oct. 5, 2020, at Emmanuel Reformed Church in Sutton with Pastor Carl Gobelman officiating. Interment will follow at the Sutton Cemetery. Visitation will be Sunday, from 1 – 8 p.m., with the family present from 4 – 6 p.m., at Sutton Memorial Chapel in Sutton.
In lieu of flowers, memorial contributions may be directed to the family to be designated later.
Thomas (Tom) Nuss was born on Dec. 16, 1930, to Hilmar and Hilda (Griess) Nuss at his parent's home North of Sutton. He was the third child out of eleven. He received his education at a country school until the 8th grade when he quit school to help on the family farm. Tom was married to Leola Griess on April 26, 1951, at her parent's home north of Sutton.
Tom helped several farmers in his younger years, including Ted Schroetlin by shelling corn and Wayne Moore with his grain bins. He also helped at the Sutton Sale Barn. During the winter, he worked at Gordy Gowen's Gas Station while also working his own farm.
Tom and Leola moved to Sutton in 1986 and worked together at the Sutton Cemetery until 1993. He also worked at George Brother's Gas Station from 1972 until 2016. He helped his wife clean the Sutton Post Office from 2009 to 2012. Leola retired in 2012 due to her health and Tom would continue to clean the Post Office until 2018.
Tom was an incredibly quiet man but when he had something to say, you had better listen because he was only going to say it once and it was always worth listening to. He was very witty and when you got to know him, he was quite the jokester. He loved to collect John Deere Toy Equipment, time on the farm and enjoying the time he spent with his wife, children, grandchildren and great-grandchildren.
Tom and Leola celebrated 69 years of marriage and to this union, four children were born: Jane Nuss, of Aurora, Judith (Terry) Ross of Aurora, Simeon Nuss of Omaha and Larry T. (Sara) Nuss of Sutton. His greatest joy was his nine grandchildren, Justin (Jamie) Nuss of Gretna, Nishja Nuss of Omaha, Tabitha (Scott) Buchholz of Omaha, Ashley Nuss and friend Jeremy of Louisiana, Shalon (Brock) Roth of Milford, Joshua (Tiffany) Nuss of Scotia, Clancy (Jerod) Timmermans of Sutton, Bailey (Brooks) Wiebe of Lawrence, Kan. and Jarod (Emily) Nuss of Omaha. He had 14 great-grandchildren with one more due in October 2020. He really enjoyed when his grandchildren would call him "Grossfater (Großvater)", which is grandfather in German. He is also survived by his siblings, Naomi Griess, Don Nuss, Silas Nuss, Armin Nuss, Marie Hembree, Elizabeth Griess, Miriam Sinnen and Donna Mae Nuss.
He was preceded in death by his parents, Hilmar and Hilda Nuss; brother, Gideon Nuss; sister, Ruth Griess; brothers-in-law, Evon Griess, Melvin Griess, Norman Griess and sister-in-law, Leota Nuss.
Obituaries Newsletter
Sign up to get the most recent local obituaries delivered to your inbox.