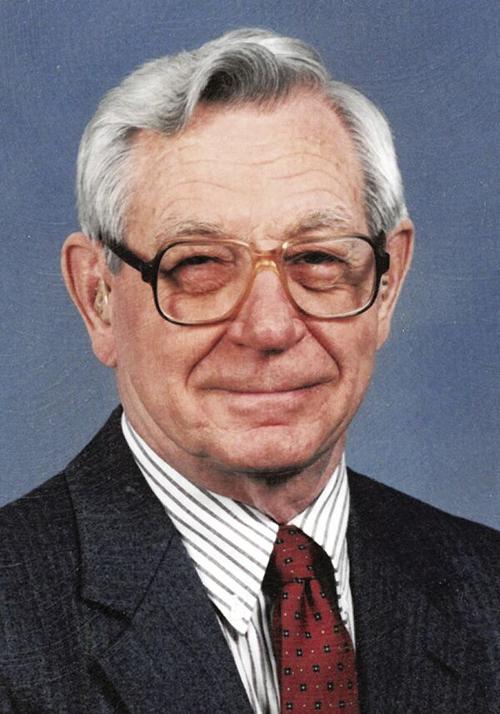 Donald Ralph Schark, age 94, formerly of York, died on Monday, Oct. 12, 2020 at Wilber Care Center, in Wilber. He was born in Utica to Henry Joseph and Gaily (Horner) Schark and grew up in the Utica and Beaver Crossing areas. Don attended Beaver Crossing High School, and then enlisted at age 17 in the US Navy during World War II. He honorably served on the battleship, USS New Mexico and was involved with the Philippine invasions of Leyte Gulf and Luzon as well as the invasion of Okinawa. He was aboard the New Mexico in Tokyo Bay, Japan on Sept. 2, 1945, when the Japanese signed surrender documents on the USS Missouri ending hostilities. Upon returning from the war in 1946, he worked for Chicago Northwestern Railroad before joining Windstream Communications, formerly known as The Lincoln Telephone and Telegraph Company, retiring in 1991 after 40 years of service.
On Nov. 8, 1950, Don married Maurine (Harter) Schark and they celebrated 64 years of marriage together. They enjoyed big band music and ballroom dancing around the area in their younger years and in later years spent time traveling across the country with the York Fun Club and to visit grandchildren. They also enjoyed attending grandchildren's' various sporting and school events.
Don lived in York for 53 years and was a member of St. Joseph Catholic Church. In later years, he relocated to Wilber along with his wife where he was a member of St. Wenceslaus Catholic Church.
He served as a volunteer fireman for the York Fire Department and was a member of the Elks and American Legion Clubs. Don never missed morning coffee with friends. He was a skilled handyman, and loved to tinker in his garage repairing broken items brought to him by his grandchildren, as well as working with wood.
Don was preceded in death by his wife, Maurine; parents, Henry and Gaily Schark; in-laws, Frank and Rose Harter; sisters, Margaret Schark, Edna Jemmett and Dorothy Hafer; brother, Benjamin; and son-in-law, Scott Zlab.
He is survived by five daughters and one son, Barb (Chris) Neville of White Hall, Md. and their two daughters, Allyson (Spencer) and Lindsay (Kunal) and son James (Desi); Mary (Dave) Frankforter of Yankton, S.D. and their sons Matt (Melissa), Tyler and Cody; Kathy (Dave) Mesaros of Bellbrook, Ohio and their son Adam (Kristen) and daughter Jennifer; Deb (Pete) Hohnstein of Cedar Falls, Iowa and their daughters, Lauren (Shane) and Tayler (Bruce) and son, Nathan; Donna (Russ) Kovar of Wilber and her sons, Tanner, Foster, Carter and step-sons, Nick and Brandon Kovar; and Doug Schark of Kansas City, Mo. He is also survived by five great-granddaughters, three great-grandsons and two great-grandchildren arriving soon. Additional survivors include four sister in-laws; one brother in-law and numerous nieces and nephews.
A private Mass of Christian Burial will be held. Burial will be at the Sacred Heart Catholic Cemetery in Beaver Crossing. Memorials may be made to the Wilber Care Center or Wilber Fire & Rescue. Condolences may be sent to the family or to P.O. Box 462, Wilber, NE 68465. Please visit www.kunclfh.com.
Obituaries Newsletter
Sign up to get the most recent local obituaries delivered to your inbox.