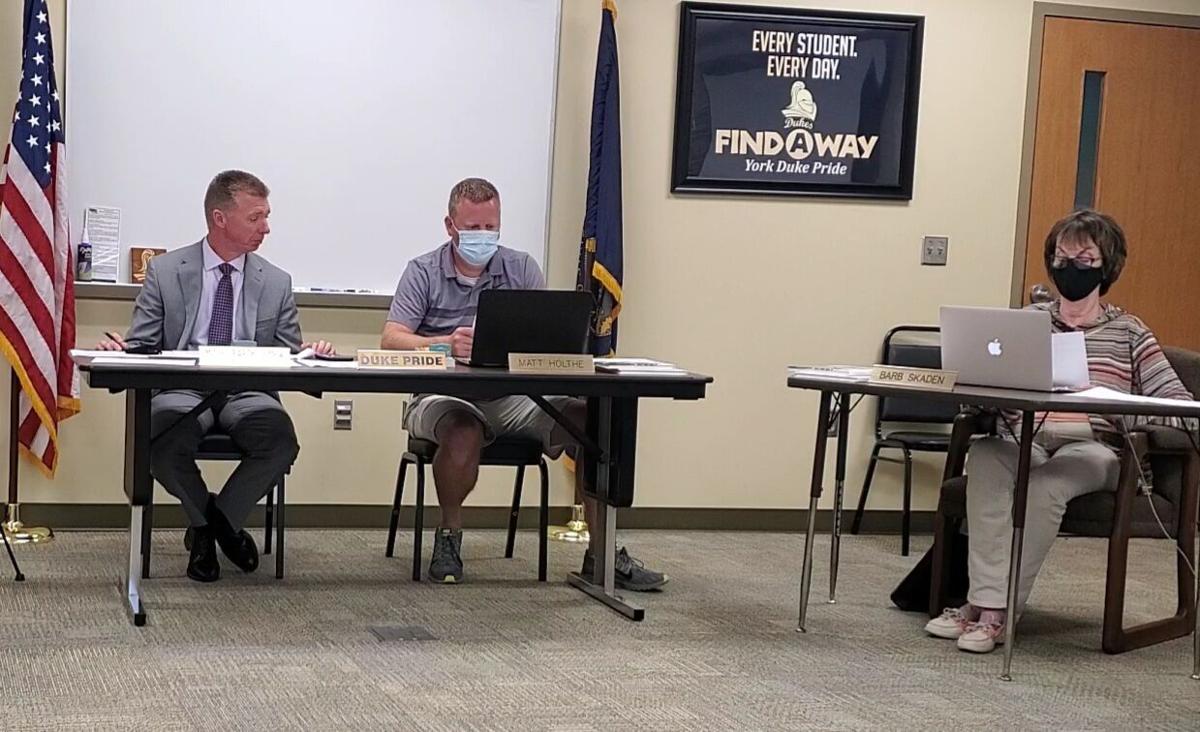 YORK—The York Public Schools Board of Education's regular session covered plenty of ground at its Monday, Sept. 14, 2021 meeting. The meeting followed the YPS Board of Education's 2020-2021 budget and tax request hearings.
There was good news from York High School Principal Jason Heitz, who told the board, "One hundred percent of our kids have a device on their hands." Heitz said in the age of coronavirus especially, having electronic resources is of utmost important to student success. "We're lucky we have that available," Heitz said. York Public Schools is the recipient of CARE Act funds, some of which were used for technology updates.
Heitz said mask requirements have not been a problem – even outside the classroom setting. "We've had a few home games, and it really hasn't been an issue," he said.
York Middle School Principal Kenny Loosvelt was unable to attend the meeting, but submitted an update for the board, saying MAP assessments have been completed. A much-loved YMS tradition might return in the near future, he said. "We're hoping we can get back to Friday assemblies really soon."
Kris Friesen, York Elementary School Principal, was present and stated coronavirus symptom-related absences were complicating things. Usually students falling under the exclusion policy, which is based on symptoms, have their doctor's notes or COVID-19 test results quickly and can come back to school within a few days. "It's just one of the things we're adjusting to and fumbling with," Friesen said. "Nothing is holding anything up. It's just a strange process."
Bartholomew pointed out a policy asking students wear school-provided masks during school hours to "eliminate the 'I have the fanciest mask' contest." He called the policy made by Friesen and YES Assistant Principal Brad Luce a "key decision," in terms of mask-wearing. The students can wear what they want to school, then transition into school-provided masks. The masks are washed daily by youth in the York Vocational Program, which gives vocational learning opportunities to young adults aged 18-21 with disabilities.
The YPS Transportation Department has been awarded a grant to go towards the purchase of a new school bus. The $42,000 Department of Education grant will go towards a new bus from Truck Center Company in York, who had the low bid. "I'm super-glad it's local," YPS board member Amie Kopcho said. The bid was $92,560 for the 58-passenger bus. The old bus will be retired and rendered un-drivable, following legal requirements.
Bartholomew and Heitz reported YHS seniors will have the opportunity to take a free ACT exam September 22, in place of the date cancelled because of the coronavirus pandemic. The September 22 standardized college entrance exam will be conducted at the Holthus Convention Center, in order to follow directed health measures.
Be the first to know
Get local news delivered to your inbox!