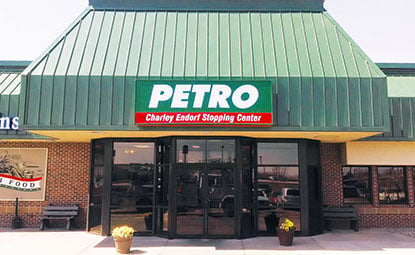 YORK — Truck driver Charley Endorf of Fairbury never imagined that one of his favorite truck stops would bear his name forever.
A company driver for Werner Enterprises, Endorf was caught off guard when his wife received a call in December informing them that he had been nominated for the TravelCenters of America (TA) and Petro Citizen Driver Award.
According to a press release from TA and Petro, "The Citizen Driver Award is designed to recognize professional drivers who evoke public respect for the truck driving profession through good citizenship, safety, community involvement, health and wellness, and leadership." Endorf's coworkers at Werner Enterprises believed he fit the bill, and so Della Sanders, associate vice president-Driver Relations at Werner, and Larry Donnelly, fleet manager dispatcher, submitted his name.
"This gal named Leslie called here and explained to my wife that I had been nominated and had been selected as a finalist," Endorf said. "She then asked me to begin gathering letters of character."
Endorf felt uneasy about asking friends for a character reference. "I told my wife there is no way. I can't go out and ask people to write nice letters about me," Endorf said.
So his wife, Kay, took matters into her own hands.
Kay reached out and began collecting letters from Charley's friends both locally and across the country. There was no shortage of letters speaking to Endorf's great character, with some even coming in from as far as New Hampshire.
On Jan. 15, Endorf was told the contest had been narrowed down to seven grand finalist winners, and he was one of them.
"We were all invited down to the mid-America truck show in late March and were honored at a dinner," Endorf said.
The honorees were then informed that a TA or Petro truck stop of their choosing would be renamed after them, and that stop would bear their name forever.
"We had to pick out our five favorite TA or Petro truck stops that we had liked over our careers," Endorf continued. "I picked York because it's close to home and they have a great truck stop there. I've covered the whole country and they have a wonderful facility."
Last Saturday, the York Petro was officially renamed the Charley Endorf York Stopping Center at a site renaming dedication ceremony held in Endorf's honor. Speaking at the ceremony was Greg Frary, director of fleet maintenance support for TravelCenters of America; Homer Ward, Fairbury mayor; and Guy Welton, VP of operations for Werner Enterprises.
They outlined Endorf's successful 43-year career as a professional driver which includes over 5,000,000 accident-free miles. Endorf has also been honored as Nebraska Motor Carrier Association's Driver of the Month in October of 1995, Werner's Driver of the Year in 1981, and was the Werner's Owner Operator of the Year Sage Driver Award winner in 1994.
Endorf said the unveiling of his name at the York Petro was "a total honor and humbling experience."
"It kind of throws you back to be honest," he said. "It really hasn't sunk in that my name is going to be on a truck stop forever."
While Endorf was able to thank his family, friends and company at the ceremony, he says that he wasn't able to express the immense amount of gratitude he feels towards the staff at the York Petro.
"The local folks who put in so much time to make that a wonderful truck stop for the traveler, whether it be a trucker or just an ordinary traveling citizen, these folks are just super Midwestern folks," Endorf said.
"I especially want to recognize Oscar, Laurie, Charles and Zach as the managers I met during our time leading up to the ceremony and I know there were others who had to contribute and I don't know their names, but I do know they all had a part in the work surrounding this event.   
"I also want to recognize two really outstanding waitresses -- Crystal and Christina. These two girls were very dedicated to serving us all, a bit over 40 folks by themselves and were kind and helpful in every way you would want your waitress to be. Thank you all. Petro is so fortunate to have such good workers and I know these are just a few of the total employee count, but be proud of these hard working folks and enjoy your stop at Petro as much as I do."