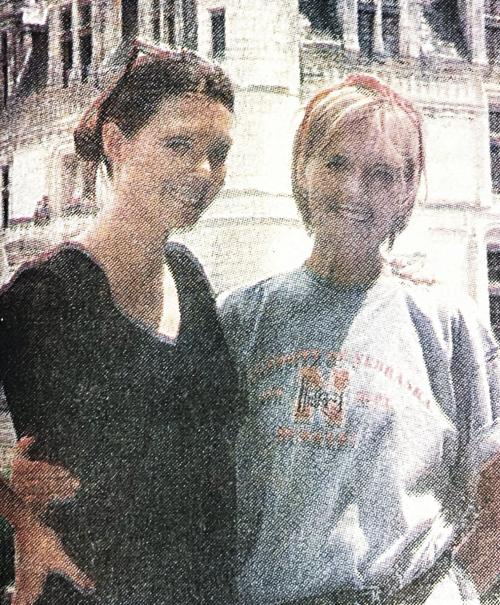 Editor's note: On Saturday, Sept. 15, 2001, the York News-Times published this story, which was a first-hand account written for us, by York High School graduate and York native Alexis Thomas. The daughter of Cheryl Thomas of York and the late Dr. Steven Thomas, she was a graduate of the University of Nebraska-Lincoln in the field of journalism. When she submitted this, back in 2001, she was working for an internet company in New York City and lived about one mile from the site of the World Trade Center. She was a witness to the terrorist attack on 9-11 – and agreed to write about the experience. These are her words, written near the footprint of the world's greatest act of terrorism, and told to her hometown of York, Nebraska. This is being printed exactly as it was published 20 years ago:
MANHATTAN — That morning.
As I sit down to write, the enormity of that morning is beginning to wash over me, and I am just now realizing that my life will forever be dissected by "before that morning" and "after that morning."
That morning began as any other. I jumped in the shower around 8:30 a.m., already realizing that I would be running late for work, which is about a 15-minute walk from my apartment in the heart of Greenwich Village on Thompson and Bleeker streets. I always joked to my friends and family back home in Nebraska that the rent was exorbitant, but I lived in the center of the universe — you can even look out my windows and see the twin towers of the World Trade Center, I would say. They were less than a mile away and my view was unhampered by any tall buildings.
As I stepped out of the shower that morning, I heard a loud noise that startled me out of my rush to get out the door and to the office. It sounded like a plane flying overhead. I immediately ran to the window and saw the silver underbelly of a low-flying aircraft and thought to myself, that is strange.
Although I knew that thousands of planes fly over the island of Manhattan on any given day, never in the four years of living there had I ever been able to hear one or see one so closely. This one was flying directly above the street that I live on, heading due south.
I walked away from the window. Five seconds later, I was once again shaken from my morning routine when I heard a catastrophic boom. I ran to the window again and looked downtown. As I saw smoke billowing from the right twin tower, I knew instinctively that the plane I had seen just seconds earlier had struck the building. I began screaming at my boyfriend that a plane had hit the twin towers, not even fully believing it myself as the words were flying out of my mouth.
Hurriedly we ran to the roof of my apartment building to see if it could possibly be true. As soon as we reached the roof, we had a perfect view of the World Trade Center, wounded by a gaping, burning hole.
In my disbelief, I thought surely that this was a horrible accident at the most. We sat and watched in silence. About 15 minutes passed and we decided to go down to my apartment to turn on the news to see if what I thought was true.
As we turned on the television, the local news was just beginning to pick up the story.
"There has been an explosion at the World Trade Center," the newscaster announced. I wanted to call in and tell them what I had seen. A couple of minutes later, they were reporting that it was, in fact, a low-flying plane that had hit the building. By the time we found another station carrying the story, they were reporting that there was a second explosion in Tower Two. Seconds later, all of the stations went out and each channel turned to snow.
For the second time that morning, we rushed to the roof. This view was even more frightening and a chill washed over me. Fire was exploding from the second tower as well now. Others in my apartment building, neighbors I had passed in the stairwell but had never spoken to before, were beginning to congregate on the roof. It was hard to comprehend what was happening. It was a bright, sun-drenched September day but suddenly something was terribly wrong.
I looked at my watch. It was about 9:30. I realized that I was really late for work now. It's strange how your mind finds comfort in routine, even in the midst of chaos, the opposite of order and routine. I thought to myself, I had better get into work.
I ran downstairs to my apartment and tried calling my mother. I couldn't get through on my cell phone or my home phone. I knew that my Mom, who watched the "Today" show every morning to see what my weather was like and would sometimes even call to warn me about proper attire ("I saw that Katie and Matt had on raincoats today, don't forget to pack your umbrella!"), would see this on television and immediately begin to worry. I tried several times in vain and finally realized I would have more luck from work. I gave my boyfriend a kiss goodbye and hurried off.
The streets were unusually silent that morning as I walked downtown to work, in the direction of the explosion. The sidewalks of New York City, usually alive and vibrant at any time of day or night, were quiet.
As I turned the corner of the street my office is on, I saw many of my colleagues standing outside the office building, looking down at the World Trade Center.
A friend from work was trying desperately to call me, as I had been on a late flight the night before, heading back to New York City after an extended weekend in Omaha for a wedding and a quick trip to York to see my mother. I had landed at LaGuardia at 1 a.m. just the night before, and she was worried that I was still in the air. She gave me a long bear hug when she saw me, and we both headed upstairs to our office.
Everyone in my office was gathered in front of a big picture window that looks directly downtown. I was even closer now, about a half a mile. Reactions were still quiet disbelief. I ran to my desk to try to call my mother again. Finally, I was able to get through. As we were talking, and I was reassuring her that I was fine, I heard screaming from the office with the picture window. People were rushing by me, yelling that the first tower had fallen. I told my mother that I had to go, and ran to the window as well. I stood there and watched the second tower fall in a shower of smoke and metal.
It was then that I began to panic. My officemates had been calm until then, but now people were running around frantically, screaming, crying. A colleague of mine was desperately trying to call his brother, who worked on one of the top floors of the building. Another was sobbing because his wife and newborn baby were down in Battery Park City, the neighborhood that the World Trade Center is located in. Another rushed in from the street, frantic because he had been commuting into work and was in the basement of Tower One when the first plane struck. He had escaped from the building and sprinted all the way up to ours.
My phone at my desk began to ring. My sister, Whitney. My mother again. Friends from Los Angeles, Denver. My best friend who worked in mid-town. As I tried to reassure them all that I was fine, I heard people around me screaming unbelievable news, some of it untrue, some of it not.
"A plane has hit the Pentagon!" "It's hijackers!" "They have a plane filled with bombs and it's heading straight for New York City!"
I decided that it was time to get out of the area and head north. I checked my e-mail one last time and noticed that my in-box was already filling up with frantic messages from friends and relatives who had heard the news but couldn't get through to me. I tried to start replying to all of them but then began to panic myself. I turned off my computer and left work with a group of my friends.
This was a much different city than the quietness I had encountered just an hour earlier that morning. People running. People frantic. As we walked up Sixth Avenue, a mob of people began running towards us.
"He's got a gun!!! Run!" someone in the mob screamed at us. My friends and I ran into the first doorway we could, a dry cleaning establishment. One of the people inside grabbed us, locked the door, pulled down the metal grate over the windows and told us to duck. In the darkness, my friends and I huddled together as the others around us began to scream that we were all going to die.
This incident abated and we told them to let us out. I was beginning to worry about my boyfriend, who had called me around 10 a.m. to check on me but had only left a voice mail on my cell phone because the lines were tied up. I had tried calling him back on his cell phone but was having the same problem. I wanted to leave the dry cleaners and go home to check on him. I was beginning to experience the same "Is he safe?" panic that I'm sure my mother was feeling miles away in Nebraska.
We left and I hurried with my friends back to my apartment. After I grabbed the essentials, we headed uptown to another friend's place who lives farther away from the blasts and I have basically been camped out there since Tuesday.
I was able to track down my boyfriend amidst the chaos of the city a few panicked hours later. I thankfully just got a small taste of the terror that waves of friends and relatives across the country were feeling as they tried to track down friends and loved ones that morning.
Three days have passed now since that morning and I am still trying to internalize everything that has happened. As I walk through the empty streets of the city — interrupted from my thoughts only by the constant wailing of fire truck and ambulance sirens — I realize that my beloved adopted city will never be the same.
I have witnessed first-hand the face of the most extreme evil imaginable, but have also seen unbelievable generosity and human kindness on the faces of the people of New York City.
I have always loved this city, but have complained more than once that I miss the community that I feel when I'm home in York. The same community that greets me with a smile at Wal-Mart each time I return, the community that mowed my parents' lawn and fed the dog without question when my father was sick in the hospital in Omaha, the community that held my family close to its chest when he died last summer.
For the first time living in this New York City, I feel that same community here. Neighbors checking in on neighbors. Store clerks asking me how I'm doing. Friends reaching out to friends, gathering and rallying together to give blood, volunteer, donate.
It's almost as if the pendulum swung, without our permission, to one extreme — and we are trying desperately with our collective power to swing it in the opposite direction. Because of the horrific tragedy that morning — this city, this nation, and countless families will never be the same.