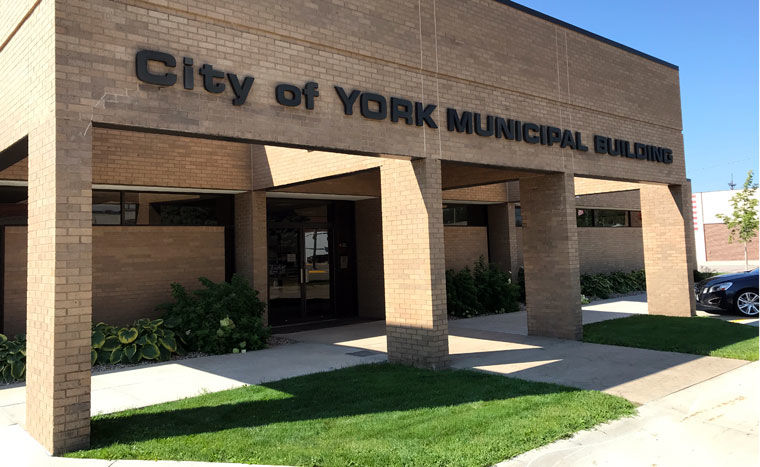 YORK – The York County Development Corporation (YCDC) is asking the city for an increase in funding – the last funding increase from the city for YCDC was 15 years ago.
Lisa Hurley, the executive director of the YCDC, addressed the city council this past week, making her annual report and budget request as the budget process is already underway.
YCDC is funded by private, county and city contributions.
"First, I want to thank the city for its ongoing commitment to YCDC," Hurley said to the council. "Our members' investment has made it possible for YCDC to work on many diverse projects, from business development assistance, to housing and talent development.
"YCDC believes collaboration is key to creating a positive business environment," Hurley continued. "YCDC activities leave a long-term, positive impact in our region. We are helping by bringing in new people, new businesses, helping grow and strengthen our existing business base, providing assistance to start-ups and impacting housing. Our activities expand the property and sales tax base, and more important, impact many individuals in our area.
"YCDC is at the end of our $25,000 annual NIFA grant which helped expand our housing capacity by adding one staff position. The loss of these funds will result in YCDC cutting back on initiatives we have created and expanded over the past five years to meet community goals," she said further. "The city has greatly benefited from this position with several housing projects. Also, we just finished updating the York County Housing Study and the City of York alone needs 467 units by 2030."
Hurley said the YCDC board of directors recently adopted a new strategic plan for 2021-2026, adding, "We will need the city's support on the business and housing goals. The goals include developing, retaining and recruiting talent and that includes quality of life initiatives. Also goals include marketing available sites and buildings. And we will continue providing technical assistance to entrepreneurs, start-ups, expanding and transitioning businesses. We have a strong goal to continue our momentum in reaching housing goals. And we will continue to support large scale infrastructure projects within York County or those that impact York County.
"We need the city's support to meet those goals," Hurley said to the council members.
"YCDC has always used the City of York's funds for operational costs," Hurley said. "The last time the City of York increased their investment was in 2006. The purchasing power of $80,000 in 2006 is now $60,392.28. This is based on 2021 actual inflation. If the city's YCDC investment had increased by 2-3% each year since 2006, it would be between $107,669 and $124,637. With that in mind, YCDC is asking the city to increase to that range in this coming year, and to develop a plan that would consistently increase its contributions to growing the area."
She also noted that the county's contribution was $50,000 in 2013 but is now up to $82,000.
And private contributions were at $108,340 as of May 25. "Businesses are seeing the benefits of YCDC and we are seeing annual increase in private investment," Hurley said. "The increases from York County and the businesses have allowed us to increase our services, but the loss of the $25,000 grant will result in YCDC cutting back on marketing and other initiatives we've added and created over the past five years to meet community goals."
"2006 was the last time the city increased its investment in YCDC," Hurley said further. "It's been and is an honor serving this community. We are asking that the city consistently increase its investment."
Mayor Barry Redfern added he felt that YCDC provides services that are beyond the scope of city staff and said YCDC's efforts and successes are much appreciated.
The council will take into consideration YCDC investment request, during the formulation of the budget for the fiscal year of 2021-22.
Editor's note: The following is a listing of YCDC activities benefiting the City of York, as provided by YCDC Director Lisa Hurley:
Vistas at Meadow Grove – 24, 3-bedroom duplexes for 48 units. This project brought in over $8 million in outside investment into York and resulted in around $3 million in contracts with local contractors. There is a waiting list for these units, and another development needs to be started.

In early 2019, YCDC secured Rural Workforce Housing Loan funds for market rate housing ($831,000), with an initial project being York Creekside Apartments, creating 48 market-rate units. The developers said they have never worked with as many local subs as they did on the York project.

Partnership with the City of York and SENDD to create and implement an innovative Purchase Rehab Resale program. This program received a national award from the National Development Association.

2020 award of York County's Owner-Occupied Rehab grant $500,000 will assist rehabbing older homes throughout the county, including the City of York's housing stock.

Update of the York County Housing Study
Business development continues to be active. A sample of businesses YCDC has been involved with since 2013:
Marketing on a national level through tradeshows, print and on-line publications/resources, videos

An active Business Retention & Expansion program which includes surveys, visits and technical assistance 

Two expansion projects at York Cold Storage - $2.5+ million and $5+ million for a total of 25 jobs

XPO Logistics (recruitment - $9 million project)

Crossroads GPS (relocation/expansion: $1+ million project)

PTUSA – York (recruitment: a $30 million investment 

Levander's Auto Body Repair ($400,000 project)

Nutrition Services LLC new warehouse ($2+ million investment, 5 - 10 jobs)

Klute Inc. 2 expansions, $5+ million-dollar investment. Over 30 jobs created, with many employees living in York. They are in the process of a third expansion - $2.5 million

A+ Construction's building project ($400,000 project)

Recruitment of McCarthy Holthus LLP

Beaver Creek Products (prototype grants, technical assistance with start-up, and expansion)

Collaboration with the City of York for site due diligence and master planning. This has included YCDC investment in marketing of the site.

Agri-Products Inc. proto-type grant which launched a new specialty line.

Assisted with Little Racers Daycare relocation from in-home to a center, worked with day care start-ups, and am currently working on a center expansion

Recruitment of Jimmy Johns

COVID-19 response, communication and assisted city with the Reuse Fund being converted.
Talent - YCDC continues to work with partners and educators for talent development and recruitment.
Partnered with YPS, York College and SCC-York Learning Center on projects.

Launched talent videos, 17 County Leadership Program, 17 County Podcast series, and community tours.

Staff participates in the Nebraska Talent Committee. In 2020, YCDC ran a national talent campaign in partnership with Seward County called ImagiNE Opportunity.

Involvement with a manufacturing collaborative

York Area Career Day and Job Fairs
Save.OurTown York planning process

Local Foods Local Places Initiative 2020

Educational Sessions for Businesses

York County Childcare Alliance, York County Healthcare Coalition, Nebraska Economic Developers Association (legislative session), National Rural Economic Developers Association, and many more.
Note:  Central Valley Ag Headquarters' building was recruited; $25,000 in funding was raised privately by YCDC and was built in 2007. The TIF payoff estimate of 15 years is 2022 (latest to be paid off). That building is valued at $1,799,421, and will be coming onto the tax rolls.