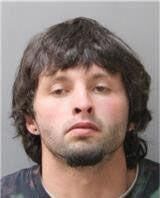 YORK – Dusty Morehead, 31, of Utica, has been sentenced to a term of 30-40 years in prison, in a case involving sexual assault of a child.
He was sentenced this week in York County District Court by Judge James Stecker.
Morehead, a convicted sex offender, was initially charged with first degree sexual assault of a child and child enticement by use of an electronic communication device. Those counts were amended to one count of attempted first degree sexual assault of a child, a Class 2 felony, as part of a plea agreement.
Morehead pleaded no contest to the amended charge.
This case involved the sexual abuse of a 14-year-old in York County. The case was investigated by the York County Sheriff's Department. No other details about the case can be published due to the graphic nature of the information and in the effort of protecting the identity of the victim.
In a separate case, it was alleged that Morehead had conversations of a sexual nature with a minor, via cell phone, and there was the sharing of nude photographs via Snapchat. In that case, he was charged with enticement of a minor by electronic communication device, a Class 4 felony, and possession of child pornography, a Class 2A felony. As part of the plea agreement encompassing this case and the child sex assault case, these charges were dismissed.
Morehead is already included on Nebraska's sex offender registry, as a 25-year registrant. He was convicted of sexual assault of a child in March, 2010, in Seward County. For that conviction, he was sentenced to a term of 3-5 years in prison.
Also in Morehead's criminal history are convictions of attempted burglary, possession of a stolen firearm, theft by unlawful taking and false reporting. All those convictions were in Seward County.
In this latest case, he was given credit for 173 days already served.
During the sentencing proceedings, York County Attorney John Lyons asked the judge to think back to the first year of law school, when they were taught about property law and the theory of trespassing. He explained how the illustration of trespassing included how a single blade of grass – no matter how lightly stepped upon – still feels the impact of the offense.
"This case is a lot like trespassing – this man trespassed against a 14-year-old's body and (the victim) is of much more value than that single blade of grass," Lyons said. "We are asking that the law give the same weight to what happened to (the victim). (The victim) won't feel joy and passion and security as (the victim) grows up. Unlike the blade of grass, (the victim) will grow down. We are asking the court to levy a sentence that demonstrates the damage done."
Following the declaration of Morehead's 30-40 year sentence, Lyons said, "We are beyond pleased with the sentence in the Morehead case today. The success was due to both Deputy Alex Hildebrand's hard work putting together a perfect case and the personal strength of the victim."
Be the first to know
Get local news delivered to your inbox!