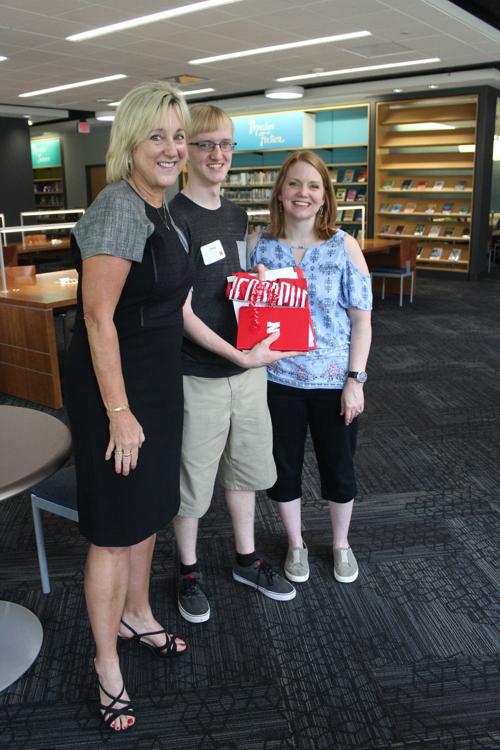 LINCOLN — A perfect ACT score of a 36 has led to $30,000 for Sam Harvey.
During his scheduled campus tour Tuesday, Harvey, an incoming Grand island Senior High senior, was surprised with a $30,000 four-year, full-tuition scholarship to the University of Nebraska-Lincoln to study engineering.
Donde Plowman, UNL's executive vice chancellor and academic officer, presented Harvey with the scholarship offer at UNL's Don L. Love Memorial Library. Harvey said the scholarship was "pretty nice."
Elisia Flaherty, Harvey's mother, was full of tears as her son received the scholarship offer and said she was "overwhelmed" by the offer.
"This is huge," she said. "You always think it might be a possibility when they get a 36, but until you actually see a piece of paper with that on it, you never quite know. So this is wonderful and I am so proud of Sam."
Leslie Reed, UNL interim news director, said the university offered 866 regent scholarships and 28 chancellor's scholarships to the class of 2018. She added Harvey is the first student in the class of 2019 to be offered a full-tuition scholarship to UNL.
Harvey scored a 36 on the ACT test after taking it April 3 as part of state requirements for all juniors.
When he took the ACT on April 3, Harvey said he thought he could have scored a 36, but also thought he would only score a 34 or a 35 on the ACT.
"There were a bunch of questions I wasn't really sure on," he said. "But it ended up that I missed six questions overall. It was just spread around enough that the score was still rounded up to a 36."
At UNL, Harvey said he plans to major in engineering because he enjoys math and science, and that it "seems like something I would be OK having a career in."
Harvey said the reason he wants to attend UNL for engineering, as opposed to some other schools, is because of its band and music programs. He added UNL will allow him to have a social life and the opportunity to be involved in extracurricular activities.
"With all of the other colleges that I have looked at, the ones that have an engineering program have that as a priority and the band (program) is not nearly as good," he said. "People always tell me I should go and apply for Ivy League schools. But, my main reason for going to UNL is because of their band program. I want to have fun. It is less stressful that way, I think."
Harvey said the full-tuition scholarship offered to him Tuesday is his first, and so far only, scholarship offer.
So with a perfect 36 ACT score, does Harvey plan to attend UNL or keep his options open?
"I think unless some miracle college shows up that also gives me a lot of money, I am going to UNL," Harvey said.
Be the first to know
Get local news delivered to your inbox!