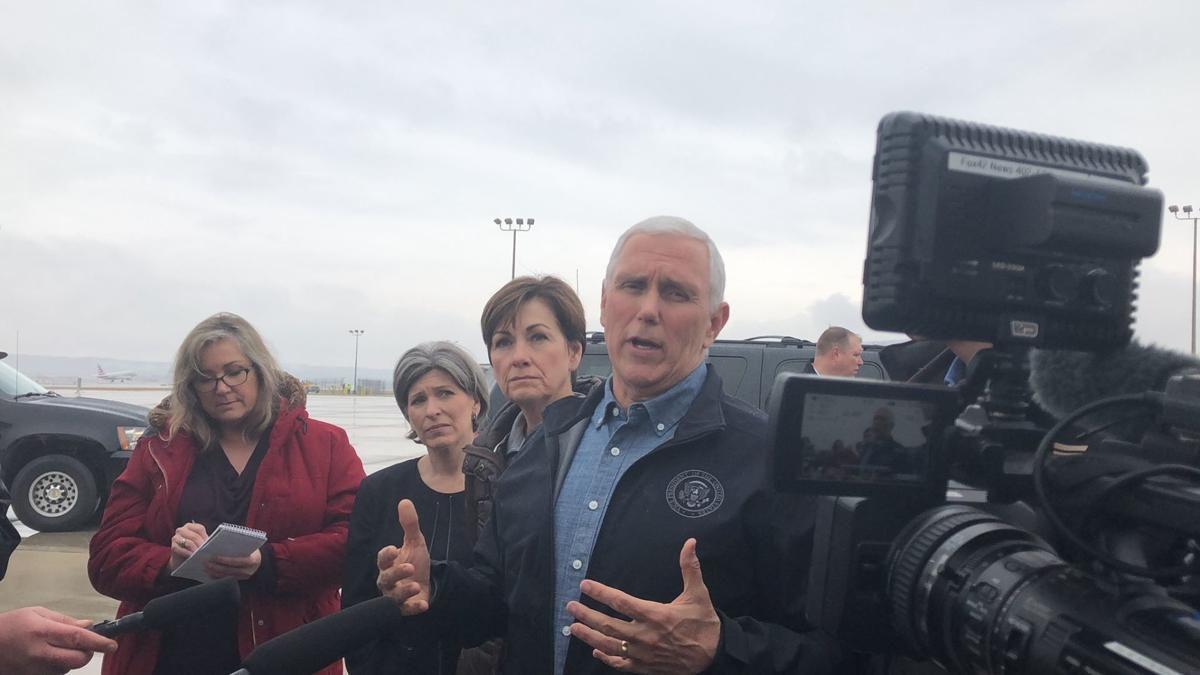 Amid a chilly dampness that has become all too familiar in these parts, Vice President Mike Pence delivered a message: America is here for Nebraska.
"We're going to stand with you and be with you until these communities come all the way back," the vice president said, shielded from rain under the wing of Air Force Two shortly after landing at Eppley Airfield Tuesday.
During a three-hour visit that included an aerial survey of floodwaters and meetings with first responders and victims, Pence said the federal government will expedite disaster relief in response to the historic flooding that has affected much of the Midwest.
"Help is on the way," Pence said.
During his visit, Pence heard from Gov. Pete Ricketts, Sen. Ben Sasse and Rep. Don Bacon of Nebraska, along with Iowa Gov. Kim Reynolds and Sen. Joni Ernst. Pence said the Federal Emergency Management Agency has received a disaster declaration request from Nebraska and is expecting a similar one from Iowa.
Ricketts met Tuesday with FEMA Regional Director Paul Taylor and signed an expedited request for disaster assistance. Ricketts had said previously that he was urging top Trump administration officials to move swiftly on a disaster declaration.
Major disaster declarations unlock federal assistance money to help both public entities and individuals recover from devastating storms — but the process for those declarations can take weeks or even months.
"We've been in touch with a lot of the officials in Washington, D.C., stressing the need to get this expedited so that we can tap into those resources both on the public assistance side and the individual assistance side, because of the scope and nature of this disaster," Ricketts said.
Members of Nebraska's congressional delegation sent a letter to President Donald Trump on Tuesday in support of Ricketts' request.
Typically, state officials would wait until after a severe weather event has run its course, then survey the damage and provide a detailed report to FEMA. The federal agency conducts a preliminary damage assessment to put a cost on the disaster as it works with the state to complete a governor's official request. Then it's ultimately up to the president to make the disaster declaration.
But the damage to Nebraska is so widespread and obvious that a disaster declaration seems assured.
"Quite honestly, this event has been overwhelming," said Bryan Tuma, Nebraska Emergency Management Agency assistant director. "We have very little doubt in our minds that we would qualify. We have met all the thresholds for a federal disaster declaration."
FEMA spokesman Michael Cappannari said the time required for preliminary damage assessments, or PDAs, can vary based on how many counties are affected and weather conditions. But he noted that the agency is working with Nebraska on expediting its request.
"This would not eliminate the need for PDAs once the conditions allow for it, but it could at least start federal assistance flowing to the state in terms of funding available for reimbursement as a result of damages to public infrastructure," Cappannari said.
Nebraskans are urged to share information about the storm's impact with their local emergency management officials so they can use it as part of the FEMA assessment process. That includes taking photographs of affected property and making detailed lists of any lost or damaged items.
Nebraska plans to request a declaration for both federal assistance intended to restore public infrastructure and a program that provides assistance to individuals affected by the storm.
Pence witnessed both during his visit. Shortly after arriving Tuesday, the vice president boarded a chopper to get a bird's-eye view of the flood damage.
After the air tour, Pence, Ricketts, Sasse and Bacon met a group of Waterloo first responders on West Dodge Road, above the swollen banks of the Elkhorn River.
"I never fail to be inspired at moments like this, when communities come together and people volunteer to put themselves in harm's way to help others," Pence said.
The vice president and his entourage then continued on to Elkhorn Middle School, which has become a shelter for some families displaced by the flood. A few people shed tears while Pence offered hugs. At one point, he huddled with a small group to pray.
Before Pence left the middle school to return to the airport, he received a quick briefing from representatives of the U.S. Army Corps of Engineers, who told the vice president that they expect "an enormous amount of work ahead of us."
Be the first to know
Get local news delivered to your inbox!