OMAHA — Bill Harrington knew how fragile life could be.
Fifty times during World War II he took off in the bombardier's seat of a B-24 on bombing runs over France, Germany and Austria. Fifty times he landed safely.
Two decades ago, the retired Air Force colonel wrote an autobiography for his family when he learned that he had a heart condition that might take his life anytime.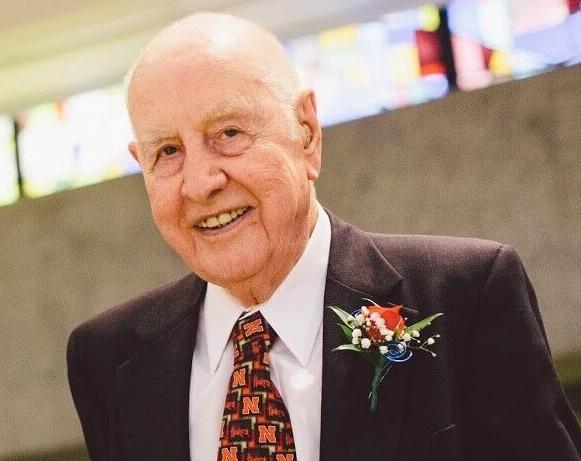 Still, Harrington lived to celebrate another 20-plus birthdays — the last one, his 101st, Feb. 2 at Papillion Manor, where he lived.
"I have no idea how God selected me to live all these years," Harrington told the World-Herald in late January.
He died Monday of natural causes.
Harrington never lost the accent of his native Georgia, where he was born in February 1920. He grew up during the Great Depression and joined Army ROTC before finishing high school at Georgia Military College in Milledgeville in 1937.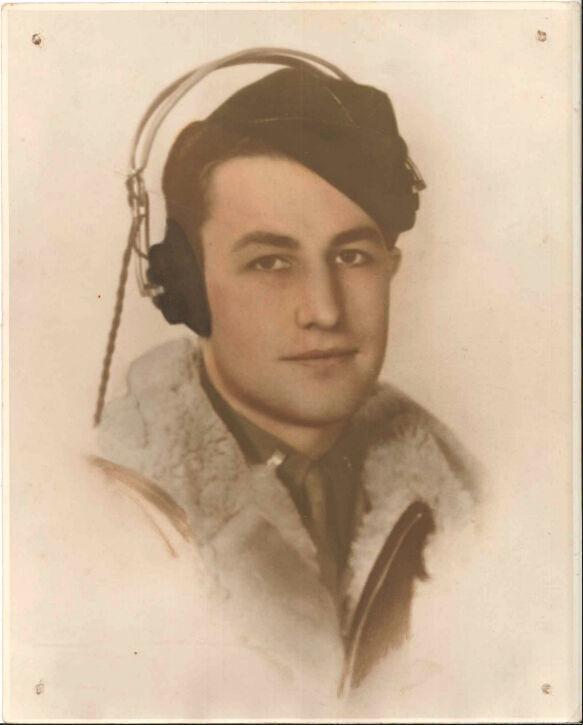 Two years later, Harrington joined a new coastal artillery battery, formed by the National Guard to watch for German U-boats along the Georgia shoreline.
The Japanese attack on Pearl Harbor on Dec. 7, 1941, brought the U.S. into World War II. Harrington transferred to the Army Air Corps because he hoped to fly like his older brother.
He was assigned to the 485th Bomb Group, which trained in Fairmont. The unit deployed to Venosa, Italy, in April 1944.
Harrington kept a wartime diary. It included a description of a harrowing bombing mission over Vienna on June 26, 1944. His plane, which the crew had named Hitler's Egg Man, was badly damaged but somehow reached an Allied base in Tunisia.
"Believe me," Harrington wrote, "The fellows got out and kissed the ground and thanked the good Lord to be on Mother Earth."
After the war, he decided that he liked life in the Air Force and stayed in. He met Lt. Mabel Carolyn Nelson, an Army nurse, in England, and they married in 1947. They raised two daughters and two sons.
Harrington joined the Strategic Air Command — newly headquartered at Offutt Air Force Base — the following year. He served as a navigator aboard B-36 Peacemaker strategic bombers and stayed with SAC until he retired in 1963 as a colonel. His last assignment was at Offutt as chief of navigator training.
After his military retirement, he earned a degree from Omaha University (now the University of Nebraska at Omaha) and pursued a second career in real estate.
In retirement, Bill and Carolyn Harrington enjoyed spending time with their grandchildren. Robbie Harrington of Tulsa, Oklahoma, especially remembers trips to the College World Series and the Henry Doorly Zoo, and churning homemade strawberry ice cream.
In an email, he described his grandfather as "the gentlest human being I know," adding, "Nothing can beat a good old-fashioned cup of coffee, cookie, hug and handshake from Grandpa."
The Harringtons were longtime members of Bethany Baptist Church.
The pandemic set in just after Harrington's 100th birthday celebration last year at Papillion Manor, and he was largely confined to his room. But he was nimble with his desktop computer and kept up with his family via email and video chat.
Harrington was preceded in death by one sister and four brothers; his wife, who died in 2014; daughters Evelyn Blau and and Mary Elizabeth Ethofer; and two grandsons. He is survived by his sons, Bill of Tulsa and Mark of Lincoln; 13 grandchildren, 21 great-grandchildren and two great-great grandchildren.
A memorial service will be held 7 p.m. Friday at Heafey-Hoffmann-Dworak-Cutler's West Center Chapel at 7805 W. Center Road and will be livestreamed at heafeyheafey.com. Burial is at 10:45 a.m. Saturday at Evergreen Memorial Park Cemetery at 2300 S. 78th St.
Nebraska veterans share stories of struggle and sacrifice in World War II
70 years later
Veterans Affairs estimates that 5,340 World War II veterans live in Nebraska, but that number is quickly dwindling.
Nationwide, nearly 500 men and women who served during World War II die every day.
And every time one of these veterans die, so does a piece of history.
But as the United States marks the 70-year anniversary of Japan's surrender on Sept. 2, 1945 -- the official end of World War II -- we bring you stories of sacrifice and struggle from other area veterans in honor of those who served.
Marjorie Neill: 'We just had to do it'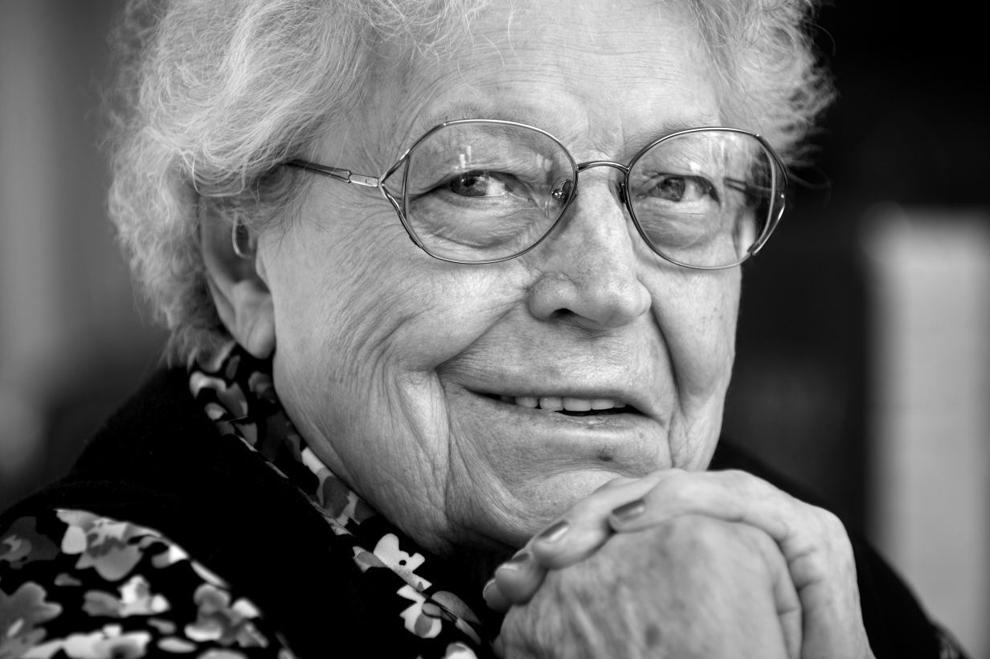 Women were not allowed to take part in World War II combat unless they were medics, but they played important roles in other ways.
And the tens of thousands of women who served were no less proud of their contributions.
Marjorie Neill, 94, was a member of WAVES, the Navy's Women Accepted for Volunteer Emergency Service program, from 1944 to 1946. She helped train pilots and spent time at several bases along the East Coast.
The Shelley, Idaho, native, went to college in Denver for two years before joining a friend at the University of Nebraska in Lincoln. She graduated with a teaching degree in science in 1943 and taught in Cambridge before deciding she wanted to do her part for the war effort.
An older brother was unable to serve because of a bad back, and a sister was a phlebotomist and a Navy officer.
"We just had to do it," said Neill, who lives in Lincoln today.
She spent 18 weeks in Atlanta, 12 of them teaching navigation to pilots. Her title was Link Trainer, and her tools were a map, a microphone and a flight simulator. She also spent time at bases in Maine -- a far cry and a bit of a culture shock for a young woman from rural Idaho.
Neill's affinity for astronomy led her to teaching pilots how to navigate using stars.
She saw her fair share of hot-shot pilots straight out of flight school, she recalled. They were the ones who thought they knew more than they did. The result was often a failed test, with the so-called hot shot getting lost or crashing into the water, she said.
Pilots were isolated from the navigator during training exercises and forced to monitor instruments and controls as if they were by themselves. Neill would guide the pilots using a map and a moving marker, nicknamed a crab, that mimicked the pilots' simulated movements.
Experienced pilots who had been in harsh situations appreciated what her WAVES program offered, Neill said, and when their training was complete they often showed their appreciation.
Neill recalled some backlash in the early stages of Navy service. She said it was apparent that people thought she and other WAVES were lesbians, but that never bothered her.
Harold Edwards: Navy weatherman recounts life at sea
Today's forecast: cloudy, with a chance of nostalgia.
Harold Edwards served as a weatherman in the U.S. Navy from 1944 to 1946, traveling to places like the Panama Canal, the Philippines, Guam and Los Negros Island off the coast of New Guinea. His duties included gauging wind speeds and directions for flights.
Edwards enlisted in the Navy in 1944, just as World War II was coming to a close. The war was "hot and heavy," and he was about to turn 18.
Boot camp was fast and furious and about five weeks long. Enrolling in school for one semester at Wichita University likely kept him from being sent to the infantry in Europe, he said.
Edwards studied weather in the Navy in New Jersey before he was transferred to the Norfolk Navy Base. From there, he set sail on the USS Sapelo (AO-11) oil tanker.
After the war, Edwards was moved to newly built USS Princeton (CV-37) aircraft carrier. One of the ship's stops on its way from Rhode Island to the Pacific was Havana, Cuba.
It was a sailor's port, Edwards recalls, and that meant bars and women. The crew had some free time, and when they returned at 10 or 11 p.m., they appeared to have visited the bars and were "dumped on the dock," he said.
"If you weren't back at the ship at that time, you were AWOL, absent without leave," Edwards said.
The inebriated crewmen couldn't even stand, let alone walk up the gangplank without the likelihood of falling into the water.
"How do we get them on board?" an officer asked Edwards.
The obvious answer: a cargo net.
So they lowered a net on the boom, loaded about two dozen drunken sailors into it and swung them onto the deck.
From there, they were sorted out and guided to their assigned stations.
Max Wilson: Shot down, plan to escape almost foiled
For six months, Max Wilson lived in a Swiss internment camp and, every day, he planned his escape.
The Germans shot down his B-17 bomber in 1944, and the 22-year-old belly-landed in a Swiss pasture and then was taken to the camp near Davos, Switzerland. He and a friend nicknamed Sam Houston were assigned to fingerprint each American entering the camp -- alive, wounded or dead.
They plotted their escape, first from the camp, then from the country, which was surrounded by the Germans.
One day, Wilson and Houston fingerprinted a dead soldier before he was shipped off to a cemetery in Bern. Americans were allowed to send members from the deceased's crew to bury their own, and Wilson persuaded this man's fellow soldiers to let him and Houston take the body to Bern instead.
They buried the body, changed into civilian clothes and fled, taking a train to Switzerland's Lake Geneva in search of the French Resistance.
They nearly ruined their escape by getting a little rambunctious in a bar one night, but some friendly Polish officers noticed them and correctly assumed they were American.
The Poles connected them with the French Underground, which promised to smuggle them out of Switzerland "as long as they kept their mouth shut."
Houston and Wilson, who was born in Hordville and lives in Lincoln, hid for two days in a hay-filled loft above a restaurant before the resistance said it was time.
"'You're leaving tonight,'" the 93-year-old Wilson recalled being told.
Wearing civilian clothes, they obeyed orders and followed "a lady in the white coat" to the outskirts of town, where they jumped into a waiting vehicle. That was the only time they ever saw the woman in white Wilson said. They didn't even know her name.
Members of the resistance waiting near the shore of Lake Geneva guided the two Americans into the darkness of the Swiss Alps, where they spent the night.
The next morning, Wilson and Houston hiked down the mountain and into France. They made it to Grenoble, where, he said, they met "the whole damn  army."
Wilson and Houston hopped American trucks and trains to the southern coast, and then flew to an Air Force base in Italy. His friend returned to Foggia, Italy, where he was stationed.
Wilson plane-hopped from Italy across northern Africa and eventually back to his base in London.
It took about a month, but he was free again.
Freddie Drexler: 'I had the best of times'
FAIRBURY -- A queasy stomach kept Freddie Drexler grounded during World War II.
Now 92, he enlisted during his junior year of college, in September 1942. Back then, if a service member had two years of post-secondary education, he could choose which branch to serve.
So he pursued the path of an Air Force fighter pilot. But during his training, Drexler said, his stomach couldn't handle the rigorous flying.
Because he had taken two years of math and physics, he was relocated to Stanford University for nuclear studies. Little did he know that he and the 59 other members of his class were being trained to build the atomic bomb.
"We didn't know what we were doing."
Drexler said he was the top student in the class. The top 10 percent was going to continue work on the bomb in Tennessee, but just as Drexler was packing to go, he was cut.
"Tennessee is where they were putting the bomb together," he said. "I couldn't go because I was foreign-born."
Drexler's family moved to the U.S. from Czechoslovakia, and the military had strict regulations about who could take part in the making of the bomb.
So he was shipped off to Ohio State University and placed in a mechanical engineering program, where he learned how to build and disassemble explosives.
Today, Drexler lives with his wife, Ruth, in Fairbury. He keeps numerous photos from the war on his desktop computer, including the moment he was put on active duty and sent to Europe in May 1944, a month before D-Day.
He also has pictures from his moments in the Battle of the Bulge and the Battle of Saint Lo, where he was a member of the 33rd Combat Engineers tasked with digging up land mines on Omaha Beach.
He remembers the single-file lines in which they were forced to walk to avoid stepping on the mines and being blown up. He also remembers the heavy equipment he carried.
Drexler disarmed too many mines to recall a number.
Every now and then, he said, he wonders what his life would have been like had he not been cut from making the atomic bomb.
A friend told him after the war how the men who stayed on the project were locked up in a secure compound. Few of those who went in came out, he said, and that's not a lifestyle he thinks he could have handled.
So, Drexler said, he's content with the part he played.
"I had the best of times in the military, and the worst of times."
Bill Bush: 'We had no idea what we were getting into'
Bill Bush would watch the British war planes gather in the morning above his camp, near Land's End, to cross the English Channel for the fighting in France.
And he would watch them limp home to their airfields in the afternoon.
"When they'd come back, some didn't have a tail, and some had holes in their sides. We'd see that every day."
Now this was a long time ago, the 99-year-old says from his room at the Gramercy. But that's what he remembers.
That those battered planes were giving him a hint of his future.
He'd grown up in Lewiston, in Pawnee County. His dad ran the filling station and the truck service, hauling whatever farmers needed moved: cattle, cornstalks, molasses.
The Army drafted him in 1941 and then moved him from boot camp to boot camp. He remembers training in Arkansas, in California, and in California again.
"It just goes on and on," he says. "That's what the government does."
Bill Bush would sail past the Statue of Liberty on his way to Europe and he'd sail past her again, on his return to America -- where the doctor at Fort Leavenworth would tell him that what he'd been through would take 10 years from his life; where he'd meet and marry Zelda; where he'd get a lifelong job at the Lincoln VA.
But now he wants to talk about those planes, because in July 1944, he was about to cross the Channel and go where they went, and fought, every morning.
"We had no idea what we were getting into," he says. "But we soon found out."
They wore heavy wool uniforms and full field packs as they cruised toward the beaches of Normandy. They were going to try to claim the community of Saint Lo, but first they had to take the German stronghold protecting it.
"Eisenhower got us all together one night and he said, 'Look, if we don't take 122 Hill, they'll drive us back to the sea. The game will be over.'"
The ships dumped the men in neck-high water and they slogged toward the beach, past the bodies of dead men, past mired tanks. They climbed the bluffs, and he remembers seeing a wagon full of bodies.
"Our fellows. All stacked up there."
The Americans were at a disadvantage: The Germans had cannon bunkers and machine guns. They held the high ground and they knew the lay of the land. But Bush and his brothers would eventually take it, battling hedgerow to hedgerow. And they would keep moving, across France to the Battle of the Bulge, past the death camps, within 30 miles of Berlin, so far from Pawnee County.
But he never questioned what they were doing. Or why.
"You just take your orders, do what you're told, and cover your rear."
Francis Frederick: Memories haunted soldier until death
The video camera continued to roll.
Did you ever make friends with other soldiers while in the Army, Grandpa?
Yes, Francis Frederick answered.
Do you still keep in touch with your friends? his grandson asked.
No, Frederick replied. Most of them didn't make it.
Like many World War II vets, Frederick rarely talked about his time in the service.
Perhaps he feared the pain of reliving his experiences. He'd speak in generalities about serving from 1941 to 1945.
His daughter Donna Schroeder can remember her mom saying there were certain movies he couldn't watch: "Schindler's List," "Saving Private Ryan." Just too painful.
"I can't imagine what he saw and what he went through," said daughter Joann Ruhr.
He was naturally tight-lipped, recalled his son-in-law Donald Gilpin.
Frederick spent much of his childhood on his grandparents' farm, land that is now Vala's Pumpkin Patch outside Gretna. A farm boy, he didn't want to come off as bragging about being a hero, Gilpin said.
Frederick was born in 1918. He was one of seven children, five boys and two girls. He and two brothers enlisted in the Army.
Leo "Butch" Frederick served in the Pacific Theater, while Louis Frederick was part of the D-Day Invasion. He stormed Omaha Beach at Normandy on June 6, 1944.
Francis Frederick enlisted Feb. 26, 1941, before he could be drafted and served in the 302nd Infantry under Gen. George S. Patton.
He wasn't a big fan of Patton, Gilpin said. A lot of soldiers in the 302nd weren't.
Francis Frederick was a grunt, an infantryman. He also was a cook. He followed Patton as they liberated French cities, and a concentration camp, Gilpin said. 
While the memories haunted him, his family said he was proud of his part in ending the Nazi regime.
Francis Frederick died July 12, the last of the three brothers who served to die.
Don McPherson: Congressional Medal winner a lucky man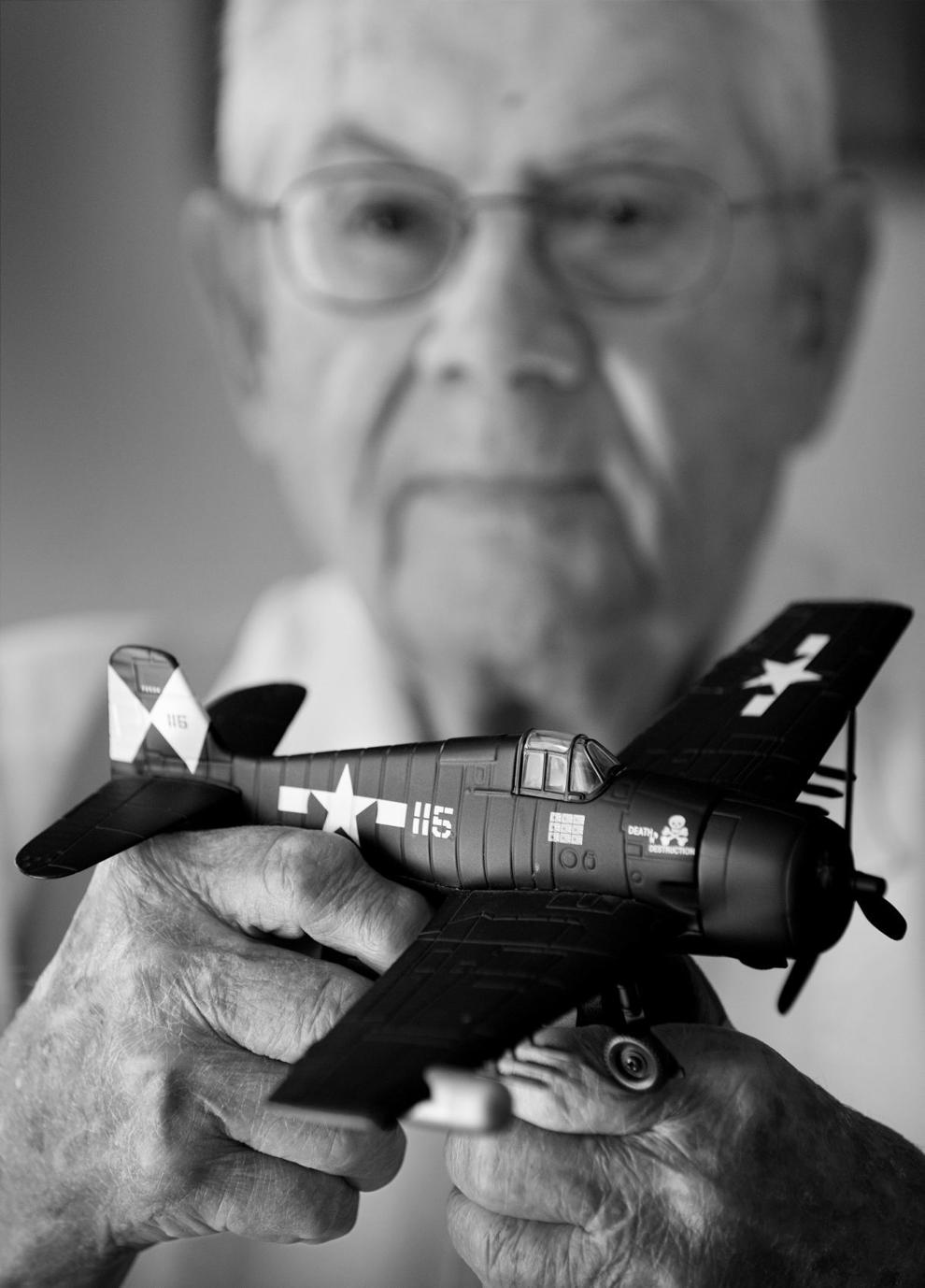 ADAMS -- One of two living Nebraskans designated as an ace pilot, Don McPherson considers himself a lucky man.
He shot down a pair of kamikazes from his F6F Hellcat fighter because, according to him, he was "at the right place at the right time."
McPherson, 93, has spent most of his life in Adams. He enlisted in the Navy in 1942, thinking he might as well pick the branch of service he wanted to join instead of letting Uncle Sam decide for him.
He patrolled the skies and flew missions in the Pacific Theater. He served until 1945.
McPherson recalls watching a movie aboard a ship near the Caroline Islands in the Western Pacific while waiting to be assigned to a crew. Sirens sounded and confused sailors scrambled to their positions.
Two kamikazes -- twin-engine bombers -- overshot the carrier, one clipping the radar, then crashing on an island, the other bouncing a glancing blow on an adjacent carrier.
"So we found out right away what the kamikaze suicide thing was all about," McPherson said.
He got the call to join the Wonder Five crew and flew his first mission over the Japanese island of Kyushu, where he blew up a grounded Japanese bomber.
And then his engine quit. The propeller was still turning, but he was quickly losing speed.
He tried to pump gas to his tank, and the engine revved but the surging engine pulled McPherson into enemy fire.
As he turned, he saw a 20-millimeter shell cut a hole through his fuselage and the cable that worked the tail rudder.
"I was probably the luckiest guy in the world," McPherson recalled.
He was also good. The holes he picked up in Kyushu were his last, he said.
McPherson shot down five planes, earning him his ace designation. And in May, he received the Congressional Gold Medal.
Two of his five "kills" came on a mission to a suspected kamikaze base in Kikaijima on Japan's southern frontier.
On the way back from destroying the base, he saw two Japanese dive bombers flying close to the water.
McPherson, who has a baseball field named after him in Adams, leaned the plane's nose down and fired, hitting the first plane. He chased down the second and eventually shot it as well, setting it on fire.
He said he was lucky he hadn't put the safety on the plane's machine guns. Otherwise, he wouldn't have been able to fire.
After gunning down the second plane, McPherson escaped from anti-aircraft fire thanks to what he called evasive maneuvers.
Pete Jensen: 'I could tear those guns down blindfolded'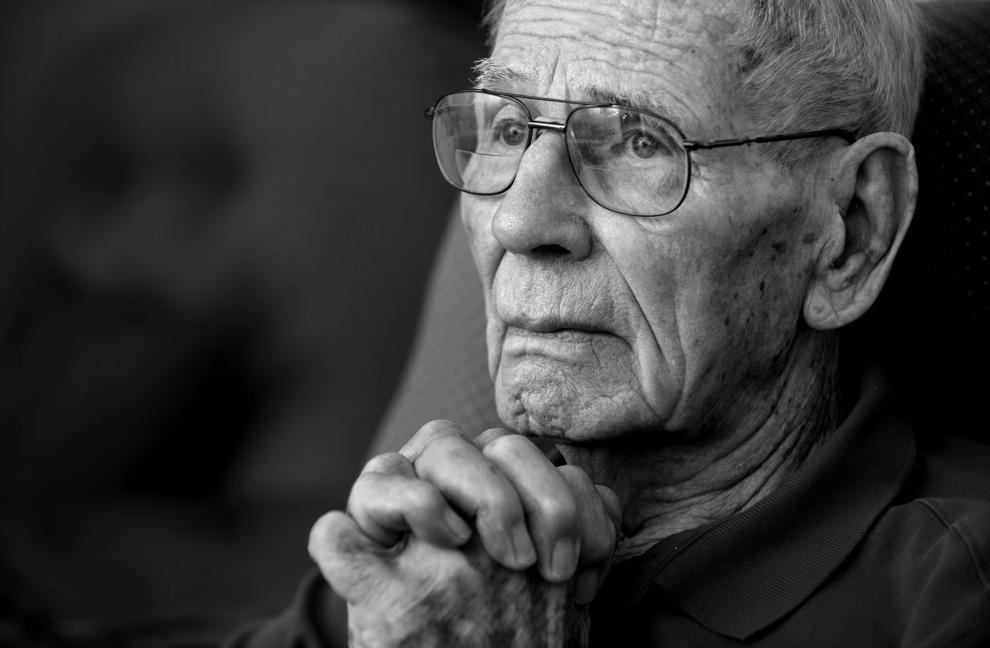 Despite surviving the battle of Iwo Jima and a kamikaze attack on the USS McClelland, veteran Pete Jensen didn't feel the personal effects of World War II until his older brother died.
Raised in Salina, Kansas, Jensen enlisted in the U.S. Navy in 1941 and was called to active duty two years later. He was a senior chief petty officer and led the maintenance for 10 of the McClelland's guns. Each gun was operated by at least two men, men who also fell under his command.
"I could tear those guns down blindfolded," he said.
While his older brother was part of the Air Force operations in the Pacific Theater, his younger brother fought as a tail gunner in Europe.
On May 27, 1945, Clarence, the older brother, returned to Guam after a routine flight mission near Japan. He and a co-pilot had just finished repairs to a Boeing B-29 Superfortress, a four-engine heavy bomber and one of the largest aircraft used during World War II.
"It was one of the biggest bombers of that time," said Pete, who lives in Lincoln with his wife. "I remember being able to see those B-29s take off at night."
He never expected the plane he marveled at would be the cause of his brother's death.
As Clarence Jensen and a co-pilot were lifting off, the engine malfunctioned and the B-29 crashed.
"They had been shot at more than they thought," Pete said.
The two men died instantly, but Pete Jensen didn't learn of his older brother's death until a letter came from his parents nearly three weeks later. They asked him to go see the wreckage and the exact spot where his brother died.
But Pete, now 92, never received permission to leave the ship.
Harold Heins: 'People don't know what suffering is'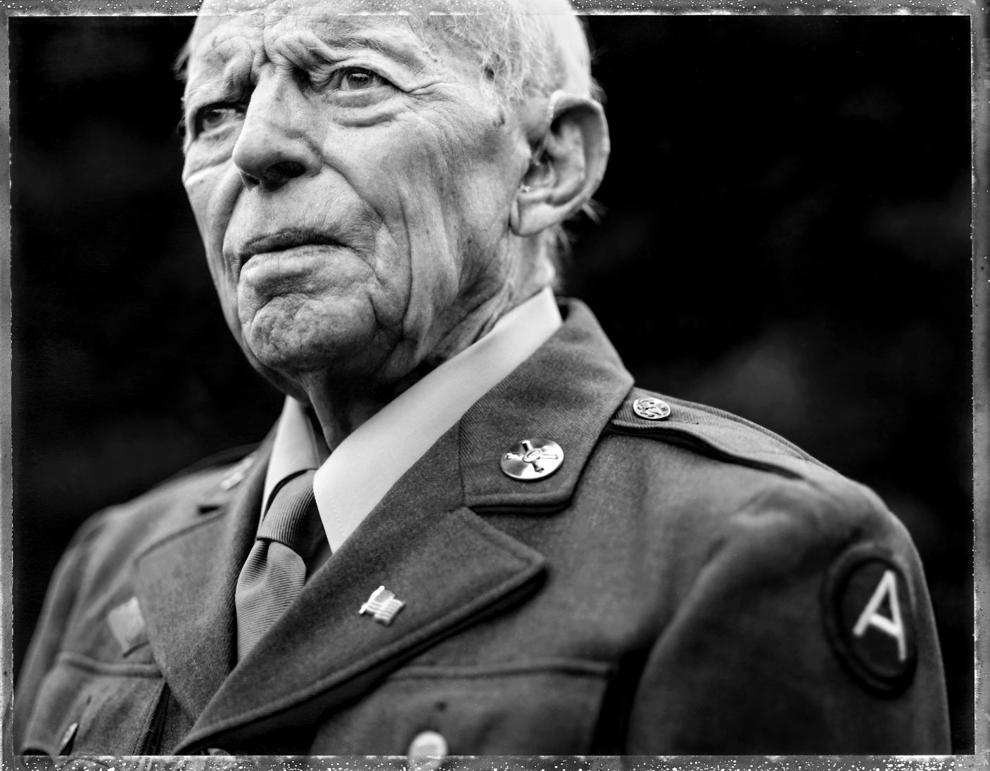 DAVID CITY – The day after he turned 100, Harold "Shorty" Heins hopped out of his wheelchair, ready to tell war stories.
A little later, he touched his toes, and his daughter Beverly had to stop him from proving he can still do push-ups.
He looks at her, remembering the first time he saw her. He was already in the Army, based in California, when she was born. But the baby developed pneumonia at 6 months and they feared she wouldn't last long.
He made an emergency visit back to Nebraska so he could hold Beverly in his arms. She screamed the whole time.
"When I left, I cried all the way back to town. It's so hot in my mind." 
And what he saw when the Army sent him to Europe is still so hot it can make him cry today, more than 70 years later. 
"I can't really talk about it, what people went through at the time. People don't know what suffering is." 
He does. During the Battle of the Bulge, Heins was holed up in a barn with nine others. They had five pairs of gloves and five pairs of good boots among them. The crew going out to man their anti-aircraft gun got the winter clothes; the men coming in tried to warm themselves by burning gasoline in a bean can. 
"That's the only way to stay warm. You'd turn your back on it because it smoked so much." 
They slept in straw, up in the loft. One night, the Germans strafed their shelter with machine guns. He chokes at the memory, but then he laughs, too -- because the Germans fired a foot and a half too low, below the eaves, missing all of the Americans. 
The war is still with him, just below the surface. It hits him when he sees beans and wieners at the store, because he lived on them for months. Or eggs: They remind him of the time he and his friends raided a hen house. He can still see the facial features of the survivors of the concentration camp near Ohrdruf -- and the bodies that were burned in trenches that, to the Butler County farm boy, looked like dry-weather silage bunkers.
But he also remembers tender moments. Human moments. German soldiers surrendering their guns to him but begging to keep their family photos. Starving children asking him to shoot a rabbit so they could eat.
And the end of the war. When they heard the news, they shot a deer and a pheasant and roasted them on a fire.
 "That was the best meal we had. We declared it a holiday."
But soon, Heins would step off the train in Lincoln to something even better: the rest of his life. To Ruby, his "jewel" and wife of 53 years. To his children, Larry, Beverly, Patricia and Dean. To his farm. To the gratitude he still carries 70 years later.
"Amen," he says. "I'm blessed."