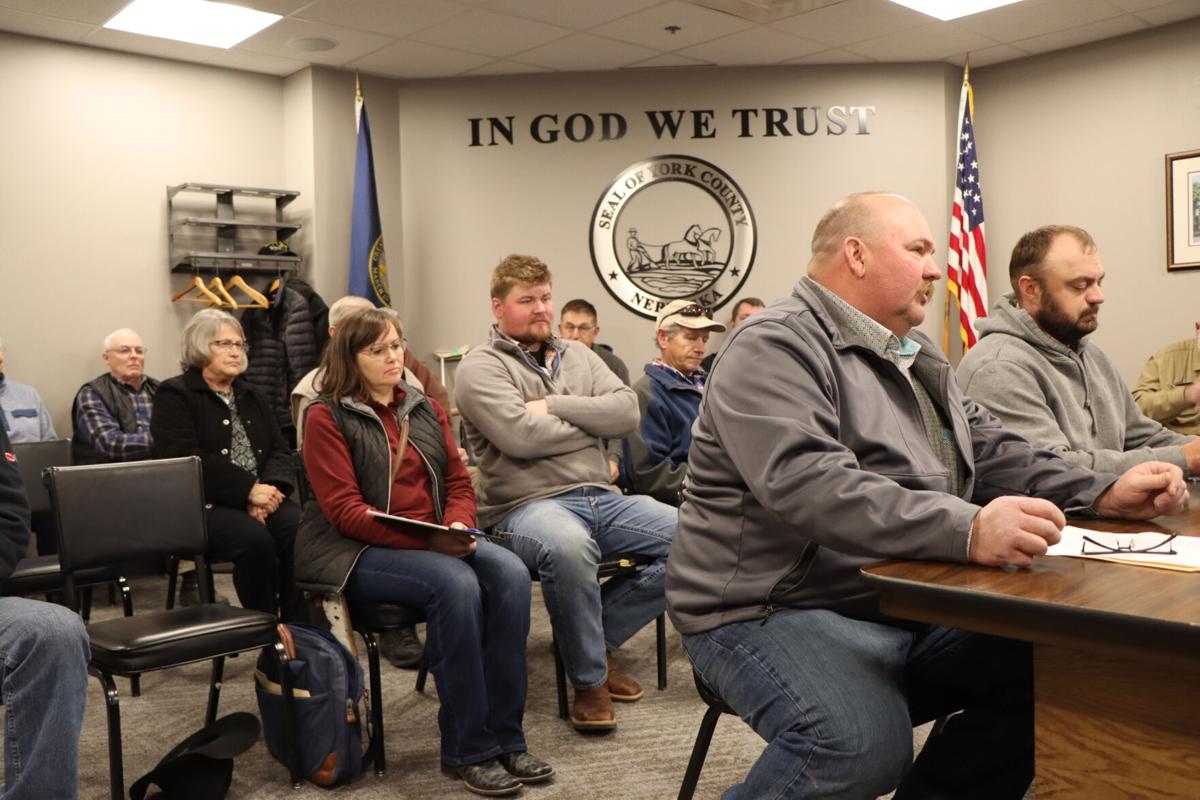 YORK – The chairs were full at the York County Commissioners' meeting this week, as a large contingency of rural McCool Junction/Lushton area residents were in attendance to voice concerns over lack of information regarding a possible large solar field project coming to their community.
Ken Real and Adam Beck addressed the county board, with Real telling them the group (numbering more than a dozen) was calling itself Our Voice Counts.
"These are my neighbors from the Hays Township and they are the best neighbors in the world," Ken Real said. "We have concerns about this K-Junction Solar Project we are now starting to hear about. We are land owners, farm owners, acreage owners and to say we are concerned is an understatement."
Just recently, word started spreading about a possible large solar field project that would be located on 5,000 acres of land, in Hays Township, west of McCool Junction.
The York News-Times has received no official information about this project and the developers have not come to the county commissioners with any requests for right-of-way easements, special exceptions, etc.
Real said the group is looking for information, regarding the county's zoning and this type of a project – saying they are asking for a six-month moratorium on large solar field projects, regarding any permitting, so as to gather information on such projects and what regulations the county needs to have in place. He said the group also wanted to be engaged with the county's planning and zoning commission in the process.
"This project has been brought to our attention slowly over time," Beck said. "Everyone simply wants to be heard regarding our concerns over what issues might be involved with this over the course of many years. The citizens of Hays Township bought, built and brought in homes, and this has become a thriving area of the county. We feel fortunate that people are willing to come in and invest in that area. It is bringing a level of vibrance. Our concerns are what this will do to our livelihoods, our property values and our everyday lives. Residents feel like they have been left in the dark in this matter. Our goal today is to come to the table with open minds and to initiate a conversation and to gain information on this project and to educate ourselves on its impact, so we can make good sound decisions. We need to have this done in an open forum from here on out. And the moratorium would be to give everyone time to gather information so we can make good sound decisions."
Both men asked who they should contact regarding the county's zoning regulations.
"Joe Selde is our zoning administrator," Commissioner Randy Obermier responded. "He is our deputy county attorney and he serves in that position as well. Mr. Selde has already been contacted, by me, and asked to look into this as I see nothing in our zoning regulations regarding solar fields such as this. I've also started looking at other counties' regulations where these are in the place. And yes, you do matter – the EDF (apparently the name of the developer) is on our next agenda as they now want to see us about this. And you are all certainly welcome to come back and listen to that."
"Yes, the EDF will be here, we will get more information," added Commissioner Daniel Grotz. "Yes, there was a meeting called by the group with some landowners about a month ago, but there has not been any widespread discussions. Hopefully, we can get information about this project and get to a place where everyone is comfortable."
The Our Voice Counts group thanked the commissioners for listening to their concerns, with many indicating they would be back in two weeks to hear more from the company.
Later, Commissioner Bill Bamesberger said, "They, EDF, should have probably talked to us and the zoning committee first, in public. They have gone about this all wrong. Now they have put the fear in the people, they went about this in the wrong way. Our job is to protect the citizens of this county and they should have come to us first."
"Well, they are coming here in two weeks, to talk about this and hopefully we'll get all the information everyone needs and everything will be out on the table," Obermier said.