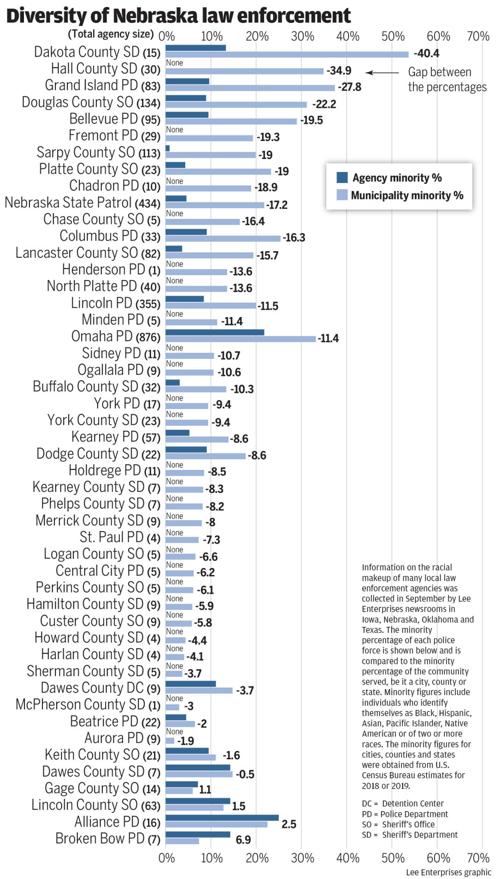 YORK – In a nation where the question has arisen as to whether or not law enforcement agencies have enough ethnic diversity, or if they mirror the ethnicity of the communities in which they serve – there is also the issue of continuing to have good, qualified applicants for local law enforcement positions that are consistently opening.
Right now, there are three open positions on the York Police Department, according to York Police Chief Ed Tjaden.
"We have been battling recruitment challenges for several years now, as have many agencies nationwide," Tjaden said. "Our position numbers have fluctuated, but we have had openings for several years."
When there are position openings, "we generally get 5-10 applications over a six-week period, which is much lower than it was years ago," Chief Tjaden continued. "These numbers are in line with agencies our size and larger agencies, including those in other states whose administrators I have spoken to."
York County Sheriff Paul Vrbka said his department is currently in "good shape, as we have all our deputy and correctional officer positions filled. We just hired a new deputy, in fact, and we are fortunate that right now, we have our roster full. But yes, there is a trend right now, due to what's going on in our country, that a lot of people do not want to get into this line of work, the work being law enforcement."
When asked if even all the current positions were filled, if that is adequate to keep up with the case load, Chief Tjaden said, "We can always utilize more resources, but our goal right now is to get our current positions filled. After getting our patrol positions filled, I believe our structure needs a second in command position, but this addition comes second to patrol/road positions."
The biggest challenge, when it comes to getting qualified applicants and then hiring them, Chief Tjaden said, "is the nationwide and state recruitment crisis. We find ourselves competing with 40-50 other agencies just in the state of Nebraska alone. The next challenge is our process and standards; we see many candidates who are not prepared for our academic test and many who are not prepared for our rigorous background investigations."
Sheriff Vrbka echoed Chief Tjaden's sentiment, saying, "We are always competing with bigger departments to get applicants and be able to hire the good ones."
And Chief Tjaden agreed with Sheriff Vrbka's view on the issue of a dwindling number of people being interested in the field of law enforcement.
"There are certainly not nearly as many people interested as in previous years," Chief Tjaden said. "The last 10-15 years has laid the foundation for a recruiting crisis, and we are living in that crisis now. As I stated earlier, national trends toward politicizing law enforcement, dehumanizing officers and knee-jerk reactions to situations without objective evaluation and gathering of all the facts has frightened many well-meaning candidates away."
Sheriff Vrbka said race, religion, ethnicity have never been and will never be considerations in his hiring decisions. "I would hire anyone who is qualified, I don't care what color or religion an applicant might be. They just need to be able to get through the certification process. We look at training, experience, attitude. We call in our top three candidates, we interview and if those three don't work out, we move through the list. With our applicants, we often do three interviews with them and a very, very extensive background check. After they are hired, there are also seven months of probation – that's catch time. That's when we evaluate if a deputy needs more training or if it is going to work out. As far as ethnicity might go, I would love to find someone who is fluent in Spanish, as an example. But we just don't get applicants of varied ethnicities – I think much of that is because people gravitate toward where they came from, where their family is located. And our community is just not that diverse within itself. We do diversity training on a regular basis – I just completed sessions myself. It's important that we understand other cultures and beliefs and opinions. I wish we had more diversity in our applicants, but we just don't. But again, we are fortunate to have all our positions filled with good law enforcement officers right now."
And are there trends with more officers leaving the field or taking early retirements? Chief Tjaden said, "In our agency, the trend would be that officers remain until typical retirement age and then leave us, but this is not the national trend. A quick internet search illustrates how recent events have affected the field of law enforcement nationally, with many officers leaving as soon as they are eligible or finding 'early-out' solutions. Like I said, national trends toward politicizing law enforcement, dehumanizing officers and reactions to situations without objective evaluation and gathering of all facts has many officers looking for a way out."
Chief Tjaden said he and the city's police officers "appreciate our local citizens' support more than they will ever k now and we are proud to serve them and be a part of the community. We are hiring and applications can be picked up at the York Police Department or filled out and submitted online at the city's website. This profession is about more than a paycheck, and we'd love to have civic and service minded people come for a ride along or talk to someone here about the job. We aren't looking for bodies to fill spots; we need good citizens to help us protect and serve."
Be the first to know
Get local news delivered to your inbox!