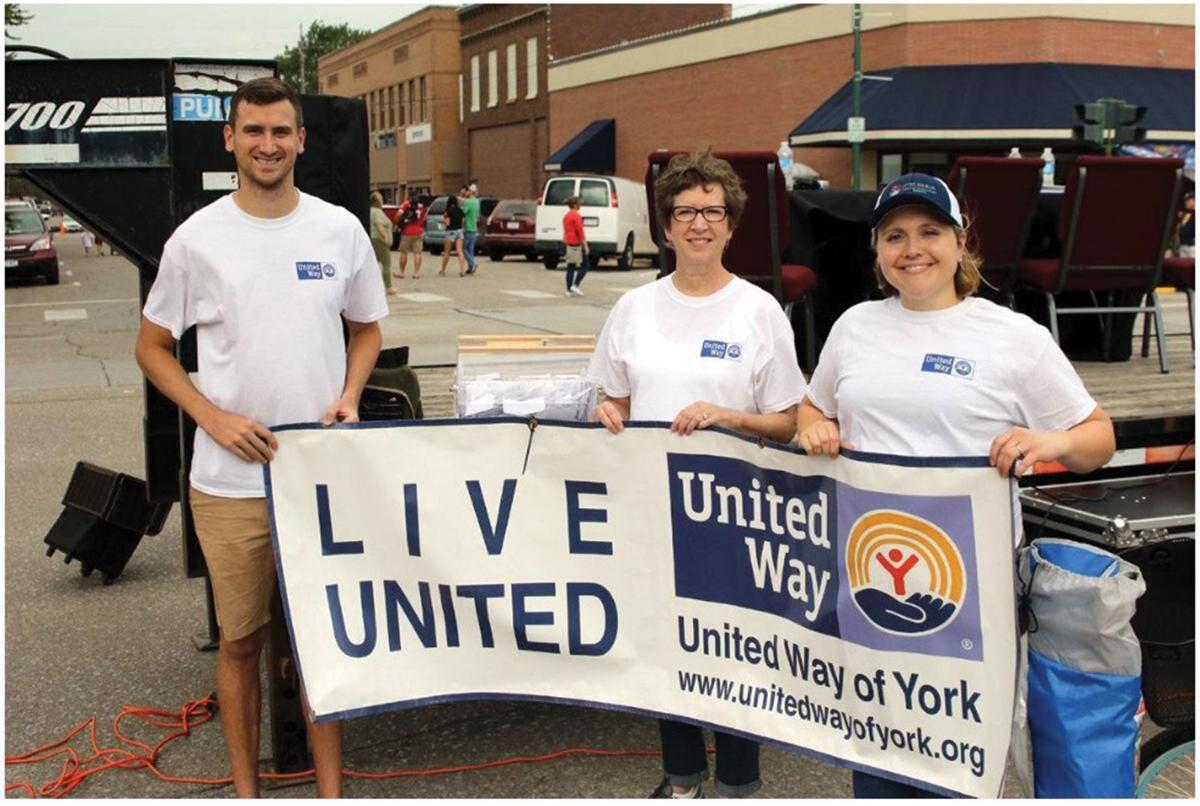 YORK -- From mandatory masks at the grocery store to attending weddings via digital conferencing, there seems to be little in life that hasn't been disrupted by COVID19 -- the annual United Way of York fund drive included.
This year, there will be no smiling volunteers going door-to-door to local businesses and no Split the Pot raffle winner announced with fanfare at Yorkfest.
What hasn't changed is the needs United Way of York seeks to meet in the community. In the coming year, the organization has budgeted for $50,000 in grants for 19 agencies, including those that support youth, people with disabilities, community enhancement programs and more.
To protect the health of everyone involved, this year the organization will be moving its fundraising efforts primarily from in-person requests to digital and print platforms. The board of directors of United Way of York is encouraging most gifts be made online (https://www.unitedwayofyork.org/) or by mail (PO Box 295, York).
Donations may also be dropped off at Kilgore Memorial Library (520 North Nebraska Avenue, York). Board members will deliver the usual donation packets only to larger businesses whose employees have given regularly in the past.
This action safeguards health, but comes with a risk, says Kadee Ditloff, branch manager of Union Bank and Trust and president of United Way of York. "United Way of York has been doing the annual campaign the same way for many years, distributing donation envelopes to local businesses with the help of volunteers. People have come to expect it to be that way. We hope that this change in format will not prevent individuals and businesses from participating."
Some fundraising events, as well as the annual raffle were cancelled to reduce person-to-person contact this year as well.
"We were especially sad to lose Split the Pot," Ditloff added. "Drawing the winner at the end of the Grand Parade has been a fun addition to Yorkfest for the past few years."
United Way of York is an umbrella organization that raises funds for community enhancing services. While community members can give at any time of the year, the annual fund drive is a push from September to December that supports the upcoming year's budget.
Last year the organization raised about $56,000 for local organizations. Their stated goal is reduced to $50,000 this year as there were fewer grant applications turned in than usual.
The funds generated by this annual drive will support the following organizations in 2020: Blue Valley Community Action (BVCA), Blue Valley Community Action (BVCA) Head Start, CASA for York County, Cornhusker Council/Local Boy Scouts, Epworth Village, Girl Scouts Spirit of Nebraska, Pioneer Foster Grandparents Program, Project Search, Special Olympics York, York Adopt-A-Pet, York Citizen Advocacy, York County Human Trafficking Task Force, York County Ministerial Alliance, York County Prevention Network, York County Public Transportation, York Dolphins Swim Team, York Parks and Recreation, Yorkshire Playhouse Children's Theatre and York Youth Football.
United Way of York is operated locally by a board of directors representing area businesses who contribute annually. Board member organizations include Cornerstone Bank, Union Bank and Trust, York State Bank, York College, Upper Big Blue Natural Resources District, York News-Times, York General Health Services, Collins Aerospace, York Public Schools, Svhela Law Offices, City of York, Black Hills Energy, and Nebraska Public Power District. If your business would like to have a representative on the United Way of York board, please contact unitedwayofyork@gmail.com.
Be the first to know
Get local news delivered to your inbox!