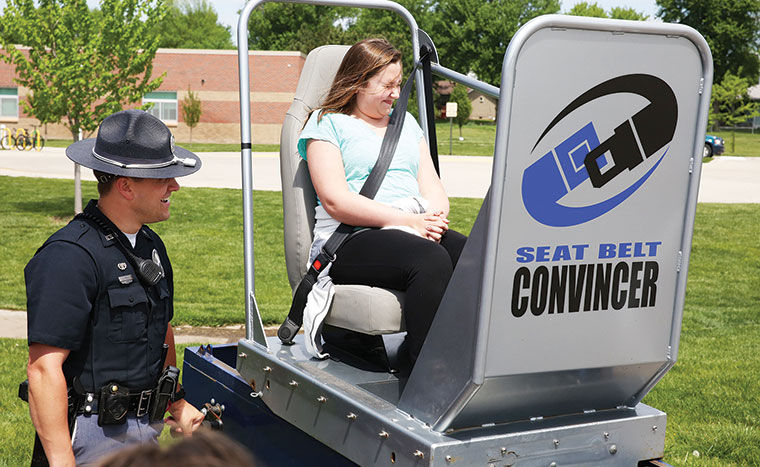 YORK – York Middle School students were given a potentially life-saving gift as the year wound down.
York troopers Kendall Reed and George Okamoto spent a full school day demonstrating proper seat belt use using two pieces of Nebraska State Patrol safety apparatus.
The day's activity came about when Okamoto came to YMS, explained Principal Kenny Loosvelt, "and asked if he could do a demonstration for our students. We found time during one of the last days of school for our students to hear a very important message from the Nebraska State Patrol. The patrolmen were very educational and stressed to the students the importance of using seatbelts even going at a slow speed of 10 mph."
The NSP's Seat Belt Convincer allowed each student to experience the impact of a 10 mph crash … while properly belted of course.
In the rollover simulator human-size dummies graphically demonstrated what happens to unbelted occupants.
With students standing close enough to easily see the fake stand-ins for themselves inside, Trooper Okamoto went through the paces of a slow-speed rollover, first with occupants unbuckled, again improperly buckled with shoulder harnesses not in use and, finally, with belts fully in place and tightened.
The latter scenario resulted in a far happier outcome than did the previous two.