Economists are still calling for another US stimulus package to boost the economy as Americans head into an uncertain fall. But it's not clear that lawmakers can come to terms after talks stalled last month, especially as the November election nears.
Treasury Secretary Steven Mnuchin told lawmakers on Tuesday that he believes "a bipartisan agreement still should be reached," and later spoke to Democratic House Speaker Nancy Pelosi. Still, longstanding disagreements remain.
After the call, Pelosi expressed concerns about Mnuchin suggesting a smaller deal in the near term, arguing that economists demand more.
The window for Congress to act is growing smaller as the election nears. Get the latest here:
Here's an update on all developments. Scroll or swipe further for in-depth coverage.
Millions of Americans are counting on a COVID-19 vaccine to curb the global pandemic and return life to normal. While one or more options could be available toward the end of this year or early next, the path to delivering vaccines to 330 million people remains unclear for the local health officials expected to carry out the work.
House Speaker Nancy Pelosi is getting heat over a solo hair salon visit in San Francisco at a time when California businesses are limited by concern over coronavirus.
The Department of Health and Human Services issued a statement Tuesday affirming that the national ventilator stockpile has now reached its maximum capacity for the life-saving breathing machines, with nearly 120,000 available for deployment to state and local health officials if needed.
U.S. companies added jobs at a modest pace last month, a private survey found, a sign that while hiring continues, it is only soaking up a relatively small proportion of the unemployed.
The torrid coronavirus summer across the Sun Belt is easing after two disastrous months that brought more than 35,000 deaths. Whether the outbreak will heat up again after Labor Day and the resumption of school and football remains to be seen.
Add Lego to the list of companies that have benefited from people spending more time at home. The Danish toy maker said Wednesday that sales jumped 14% in the first half of 2020 compared to the same period last year.
Antibodies that people make to fight the new coronavirus last for at least four months after diagnosis and do not fade quickly as some earlier reports suggested, scientists have found.
A federal official said Tuesday the government plans to ship rapid coronavirus tests to assisted living facilities, moving to fill a testing gap for older adults who don't need the constant attention of a nursing home.
Apple and Google are trying to get more U.S. states to adopt their phone-based approach for tracing and curbing the spread of the coronavirus by building more of the necessary technology directly into phone software.
The NFL has updated its gameday protocols by requiring every coach and staff member in the bench area to wear a mask and reducing the size of each team's travel party.
For more summaries and full reports, please select from the articles below. Scroll further for charts and maps tracking the spread of the virus.
Health update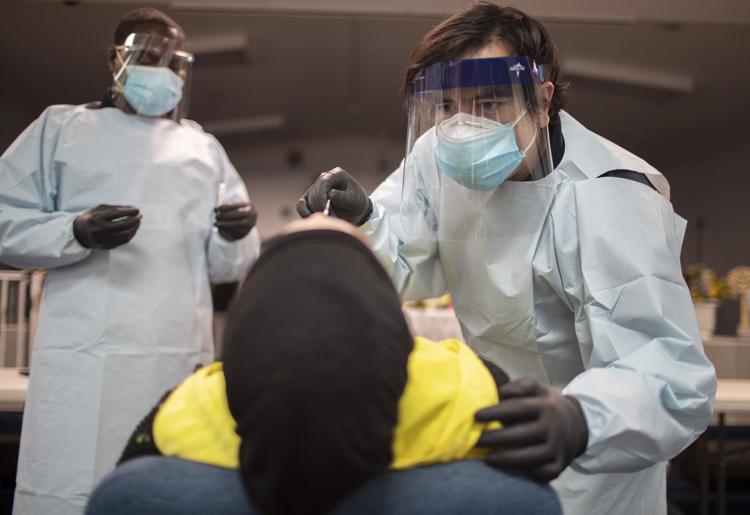 Coronavirus symptoms can last much longer than initially thought, experts say
Months into the pandemic that has infected more than 6 million Americans, the public and experts alike are learning the impacts of Covid-19 can drag on longer than expected.
The US Centers for Disease Control and Prevention advises that most Americans who have tested positive for coronavirus can return to work or school 10 days after the onset of symptoms, unless the illness requires hospitalization. But new research suggest that the virus and its symptoms are often no where near finished by that benchmark.
According to research published Tuesday in the British Medical Journal, patients may need to wait over a month before being retested to know whether they have cleared the virus. Read the full story here:
Virus by the numbers
Concerned about COVID-19?
Sign up now to get the most recent coronavirus headlines and other important local and national news sent to your email inbox daily.