CINCINNATI — U.S. Customs and Border Patrol agents seized a shipment of cereal from South America that was covered in cocaine instead of sugar.
On Feb. 13 CBP officers in Cincinnati, Ohio, intercepted the package containing about 44 pounds of cocaine-coated corn flakes, according to a news release.
While working on incoming freight from Peru, a CPD narcotic detector dog named Bico flagged the cereal shipment going to a private residence in Hong Kong. Upon further inspection, officers found and tested white powder on the cereal that was positive for cocaine.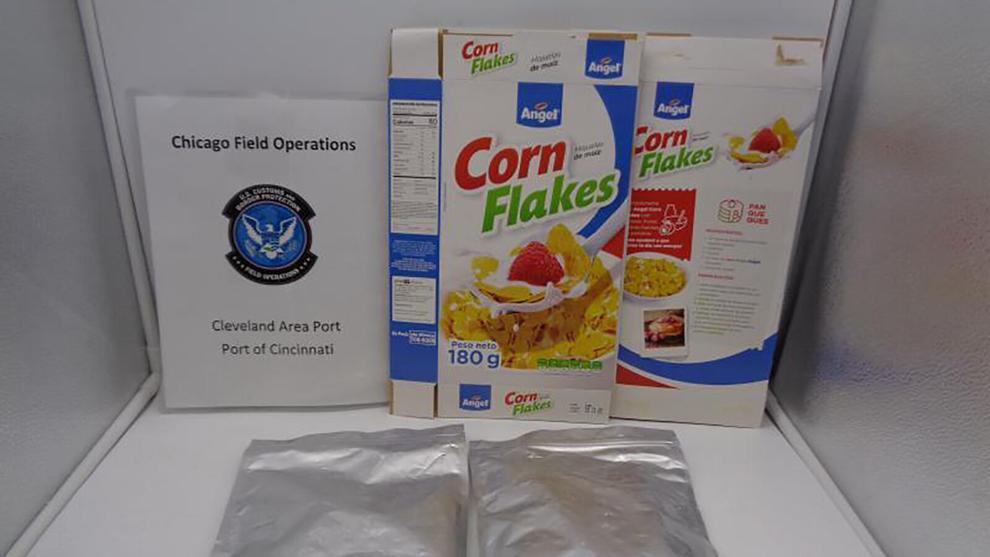 "The men and women at the Port of Cincinnati are committed to stopping the flow of dangerous drugs, and they continue to use their training, intuition and strategic skills to prevent these kinds of illegitimate shipments from reaching the public," Cincinnati Port Director Richard Gillespie said.
On a typical day in fiscal year 2020, CBP said it seized 3,677 pounds of drugs at ports of entry across the nation.
Drug traffickers have long used creative methods to try to ship cocaine.
In July, for example, police in Italy discovered cocaine stuffed inside individually hollowed-out coffee beans, after opening a parcel addressed to a fictional Mafia boss from a Hollywood movie.
More of this week's weirdest news:
Alaska woman using outhouse attacked by bear, from below
ANCHORAGE, Alaska (AP) — An Alaska woman had the scare of a lifetime when using an outhouse in the backcountry and she was attacked by a bear, from below.
"I got out there and sat down on the toilet and immediately something bit my butt right as I sat down," Shannon Stevens told The Associated Press on Thursday. "I jumped up and I screamed when it happened."
Stevens, her brother Erik and his girlfriend had taken snowmobiles into the wilderness Feb. 13 to stay at his yurt, located about 20 miles northwest of Haines, in southeast Alaska.
Her brother heard the screaming and went out to the outhouse, about 150 feet (45.72 meters) away from the yurt. There, he found Shannon tending to her wound. They at first thought she had been bitten by a squirrel or a mink, or something small.
Erik had brought his headlamp with him to see what it was.
"I opened the toilet seat and there's just a bear face just right there at the level of the toilet seat, just looking right back up through the hole, right at me," he said.
"I just shut the lid as fast as I could. I said, 'There's a bear down there, we got to get out of here now,'" he said. "And we ran back to the yurt as fast as we could."
Once safely inside, they treated Shannon with a first aid kit. They determined it wasn't that serious, but they would head to Haines if it worsened.
"It was bleeding, but it wasn't super bad," Shannon said.
The next morning, they found bear tracks all over the property, but the bear had left the area. "You could see them across the snow, coming up to the side of the outhouse," she said.
They figure the bear got inside the outhouse through an opening at the bottom of the back door.
"I expect it's probably not that bad of a little den in the winter," Shannon said.
Alaska Department of Fish and Game Wildlife Management Biologist Carl Koch suspects it was a black bear based upon photos of the tracks he saw and the fact that a neighbor living about a half-mile away sent him a photo of a black bear on her property two days later.
That homeowner yelled at the bear but it didn't react. It also didn't approach her but lumbered about its business, like it was in a walking hibernation mode.
Even though it's winter, Koch said they get calls all year round about bears being out.
And 2020 was a record year for general bear problems in the Haines area. Reasons for that, he said, could include the fact it was a poor salmon run year combined with a mediocre berry crop. "It is also possible a bear couldn't put on enough fat when they go in the den, that they might be out and about more often or earlier," he said.
Koch suspects Shannon's wound was caused by the bear swatting at her with a paw rather than being bitten. Either way, the location might be a first.
"As far as getting swatted on the butt when you're sitting down in winter, she could be the only person on Earth that this has ever happened to, for all I know," Koch said.
No matter the season, Erik says he'll carry bear spray with him all the time when going into the backcountry, and Shannon plans to change one behavior as well.
"I'm just going to be better about looking inside the toilet before sitting down, for sure," she said.
McDonald's is selling chicken hoodies for $5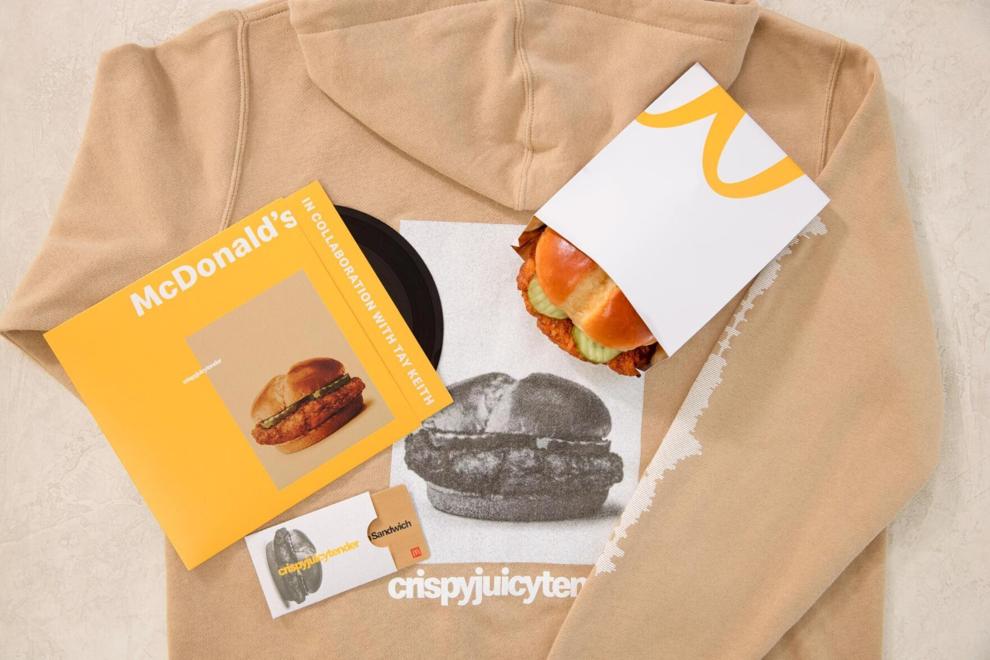 McDonald's will sell a limited number of $5 swag packages via a special website on Thursday. The swag includes a hoodie, a custom song and, of course, a first taste of its Crispy Chicken Sandwich. It's all aimed at drumming up excitement and online buzz for what has become a mundane menu item.
"We're excited to give fans early access to this sandwich and exclusive swag they can't get anywhere else to memorialize this great addition to our menu," said David Tovar, vice president of US communications for McDonald's, in a press release.
Arguably, the most eye-catching item of the swag is a hoodie that has a picture of McDonald's new Crispy Chicken Sandwich with the slogan "crispyjuicytender." The gift box also includes vinyl recording of a song about the sandwich from music producer Tay Keith, and a gift card recipients can use to redeem for the sandwich one day prior to its official release at restaurants.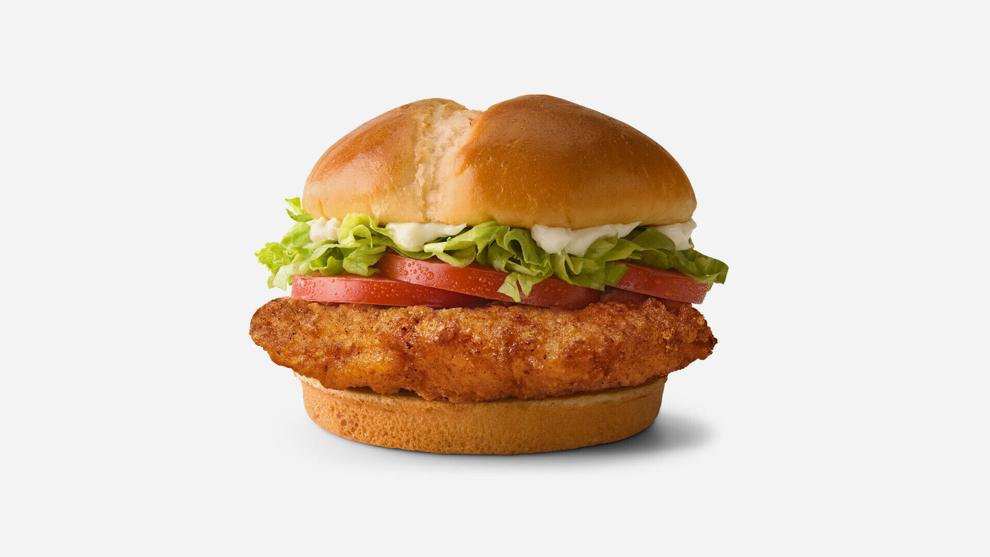 McDonald's has recently sold merchandise tied with their food, including projects with musicians Travis Scott and J. Balvin. Scott's fashion collaboration with the chain sold for as much as hundreds of dollars more than originally priced on the resale market, according to the online marketplace StockX.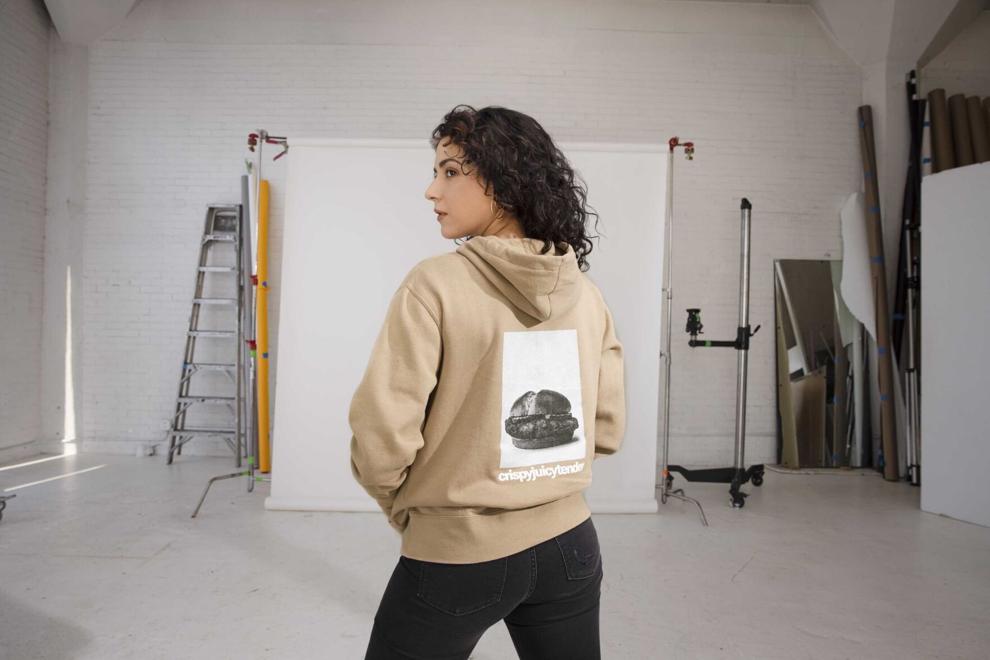 Betting on chicken
McDonald's new chicken sandwiches go on sale next Wednesday in the United States. They come in three versions, including a Crispy Chicken Sandwich topped with pickles and served on a potato roll, a Spicy Chicken Sandwich that adds a spicy pepper sauce and a Deluxe Chicken Sandwich that comes with lettuce, tomatoes and mayonnaise.
The chain teased a new selection of sandwiches at November's investor day, with Joe Erlinger, president of McDonald's USA, explaining that chicken is a good bet for the company.
"Globally, the chicken category is almost twice the size of beef," he said at the time. "It is growing faster and represents a significant opportunity," he said. "Developing a reputation for great chicken represents one of our highest aspirations. We want customers to choose McDonald's for chicken."
McDonald's rivals including Wendy's, Shake Shack and KFC have all recently released new sandwiches in response to Popeye's 2019 release that sparked the chicken clash.
Deputies: Man proposes using rings stolen from other lover
ORANGE CITY, Fla. (AP) — A Florida man stole an engagement ring and wedding bands from a girlfriend and used them to propose to another girlfriend, according to authorities.
Volusia County Sheriff's deputies said Thursday they have issued an arrest warrant for Joseph Davis, 48, who had not been found as of Friday.
Their investigation started earlier this year when a woman from Orange City, Florida, told detectives she had discovered her boyfriend was actually engaged to someone else. When she looked up the fiancée's Facebook page, she noticed a photo of her wearing a wedding band and engagement ring that was identical to her own from a prior marriage, the sheriff's office said in a news release.
When the Orange City woman checked her jewelry box, she found her rings were missing, as were several other pieces of jewelry, including a diamond ring that belonged to her grandmother. The total value of the stolen property was about $6,270, according to the sheriff's office.
Orange City is located halfway between Orlando and Daytona Beach.
The Orange City woman reached out to the fiancee, who returned some of the items, and they both called it off with Davis, who also went by the names "Joe Brown" and "Marcus Brown," the sheriff's office said.
The fiancee, who lives in Orlando, told detectives she had been duped too.
Davis once took the fiancee to a house that actually belonged to the Orange City woman, while she was at work, and claimed it was his. He then asked the fiancee to move in with him, but he then disappeared. By that time, the fiancee discovered her laptop computer and jewelry were missing, the sheriff's office said.
Even though they did not have his real name, the jilted women remembered he had a relative in North Carolina and detectives were able to track down the relative who identified Davis, according to the sheriff's office.
Davis has an active arrest warrant for a hit-and-run crash with injuries in Oregon, and previously has been arrested for possession of fictitious ID, filing a false police report, domestic assault and possession of cocaine with intent to sell, the sheriff's office said.
According to the sheriff's office, the jail where Davis previously was booked noted he had a tattoo on his left arm that said, "Only God can judge me."
Two Floridians attempted to get second doses of the Covid-19 vaccine by dressing as elderly women
Two women were caught trying to get second doses of the Covid-19 vaccine by dressing up as "grannies," the Director of the Florida Department of Health in Orange County said Thursday.
The women came to the vaccination site wearing bonnets, gloves, and glasses in an attempt to receive their vaccines, Dr. Raul Pino said during a press conference. According to the sheriff's office, the women were 44 and 34.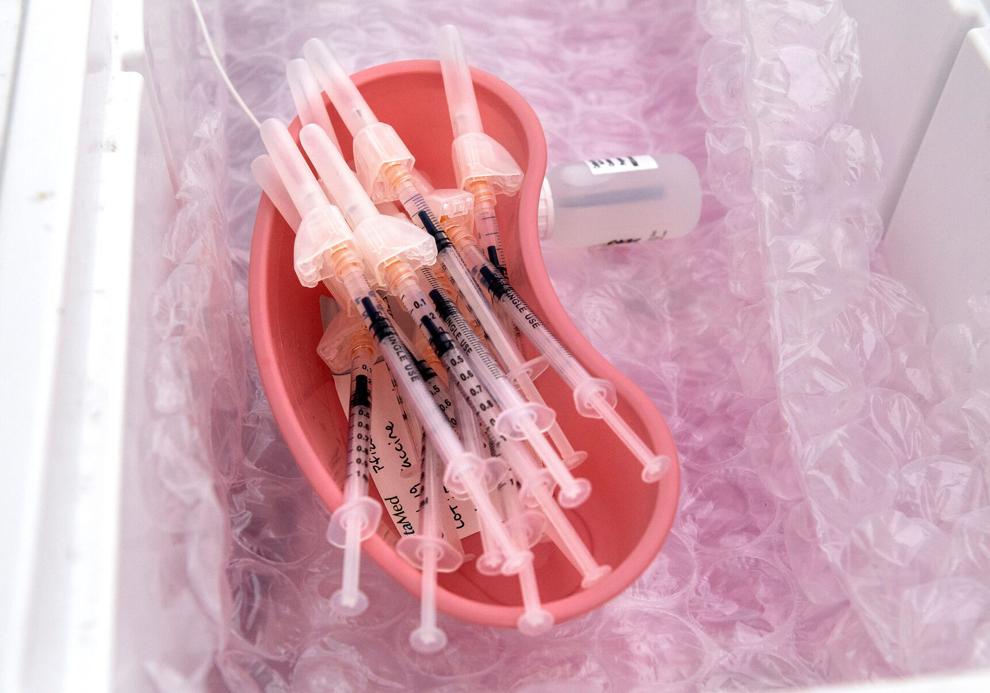 CNN reached out to the women for comment.
Both women had valid vaccine cards from their first shot, Pino said. They were denied their second shot while dressed up due to issues with their ID cards. Health officials did not know how the women were able to get their first vaccine shots and whether they had dressed up then as well.
The department has increased security around the site, Pino said.
"This is the hottest commodity that is out there right now," Pino said. "We have to be very careful with the funds and the resources that we are provided."
The Orange County Sheriff's Office confirmed to CNN that it was called by health officials to issue trespassing warnings to the women as their dates of birth did not match those they had used to register for vaccines, though the names did match.
The sheriff's office did not have any additional information on the incident, including if the women were wearing disguises or how they were dressed.
Currently, Florida is prioritizing adults 65 and older, long-term care facility residents and staff and healthcare workers with direct patient contact for the vaccine.
An army of parasitic wasps has been deployed to battle moths inside a British stately home
An army of tiny, parasitic wasps will be unleashed inside the English stately home where Anne Boleyn was born, in order to hunt out and eradicate moths that threaten the mansion's furniture and artifacts.
Blickling Hall in Norfolk, eastern England, has been unable to contain an invasion of clothes moths, which can be damaging to the carpets, furniture, clothing and other wool and silk objects inside the historic home.
But managers believe the critters will meet their match when they introduce a number of microscopic, parasitic wasps into the building.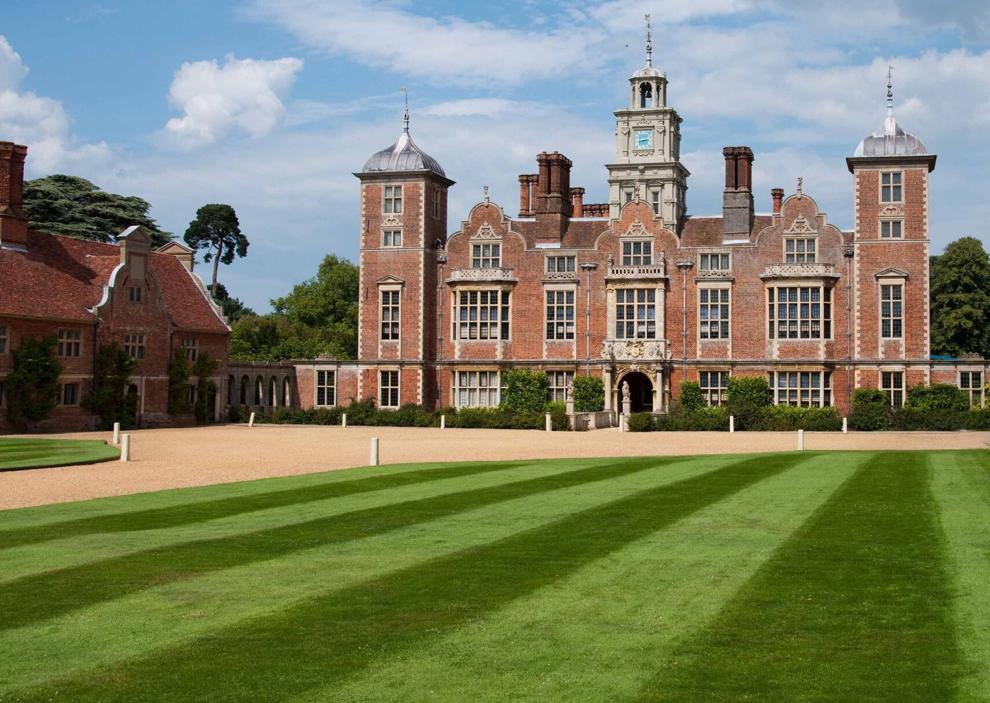 The wasps — Trichogramma evanescens — measure about 0.5 millimeters and are barely visible to humans.
They will search out moth eggs and lay their own eggs inside them, so a new wasp hatches instead of a moth larva.
Once their mission is complete, the wasps will eventually die and disappear into house dust, say property managers, who believe the pest control attempt is the first of its kind inside a heritage setting.
"We are really hoping this pioneering approach will provide a practical and sustainable method that any of our properties can use to deal with serious infestations," National Trust assistant conservator Hilary Jarvis said in a statement.
"Although these are rare, (the moths) can sometimes prove immune to our usual, more gentle approaches, with potentially serious results."
The Trust, which runs the property, said the wasps will be supplied in small card dispensers which can be "discreetly hung or placed in drawers or open rooms."
Blickling Hall was listed in the 11th century Domesday Book, Britain's earliest public record, and was later owned by Geoffrey Boleyn.
His granddaughter, Anne Boleyn, is believed to have been born in the home. She went on to become Henry VIII's ill-fated second wife, giving birth to the future Queen Elizabeth I and later being put to death by beheading after failing to deliver the ruler a son.
It now welcomes visitors, but is closed during England's third national coronavirus lockdown.
"When we closed all of our houses, we knew insects would likely thrive, so pest monitoring was high on our list of essential tasks in 2020," Jarvis said, also citing Britain's mild winter as a reason for the growth in moth numbers.
The-CNN-Wire
™ & © 2021 Cable News Network, Inc., a WarnerMedia Company. All rights reserved.