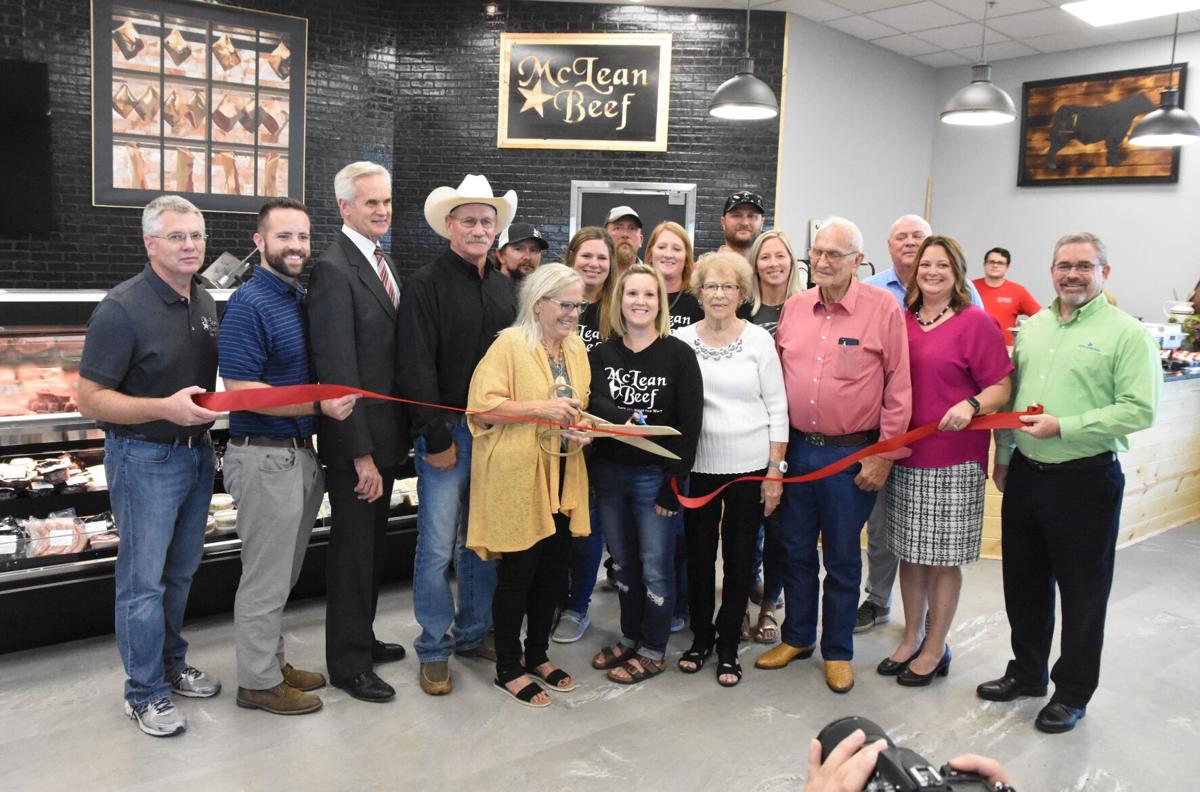 YORK – A long and challenging process came to fruition last week when McLean Beef hosted its long-awaited grand opening.
The business on the Hwy 81 corridor in south York markets beef in a number of diverse ways, from custom processing customer-owned animals for the freezer to a full array of USDA inspected cuts available for sale to the general public.
It will soon enter the smoked meats market in a big way and the full-equipped, commercial stands ready for future development, too. The day also debuted the much-talked-about fresh meat vending machine. Located in the outer entrance, its assortment of products will be accessible 24-7 by credit card only.
Owners Max and Jeanette McLean, longtime cattle feeders north of York, presided over the ribbon cutting, reception, plant tours and customer sales.
Local and state leaders in attendance included Nebraska Lt. Gov. Mike Foley, York mayor Barry Redfern, York County Development Corporation director Lisa Hurley, representatives of the Nebraska cattle industry and others.
Welcoming those in attendance, Mayor Redfern declared it to be "a very exciting day" for York. "This is great addition to the York community" and "to the interchange out here."
Max McLean acknowledged, "This has been a long process" over 20 years of time in which the family sold retail cuts of its beef to consumers from a store at its farm headquarters north of York.
A lot of things had to happen, he said, to make the grand opening possible, beginning with "a lot of support from our family."
Indeed, the McLeans were surrounded by their children, spouses and grandkids … all of whom pitched in to make the grand opening a success. Max's parents, Alice and Jim McLean, greeted guests throughout.
McLean thanked Lisa Hurley, director of the York County Development Corporation for all she contributed to the complex process of getting the start-up business running.
He said the first thought was to build at the family farm, but "things didn't work out there. Then we found this location," the former home of an ambulance and fire truck firm.
"It's been a really trying year," obtaining necessary inspections, licenses, coordinating on-site federal inspection and struggling through pandemic obstacles to get all the highly specialized equipment delivered.
"I think everything is in here now," McLean told his audience. "We are looking to be able to serve this community well and provide high quality" customer value.
In her brief remarks, Jeanette McLean wanted especially to thank Brian Kurth, general manager of McLean Beef, for guiding the project from the beginning. "We are really blessed," she added. "It has taken perseverance. This has been a leap of faith."
In a statement, Hurley said credit ripples throughout the community and state.
"I want to say thank you to Max and Jeanette for their dedication on this project, and their large investment in York County. They had considered several locations over some time.
"After they chose the final location based on the retail traffic, we had to work with the City of York for rezoning and permits. Thank you to all involved in making the city changes possible (planning commission, city council, Mayor Redfern and city attorney Charley Campbell.
"Also, Steve Martin with the Alliance for the Future of Agriculture in Nebraska, who provided me guidance on language and industry trends as we moved into the public education phase before the city approval process. Stephen Postier with Henderson State Bank saw through the application process for SBA 504 financing, and kept his determination to see the project financed. Brian Kurth, the general manager who joined the team early in the design process was a vital member of bringing the project to reality," she said. "Ayars & Ayars team handled the design and construction.
"I can say I learned about the terminology and of meat lockers, and technology that comes with it. It was an absolute pleasure to work with this family owned business and know the impact it will have not only on our region, but the state," Hurley concluded.
Foley offered his congratulations and those of Gov. Pete Rickets. He spoke of the unique situation the cattle industry finds itself in right now, and of the vital role small processing operations like McLean Beef play in stabilizing the industry and, ultimately, bringing more quality beef to market.
"Nobody does beef better than Nebraska," Foley said.