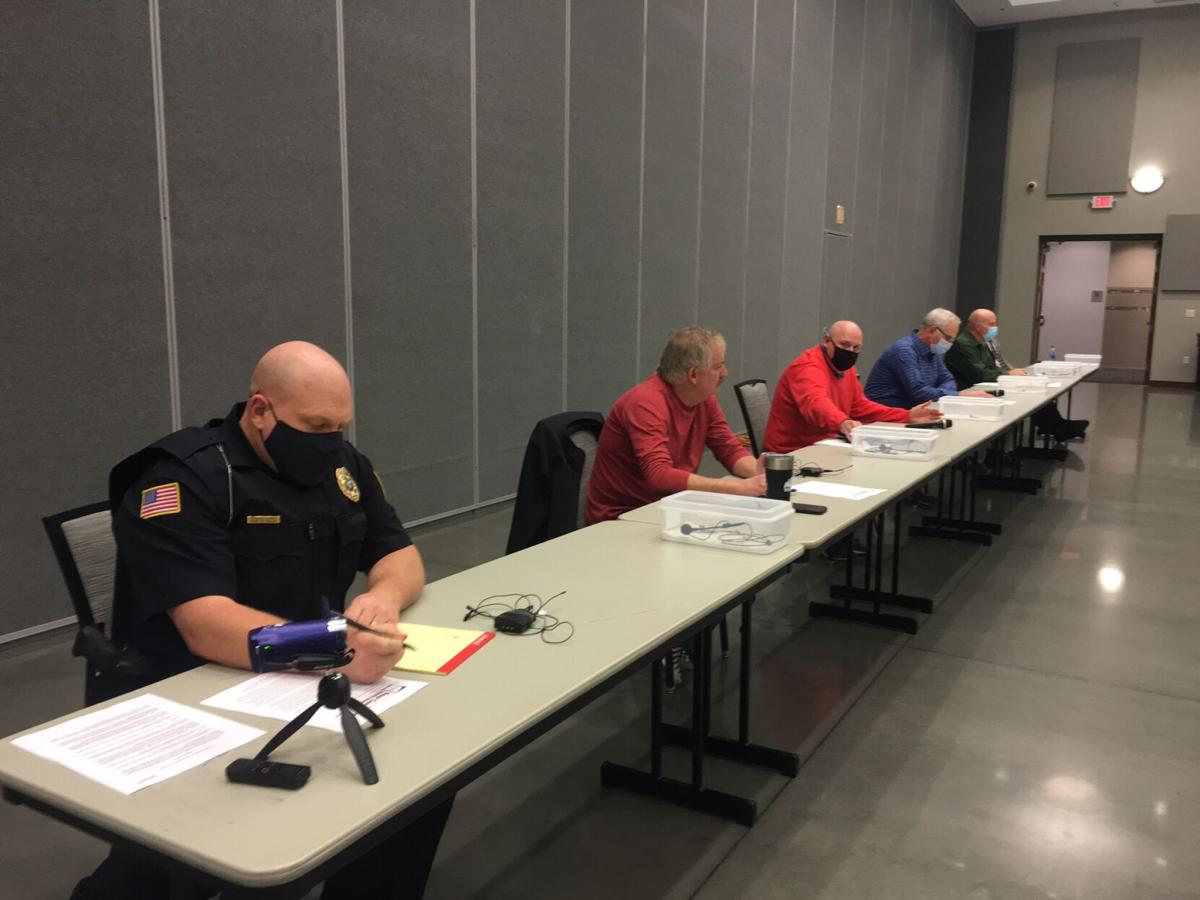 YORK – York's new ordinance which mandates the use of masks in public indoor places will take effect at 12:01 a.m., Monday, Nov. 30.
And it will remain in effect until Jan. 15, 2021.
That was decided Tuesday night during a meeting of the city's board of health, which is made up of the mayor, president of the council, chief of police, the city administrator and the city physician.
The board rarely meets or makes policy – it was designed to handle business only during a health crisis. The pandemic qualifies as such and the Four Corners Health Department Board along with local healthcare providers asked that the board of health meet to determine whether or not a mask mandate should be put in place.
The public meeting was held at the convention center.
The draft was presented to the board and discussed at length.
The emergency ordinance says that "all individuals five and older shall wear a face covering over their mouth and nose while indoors in a premises that is open to the general public including, but not limited to, educational institutions, unless the individual maintains a minimum of six feet of separate or social distance at all times from anyone who is not a member of the individual's household.
"Except, face coverings will not be required if the individual:
· Is seeking federal, state or county services;
· Is seated at a bar, restaurant or their seat at an arena to eat or drink, or while immediately consuming food and beverages;
· Is engaged in an occupation preventing the wearing of face covering or;
· Is obtaining a service or purchasing goods or services that requires the temporary removal of the face covering; or
· Is asked to remove a face covering to verify an identity for lawful purposes; or
· Is providing a speech, lecture or broadcast to an audience so long as six feet of distancing from other individuals is maintained; or
· Cannot otherwise wear a face covering because of a medical condition, a mental health condition, or a disability that makes it unreasonable for the individual to wear a face covering.
The draft also says, "any individual or entity which maintains premises that are open to the general public shall require all individuals five and older to wear a face covering over their mouth and nose while indoors in said premises unless the individual maintains a minimum of six feet of separate or social distance at all times from anyone who is not a member of the individual's household."
It also adds that it is the responsibility of individuals or entities that maintain premises open to the public to post one or more signs instructing all persons to wear face coverings as required by the mandate.
It also lists what the mandate would not apply to: children under five, individuals at work where masks would create a hazard, individuals alone in a work situation, individuals working behind Plexiglas, individuals who are working alone or in a socially distanced setting, officiants at religious services, individuals engaged in activities where their face covering would get wet, individuals who are exercising, musicians while playing music that would be made difficult or impossible by wearing a mask, public safety workers and participants in the process of playing in a sporting event.
The draft says that if someone would fail to comply, it could be considered an infraction which could bring a $25 fine for an initial offense.
The initial draft of the mandate said it would expire at 11:59 p.m., on Feb. 23, 2021, but the health board members said they wanted an earlier expiration date – which can later be extended if necessary.
During Tuesday's hearing, Laura McDougall, the director of the Four Corners Health Department, told the board of health, "We must reverse the trend as this is currently not sustainable. We are having way too many cases. We are clearly at a juncture, if we don't act now we will have more cases and more deaths. A mask mandate will help us avoid future lockdowns. Science shows that masks are working during this pandemic. Four Corners recommends this mandate for the City of York."
Jim Ulrich, CEO of York General Health Care Services said local healthcare workers are "being stretched and pushed to the limit. We have dedicated staff, but we are being tasked mentally and physically. We have limited beds and PPE and there is the threat that at some point we will be faced with the situation of determining who gets care."
He said 39 COVID patients have been cared for at the York hospital since the pandemic began. Ulrich also said 77 COVID patients were in the hospital's emergency room just this past month.
"Right now, we only have rooms for two more COVID patients," Ulrich said. "All that said, an increase in cases and hospitalizations is not a good combination for our resources."
York County Commissioner Chairman Randy Obermier said he was speaking on his own behalf, not as a representative of the county. "I am a COVID survivor and I had few symptoms that many have found to be the same – but we do not want to downplay this situation. But if I don't put up a sign saying masks required, then I am a criminal. Being ordered and mandated for my business is my problem with this. My opinion is that this is a divisive move and it will split us in two. These divisions will far outlive COVID. And who is going to be the mask police? Or will we do this threat without policing? I am just asking this board to hold off on a knee jerk action."
Dr. Jill Fickenscher, a physician in York, asked the board "to help us in healthcare, to get through this together. The numbers are alarming and are rising. And the number of deaths will follow those numbers. We are in a dangerous time of this pandemic. There is hope on the horizon, but we could be waiting for months. We know that masks work – the schools have done an excellent job with masks and it works."
One individual in the crowd asked for the mandate to not be passed – saying that the mandate "would not be enforceable and would be ineffective." He also said he wished the city council members would vote on the matter as they have been elected – and only two of the five members of the board of health were elected officials. He also suggested perhaps a special election of the people could take place, in order to make this decision.
York Public Schools Superintendent Mitch Bartholomew spoke in favor of the mandate – citing that mask usage among students in the district has helped the schools stay open.
York County Development Corporation Director Lisa Hurley also spoke in favor of the mandate. She said she was only speaking on her own behalf and not as a representative of YCDC.
"My primary concern here is keeping our businesses open," Hurley said. "I believe that we are at the point where we need to have everyone wearing masks so we can keep our businesses open. As much as I hate to say it, it will likely require a mask mandate and I can live with that. This year has been painful for businesses and we don't want to see closures by the state again. I've had business owners say they are afraid to require masks, and I've heard people say they are afraid to go into certain stores because no one inside is wearing masks there. I'd like to see a safer shopping environment and I think that would result in higher sales. It's worth the inconvenience to try."
Dr. Todd Stuckey, a local physician, told the board, "I am not a politician or a salesman. I feel an ethical obligation to the community as a healthcare provider. Masks aren't perfect but they are important."
Margaret Brink, the president of the Four Corners Health Department Board of Directors, told the board, "We understand your decision is very hard, but there is a social responsibility and right now it is wearing your mask. Please think about what we need to do right now. I know that in your heart, you know what the right thing to do is."
The York City Physician, Dr. Joe Erwin (a member of the city's board of health) said, "I'm against mandates but this is 2020. We took so many precautions months ago – and now we see we are spiraling. My concern is that people who need hospitalization won't get it because too many staff members are sick and people will die. Many people, many communities, are implementing this and if we can slow this down now, we might be better in the long run."
Ron Mogul, president of the city council, said he also survived COVID and required hospitalization at the time. "But I'm not in favor of this because I think it creates a false sense of security. If you are sick, stay home." He also said he didn't believe all people have been properly taught how to wear and handle masks so they are effective and not actually hazardous. "I can't support this and I don't think the police department can enforce it. We only have so many police officers, like we only have so many healthcare people."
York Police Chief Ed Tjaden said the department will "do our best to walk that line, as the purpose of this is to gain compliance. My decision tonight is based on public safety."
Tjaden also said he wanted a shorter timeframe – paring it back from February to a January timeline.
"This is a temporary mandate," said Mayor Barry Redfern. "Since March, I've been on one, two, three Zoom meetings a week about this and we are talking with everyone, and trying to be as reasonable as we can be. Yes, I a few weeks ago, I said I wasn't in favor of a mask mandate. But things are different now, the cases are a lot higher. I want to keep businesses open and not have the state government shut everything down. We need to keep our schools open. I'm throwing out a Jan. 15 expiration date – and then at that time we can reevaluate.
Redfern, City Administrator Joe Frei, Tjaden and Dr. Erwin voted in favor of the mandate. Mogul voted against.
Again, the mandate will begin on Monday.