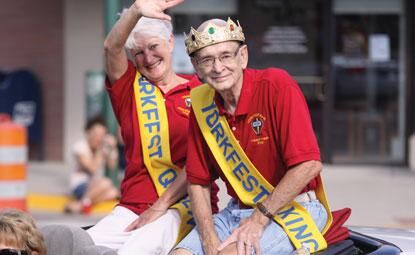 YORK – Charles H. Toms Jr. – most well known to everyone in his hometown of York as Tommy Toms – passed away this week at the age of 87.
The 1951 graduate of York High School was well known for his athletic accomplishments, his dedication to community and philanthropic nature.
Toms competed and earned letters in all boys sports each of his four years at YHS. He played baseball in York and went on to compete in semi-pro baseball across the state, from which he was drafted by the Minnesota Twins organization.
His love of baseball began at an early age. In 2013, he told York News-Times Sports Editor Ken Kush in an interview that he still vividly remembered "when we lived over on 10th and Beaver next to the Staehr family, the first thing we would do in the morning was get a baseball game going in a vacant lot. Or a football game out in the streets. Back when I was a kid, there was nothing else to do. We didn't have any TV shows to watch, video games and so playing baseball or being involved in some (type) of sports was all we had to do."
That early start served him well.
He swam competitively and played football at the University of Colorado, graduated Hastings College in 1957 and went on to coach and teach in Lexington and Omaha. Toms was drafted into the U.S. Army and served in Germany.
In 2014, he was inducted into the York High School Hall of Fame. In a nomination letter written by Holly Miller, it was said of Toms: "I've known Tommy for many, many years. We worked together in business as we both were involved in retail together. We also worked together through committees at First Presbyterian Church serving the Building and Grounds Committee and the Memorial Foundation. Tommy is willing to work with anyone and everyone. He devotes himself to whatever project he is involved with. Tommy has been active in service groups and church activities for as long as I've known him. He is very deserving of this award."
Toms was a member of the Halls of Fame at both Wentworth Military Academy and the University of Colorado.
Toms was a Little League (Midget) football organization founder and coach; he coached girls' softball; was a coach and organizer for Little League through Legion baseball; was an umpire for many baseball and softball games at all levels; and was a referee for basketball and football for many years in York and the surrounding area.
Toms was a state track meet timer for York several years; he sorted and stored York High School football uniforms, free of charge, for many years at the Toms and Sons Sporting Goods Store; he was a community playhouse officer; he was instrumental in the community concert series; he delivered Meals on Wheels; and he volunteered many years for Job's Daughters.
A long list of activities in York included: memberships with Sertoma (charter member), Elks and the Masonic Temple; membership with the Sesostris Shrine and the Shrine Clowns; he served as president of the York chapter of UNL's Touchdown Club; and had active roles in helping make the York Family Aquatic Center, the York Community Center and school building projects become reality through public education, advocacy and fundraising.
Regarding his professional history, Toms worked for Charles H. Toms Sr. at Toms Produce in York and then worked for Leonard Norgren at the Sporting Goods/Appliance Store in York. After graduating from Hastings College in 1957, he taught and coached in Lexington and Omaha. In 1962, he moved back to York to go into business with his father and brother at Toms and Sons Sporting Goods – where he remained until 1976.
From 1962-1974, he helped create and manage Putt Parr Golf in York. He was the owner/manager of Duffey's Tavern in York from 1976-1981; was a salesman for the Scott Hourigan Company in York between 1980 and 1989; was a salesman for the Desch Monument Company from 1990-91; was the York sales representative for the T.H. Rogers Company from 1991-95; and was the head of maintenance for the elementary school from 1995-2000. He then retired, but went to work for the U.S. Census Bureau as a canvasser in York in 2000 and 2010; he worked as a truck driver for Mycogen from 2009-2012; and was the sexton/caretaker of the First Presbyterian Church in York.
In 2013, Toms was named Yorkfest King. Those who nominated him for this honor said he was "a shining example of someone who is proud of the York community and has contributed unceasingly to its success. He has been a contributor to the progress of the York community since 1946, as an active person on the front lines of growth and development, behind the lines as a member of support teams, and quietly on his own. He has been able to utilize his connections throughout the United States to benefit many York organizations over the years."
"He has aspired all his life to live up to the example his family set in the York community and he has more than lived up to this expectation he has set for himself," a nominator said. "I have never been around anyone who loves York more than Tommy does. Nor do I know anyone who is more proud of York than Tommy."
Funeral services are pending for one of York's finest.
Get local news delivered to your inbox!
Subscribe to our Daily Headlines newsletter.