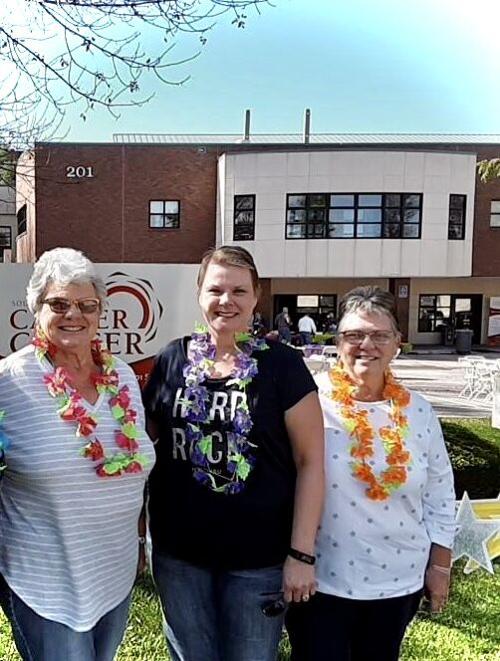 It was a one, two, three punch for sisters Anita Lindgren, Gloria Nuttelman and Judy Topil.
Breast cancer -- each of them.
Anita was diagnosed in 2012 and has been cancer-free for eight years. In the meantime, Gloria received her diagnosis in June 2018 following a routine mammogram. Judy was diagnosed that same year.
The three have been cancer-free, together, for but a few years. ("My oncologist would never say 'cancer free,' because he said he never felt like he would know that for sure," Anita said.)
Breast cancer can be attributed to genetics, but the bond between the sisters going through the journey together proved tenacity genetic, too. "I went through it alone," Anita said. "They were [diagnosed] a few years later." But "alone" doesn't describe the love and support shared throughout the family's winding journey to combat a disease that takes far too many women and men.
"I called each of my siblings and told them. I cried with each call but having Anita and Gloria know what I was going through made it easier talking to them," Judy said.
Little things became big things. "My oldest sister always had supper ready for us after each chemo treatment, which was a huge help," Anita recalled. "We had many phone calls and texts," Judy said.
The pre-disposed support system kicked in, built further by a bond no family should have to share. "For me, I wasn't really looking for advice. I just needed someone who had been through this to listen to my fears and concerns," Judy said of leaning on her sisters, who would eventually become her fellow survivors. Anita, having been the first sister to receive a breast cancer diagnosis, offered her sisters support through understanding – knowing the things large and small that impacted her fight, showing she knew. "I [had] a better perspective of the day-to-day ups and downs, and felt like I had more empathy towards them -- and others going through cancer," Anita said. "I was glad I had something to offer them," she said.
Anita and her sisters had plenty to offer one another -- and would have even if they hadn't all gone through breast cancer journeys. Still, the three's diagnoses offered insight. "I felt like I could give my sisters some advice on what worked for me and what didn't. Just some tricks that helped ease the treatment time," Anita said. Gloria said being able to relate to one another in scary times in their lives often took the form of "calling each other and talking about how we were feeling."
"It gave me determination and strength to fight, knowing both were already survivors," Judy said. "My attitude was I was going to kick cancer's butt and nothing was going to stop me."
The treatments were grueling. Anita, a Stromsburg resident, took her treatments in Lincoln at Southeast Nebraska Cancer Center, as did her sisters. "I had a lumpectomy, six chemo treatments and 37 daily radiation treatments," she said. Gloria, also a Stromsburg resident, underwent chemotherapy treatment -- four sessions every three weeks – followed by 33 days of radiation. Judy chose a bilateral mastectomy, then started chemo a few months later. "My oncologist advised even though I had a mastectomy and cancer had not spread I would need to do chemo," Judy said. "If didn't do chemo there was a 40% chance cancer would return, so it was a no-brainer to do chemo."
Judy, who resides in Lincoln, said she remembers the onset of her own cancer journey well. "I was at work when I received the call from my doctor's office. I remember listening to the nurse and being in shock. All I could say was 'you're telling me I have cancer?' My co-worker came to my desk and gave me a big hug and all I could do was cry."
Telling their sisters their diagnoses, one-by-one, didn't get any easier each time, Anita said. "I called all my family members, and through tears and sobbing told them the devastating news."
Eventually, the news went from devastating to victorious. "When I received the call [from the doctor] I was extremely nervous," Judy said. "When the nurse told me the cancer had not spread and they had gotten it all, I just started crying. All I could think of is that our prayers had been answered."
All three are now cancer-free, though Anita said her oncologist approached the situation with caution. "My oncologist was never able to say I was cancer-free -- and that's OK. I appreciated his honesty in his reasons for not giving false hope in what may or may not be there."
The importance of remaining vigilant is not lost on Judy or Gloria, either. "Be proactive," Gloria said. "Do self-exams and get your yearly mammogram checkups."
"I would advise women to be advocates for themselves," Judy said. "You know your own body and if something doesn't seem right, say something."
"Just try to stay as positive as possible," Anita said.
A task made easier for the three sisters; they had – and still have -- each other, together.