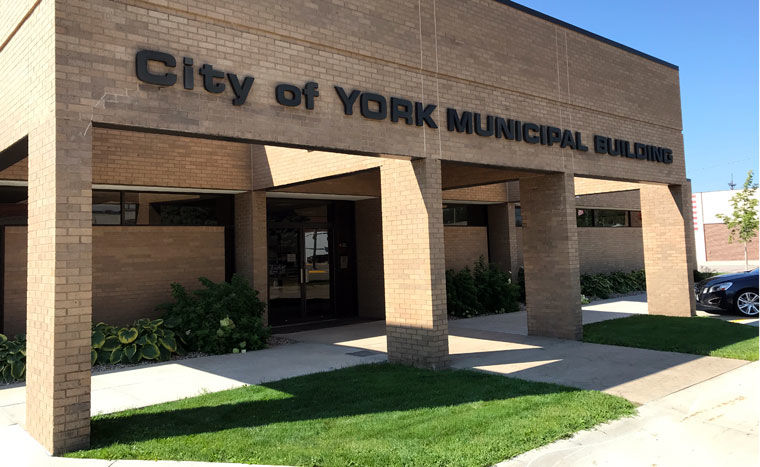 YORK – "A couple of years ago, it was said that we're broke," York Mayor Barry Redfern said to the city council this past week. "Now, we are going to come in with reserves at $2-$2.8 million."
That was some of the good news spoken during the council's most recent meeting, during the portion set aside to discuss the budget for the 2020-21 fiscal year.
It is expected that not only will the reserves be healthy, there will be no increase in the tax levy and there will be no separate levy established for debt service.
To balance the budget, the administration and council have been looking at numerous ways to make sure the available money matches the expenses. Pellie Thomas, the city treasurer, explained one idea in which additional/extra funds in the fire/police pension funds could be used. The excess money in those pension funds exists because the funds were funneled in there as if both departments were fully staffed – but they haven't been fully staffed for some time.
"The auditors believe it is OK to use these funds," Thomas said further. "There is a good bit in those pension funds."
She also explained that when people are not fully vested and they leave their employment, those funds also become forfeited at that point – also contributing to the extra money.
"In no way would we be messing with the employees' pension funds," York City Administrator Joe Frei said. "This would not affect the employee pensions at all."
They said this was money that was taken from the general fund that is now being taken back because it is excess.
"I had questions as to why we need a new grader," said Councilman Matt Wagner, regarding a budget item from the street department. "Could we maybe hire the county here and there? And do we need to have fresh rugs delivered every month (to the various departments, offices, city buildings, etc.). Where can we still cut? Maybe we should ask the employees where we could cut here and there."
"The department heads brought us their budgets and we cut a ton out," replied Redfern. "I don't think there's a lot in there that's over the top and it's pretty lean. We've got to spend money to run all the buildings and things we've got. We're just talking about using some excess reserves."
"And we are not locked in here," commented Councilman Ron Mogul, regarding the proposed expenditure for the grader. "We are just putting it in the budget and we don't have to spend that money if we later decide not to." He also suggested they might change their minds and buy a good used machine, if that would be possible – which would also alter how much is spent. "But with the grader, they use it a lot more than you think. This is a lean budget and I don't think there's a lot of excess in it."
"It is a lean budget," Frei added. "We've gone through each department and looked at everything. It is still a work in progress and we don't know what the assessments from the county will be yet."
"We've been blessed that, so far, the COVID effects haven't been drastic," Redfern said, regarding the influx of sales tax receipts.
Despite the pandemic and businesses being closed this past spring, the city's total sales tax influx only declined about 5 percent (partly thanks to very strong receipts prior to the onset of the COVID-19 situation).
"We are being conservative on our revenue, which helps build that carry-over," Frei said.
"The one thing that kind of hit me was that playground for the convention center," said Councilman Clarence Hoffman.
"That's not in the budget," Frei explained.
"It was only a proposal for discussion and it's not in the budget," Redfern said.
"On Aug. 20, the valuations will come in and we could have those figures for discussion during that meeting, that night," Thomas told the council. "Then we would need first and second readings on the wastewater increases and then adopt the budget on Sept. 3."
It is being proposed that wastewater rates increase by 9.5 percent.
"That increase is less than was earlier projected," Frei said. "And we will have no increases in water or landfill fees this year. And there will be no increase to the .33 levy. And there will be no addition of the debt service, the way the budget is now."
"If more questions come up, we will talk more about it," Redfern said, "but we are getting close."