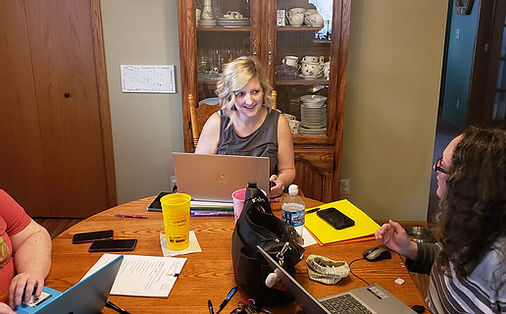 YORK – Renewed Horizon started as a conversation between husband and wife in 2019; today it has blossomed into a place to bring stability – and love – into the homes of children.
Heather Hultgrien and husband Jason had experienced being foster parents. The process, Hultgrien said, had the couple bouncing from person to person, connecting the dots between requirements and preparations.
"We knew the need, and knew it's something that is, unfortunately, always going to be there," Hulgrien said.
Then came the couple's 2019 conversation -- "How can we make this easier while staying within requirements?"
After careful thought, the Hultgriens came up with a plan: bring together a group of experts and support workers to help biological families with in-home preventative and intervention family support services, as well as help navigating the foster care system.
Foster care was already the couple's forte. "There were a lot of things we liked and worked for us when we were a foster family," Hultgrien said. "We are able to incorporate those best practices into both sides."
Once their idea to have a central, nonprofit entity for family services like in-home family support and foster care was shared, the dream took off. "When all was said and done we were able to move fairly quickly," Hultgrien said. "It's been really good because we've worked enough with our families we knew what works and how we can offer top-notch service." The tight-knit staff also lends itself to a nurturing while knowledgeable resource for famillies. "What's good about that is it allows homes to get that customized experience," Hultgrien said. "It makes it really easy and convenient."
In 1 ½ years the agency has touched the lives of 25 families "in some way, shape or form," Hultgrien said. Renewed Horizon now serves a wide, multi-county swath, but the main focus is York, she said.
Currently York has 20 foster families. "Given that we're a community of 8,000 I'd like to see more," Hultgrien said. In recent weeks, an unusually high number of caring families have stepped up to share their homes with a child in need. "We have three homes within the last week that have reached out to us. That's a phenomenal number of homes at one time willing to get involved," Hultgrien said.
Getting involved doesn't necessarily mean being a foster family. Hultgrien said Renewed Horizon is always looking for donations, whether monetary donations or items. Items commonly used by the organization include children's clothes, books and activities and office supplies. "We go through reams and reams of paper," Hultgrien said. More unusual, but essential, gifts sometimes arrive, too. "We had a family drop off a crib the other day," Hultgrien said.
Community support serves as an inspiration for Hultgrien, she said. "It's seeing the support and advocacy that is there from community members you wouldn't have known – or thought."
Hultgrien has advice for families' own thoughts have them curious about foster care. "Even if it's just a thought that's popped into your head, ask questions – there are no bad questions. It's an unknown world and until you start having those conversations you just won't know," Hultgrien said. "If it leads to fostering, great. If not, we're always able to help find ways to make an impact."