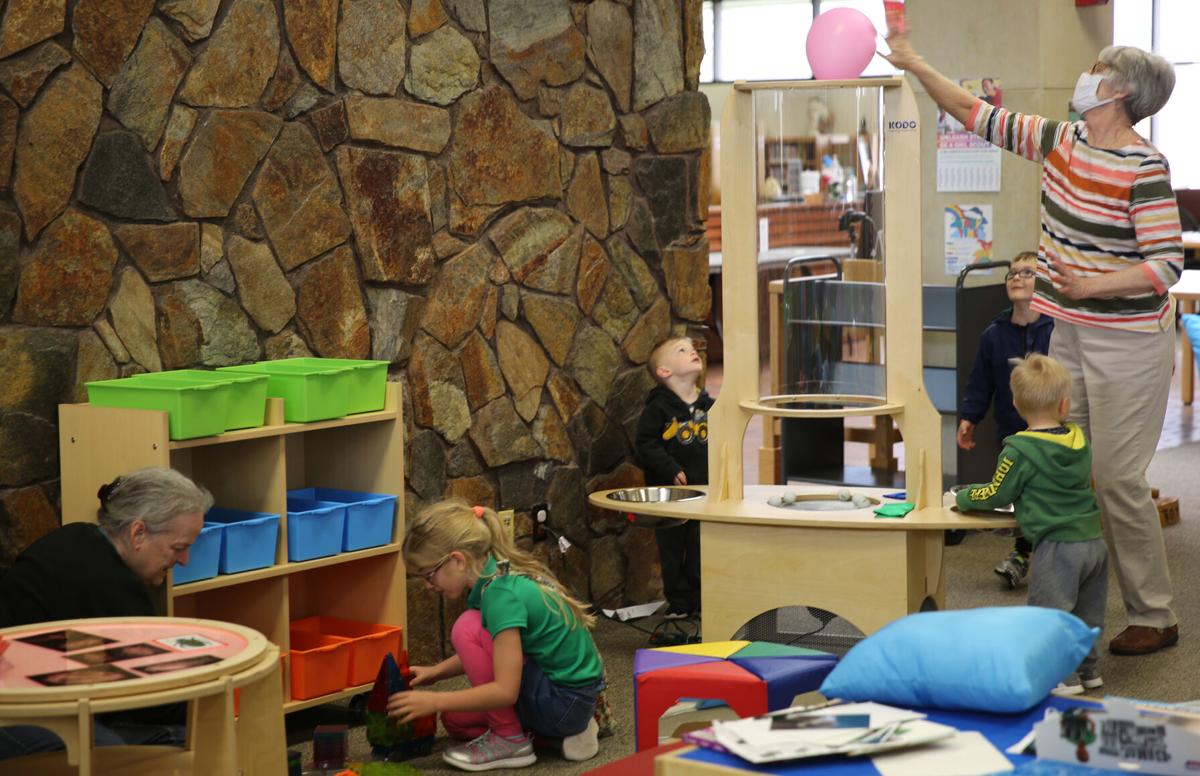 YORK – An Early Childhood Discovery Center is being added to the offerings at Kilgore Memorial Library, thanks to a partnership with York Public Schools' Sixpence Program and additional financial support.
The Discovery Center will feature hands-on learning activities, colorful furniture and a wealth of possibilities tailored to children birth-five years old. The new feature was spurred by York Elementary School Early Childhood Coordinator Chelsey Klein, who in 2019 learned of a successful partnership between the Sixpence Program and a public library. Seeing an opportunity, Klein reached out to Kilgore's staff. Kilgore Memorial Library Director Deb Robertson and Education Outreach Coordinator Carol Baker jumped on the idea, having recognized the need for and importance of high-quality early childhood programs. Resources like Kilgore's Early Childhood Discovery Center are focused on educational tools that help school readiness.
Klein and Robertson are members of the York County Health Coalition (YCHC) and serve on the organization's Child, Youth and Family subcommittee.
The Sixpence Early Learning Fund is a statewide effort to put the state's youngest and most vulnerable children on the right track for school success. Sixpence focuses on high-quality care and learning experiences to not only ready children themselves, but guide parents. It promotes partnerships between private and public organizations, such as Kilgore and YES's collaboration. York Elementary School secured its Sixpence grant in 2008, and has continued to promote early-learning opportunities that embrace the "power of play."
The Nebraska Library Commission also awarded Kilgore with a Youth Excellence Grant to offer a "1,000 Books Before Kindergarten" program.
While Sixpence is a Nebraska-wide program, the Early Childhood Discovery Center is receiving local support as well, including from YCHC, the Cooper Foundation (via local Midwest Bank) among other supporters.
Saturday Kilgore is offering a chance for interested people to get a first look at the Early Childhood Discovery Center, with an open house in the morning. Sen. Mark Kolterman will open the morning, and early childhood educators will be on-hand to help attendees learn more about the importance of early childhood education, and how the Early Childhood Discovery Center embodies the mission to offer high-quality learning tools for young children. Families will also be able to sign their little ones for the 1,000 Books Before Kindergarten project.
Come later this spring, an outdoor "Musical Garden" will be added as an extension of the Early Childhood Discovery Center.
Kilgore Memorial Library is located at 520 North Nebraska Avenue in York, serving all residents of York County. Services include public wifi and computers, print material from books to magazines, and a variety of programming throughout the year. Hours are 10 a.m. – 7 p.m. Monday, Tuesday, Wednesday and Thursday; 10 a.m. – 5 p.m. Friday and Saturday. Sunday the library is closed.