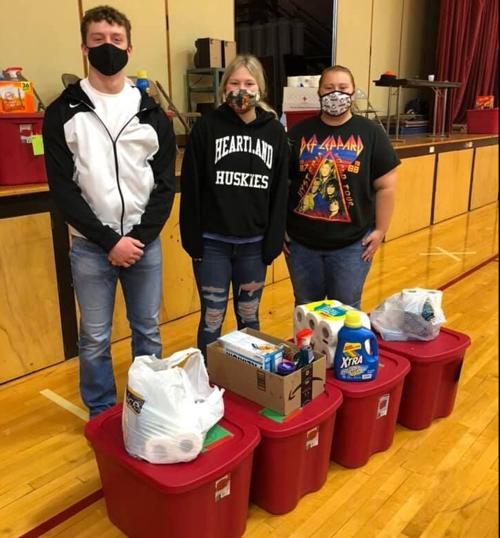 HENDERSON -- Heartland Community School National Honor Society, FFA and FBLA members had to get creative for their annual food drive, which serves their own communities.
"Caroling for Cans" – Heartland's annual holiday door-to-door collection effort – couldn't happen because of the novel coronavirus, so the group had to find another way to help, keeping a tradition carried on for over 30 years going.
Brainstorming among students and their sponsors -- Heidi Widick (NHS), Stephanie Miller (FFA) and Kristy Most (FBLA) -- resulted in a successful plan: a drive-through soup and cinnamon roll supper was held. Heartland's cafeteria staff made homemade soups and cinnamon rolls, which people could pre-order using an app. The circular driveway in front of the school was festively decorated one night to welcome hungry folks, most of whom brought donations for the endeavor. The food was "served" by NHS, FFA and FBLA members themselves. "At Heartland that pretty much takes care of everybody. It encompasses the high school kids in one way or another," Widick said.

The collection and organization of goods takes a lot of work for everyone involved, the project lasting many days. Besides the high school students, the rest of the school gets involved, too, with friendly classroom competitions to see who can get the most items. High school students go from classroom to classroom collecting the donations – something that makes a great example for the younger students to look up to, Widick said, as dollies of donations are wheeled up and down Heartland's hallways.
There were plenty of items donated, but this year's collection makeup was a little different. "Financially we got more cash donations than we ever have," Widick said. Cash was used to buy families gift cards from Henderson's local grocery store – another way to support the community. A "secret donor" also provides a ham for each family every year.
The school recommends families, and others involved in the community recommend families as well. "The Heartland community really takes care of their own," Widick said. Communities like Heartland bring light to a time overcast by COVID-19, Widick said. "There is so much yuckiness in the world. It's nice to see people doing kind things for one another."