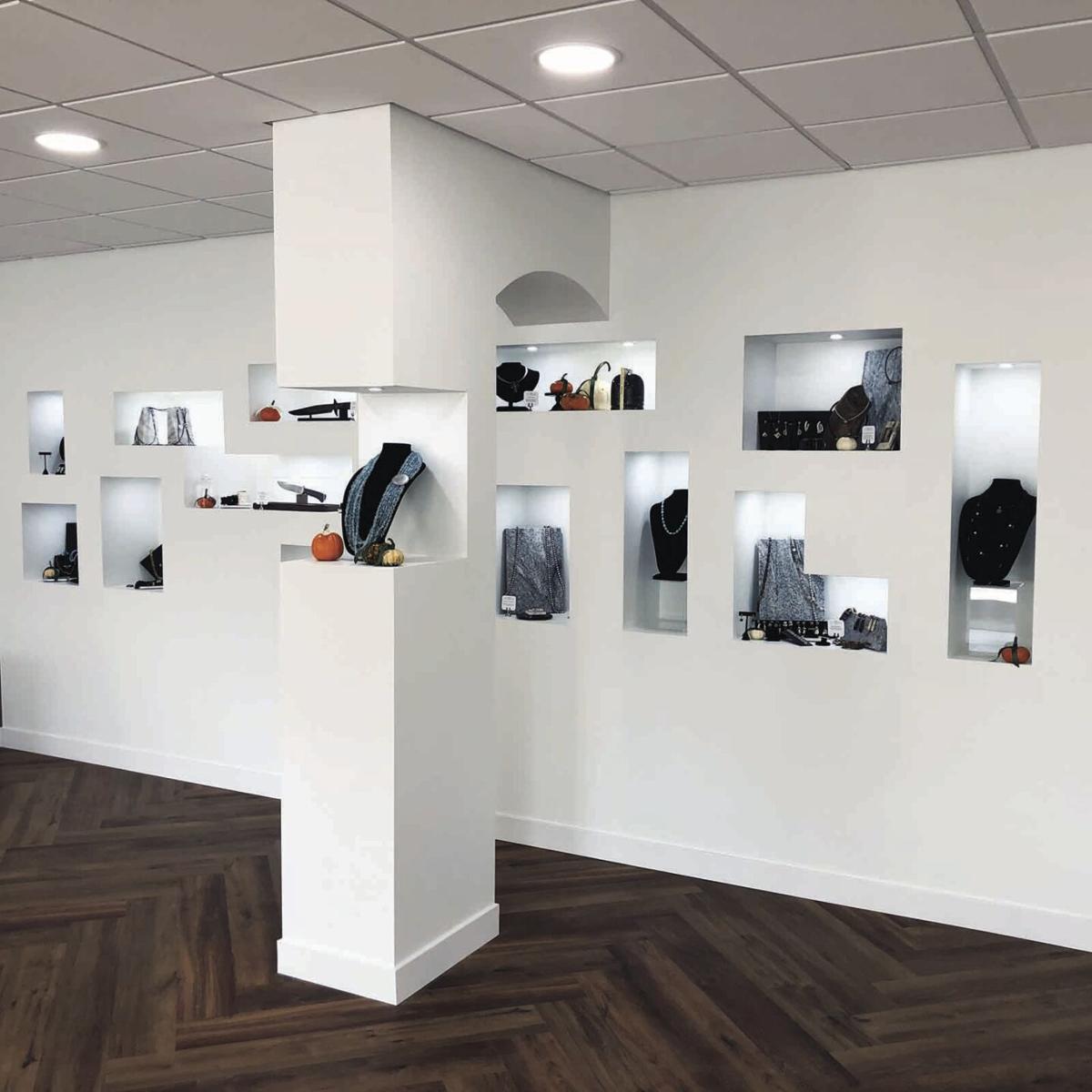 It had been something in the back of Kerri Kliewer's mind for the past 35 years as she navigated the wholesale jewelry world with her KVK Jewelry Design business. That idea was to open her very own brick and mortar jewelry store and it's something that has come to fruition over the past few weeks as The Jewelers Vault has opened at 720 Lincoln Avenue in downtown York.
She has been designing customer jewelry for years and has had her KVK Jewelry Design business ever since her college years.
"I've always thought about opening a store, but I've always been so busy on the wholesale side of things, it just didn't work out," said Kliewer.  "I was approached by some members of the York business community and decided it was a good time and it has worked out well at this stage of my life. I've had these ideas in my head for the past 30 years what would make an ideal store."
The building where The Jewelers Vault is located has been the location for several different businesses over the years. When I first moved to town in the late 70's it was a Daylight Donut shop. It later became the location for The Recipe Box Restaurant and was the location for the gas company office for many years.
Kliewer had the inside of the building gutted along with uncovering the brick façade on the front of the building which is outstanding. The exterior was painted gray and is awaiting signage which Kliewer promises will be striking.  The remodeling project started in the spring of this year and was accomplished using many local contractors.
She designed the interior complete with custom built showcases, new flooring and it is open and airy. It has a classic and elegant look but yet is very contemporary. Customers coming to the store will be buzzed in the door which will remain locked at all times.
Kliewer has contacts all over the world in the jewelry business, a result of her over 35 years in the jewelry world and the merchandise in the store reflects that experience. 
"I know a lot of the top designers and we want to offer jewelry items that you normally wouldn't see in the Midwest," said Kliewer. "And my forte has always been custom jewelry design.  You'll also be able to find the engagement rings and wedding sets along with items like the Woolly Mammoth Ivory jewelry which is hand gathered and cut by the indigenous people of Alaska."
The store will also feature many other gift items, many from Nebraska artisans.  Items such as wooden bowls, custom-made knives along with many other gift items for men and women.
The Jewelers Vault will be a full-service jewelry store with jewelry and watch repair services. Kliewer will also buy old gold jewelry items and diamonds.  Free gift wrap will also be a part of the jewelry buying experience at the store.
Hours for The Jewelers Vault will be 10 a.m. to 6 p.m. Monday through Friday and until 8 p.m. on Thursday evenings.  Weekend visits can be made by appointment using this number 402-363-8855.
"I have clients from all over," said Kliewer. "I hope to help make the York downtown a destination for many of these clients and I invite everyone in the area to stop in and see our wide array of styles and prices."
"It's been a great ride for the past 35 years in the different worlds of the jewelry business," she added.  "This store is the culmination of experiencing all those worlds."
Housing continues to be a challenge in York County
Various organizations and businesses in the county have made great strides in addressing housing needs in the area. The YCDC staff has worked hard over the past few years on several different projects. It's now time to update the housing study to keep focused on the goals for housing in the years to come.
A stakeholders meeting will be held on Monday, Oct. 19 at either 3 p.m. or 5 p.m. at the Holthus Convention Center.  The meeting is open to lenders, developers, elected officials, real estate professionals, partners, non-profits and the general public.
How can anything that small make a person cringe? I'm talking about those teeny tiny black Pirate Bugs. These tiny insects are just 1/5 of an inch long and oval or triangular in shape, but they bite with an impact that is way out of proportion to their size.
I've always said that if you look at them under a microscope, they have to be about 2/3 jaws. But in doing a little research on these little black "b******s", it's really when they are poking their blunt little beaks into your skin is when you feel the pain.
And really, according to said research, they are just checking you out to see if you are food which you are not as you are way too big for them to swallow. They generally don't fly away very fast after biting so it gives you a chance to get even by eliminating them from this world.
It's supposed to get pretty cold at night here later this week. Hopefully it will be cold enough to take them all out.