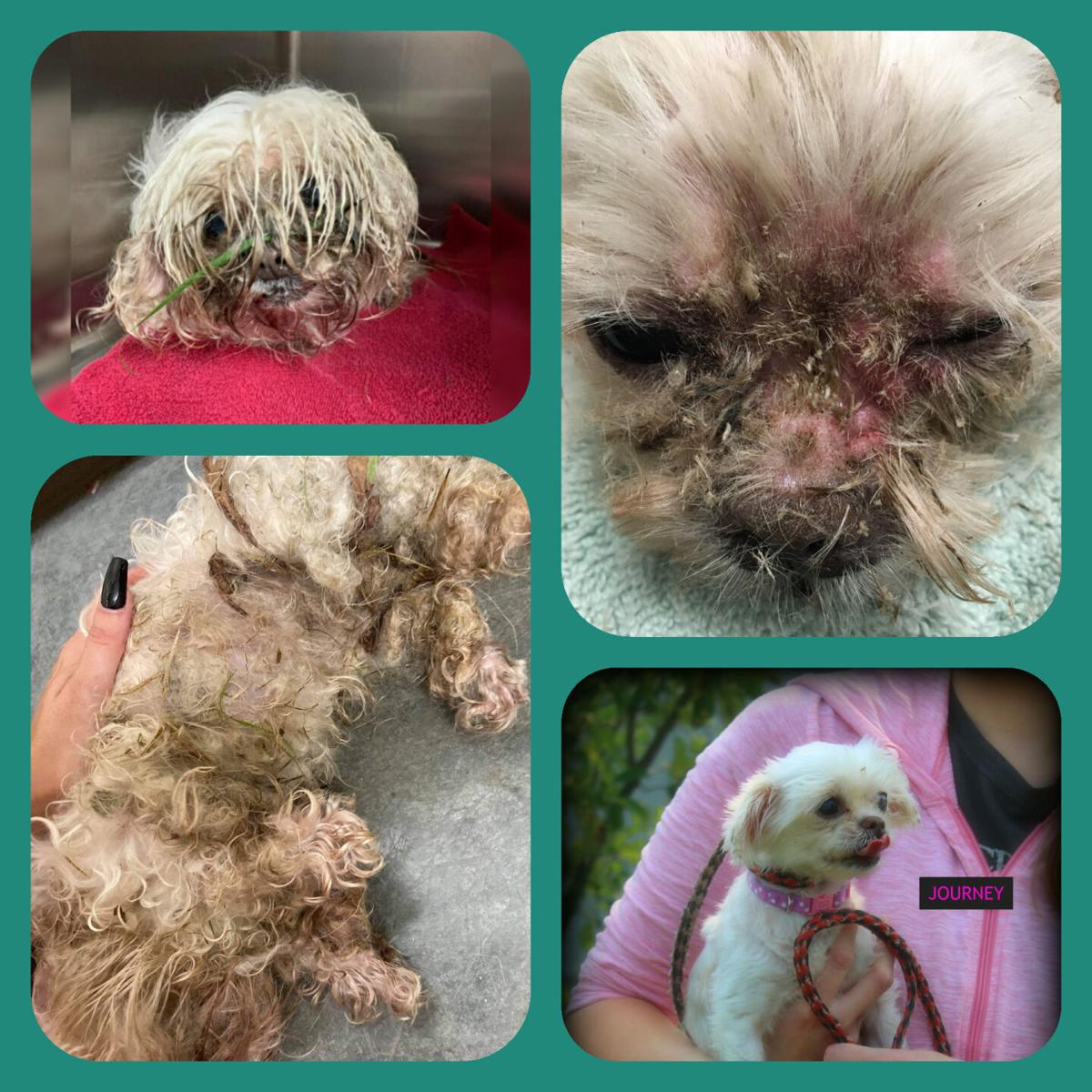 My days off at the shelter are Sunday and Monday. I say this loosely because you will find me out trying to find a lost dog or posting on the Missing and Found Pets page on Facebook for a lost dog or cat seven days a week. Sometimes I will do an adoption on those days because it is nice for the dogs to be in a home rather than stay at the shelter any longer than necessary. 
On Monday, August 17, a friend and I had planned a trip to Lincoln. It was time for a Sam's Club run followed by some much needed window-shopping and a day to just to get away from the usual. Before I left, I received a text from Claudia at the vet clinic; they had received a stray dog.  A gentleman had been out in his cornfield and found a little white dog cuddled up and cold. He had been nice enough to bring the dog to the vet clinic. The picture she included looked like the dog was in horrible shape. I told her I was on my way out of town and to call one of the ladies at the shelter that morning.   
Some time went by and I received a text from Jenna. She and Susan had been working on the little matted, filthy white dog and she was covered with maggots. I apologized to Jenna for not being able to help and told her I would stop up right away when I returned to town that afternoon. I asked her to take a bunch of pictures so I would have documentation of the shape this poor dog was in. As I received pictures, I was horrified.  This poor little dog deserved so much better. 
When I got back to town, I immediately went to the shelter to see how the dog was doing. It was a girl, and she looked very rough and sadly still had lots of maggots on her. The vet recommended a Capstar tablet to help kill the maggots. That night Noelle came in and shaved her to make it easier to work on her the next day.   
That day, Noelle came in again and we were working on her. Sadly, she had developed loose stools and was starting to feel even worse. It was decided to take her to York Animal Clinic so they could help.   
As the vet was administering saline solution for the dehydration, it was time to remove the remainder of the maggots. I was so glad we had brought her to the vet because they were found between her toes, under her eye and even in her mouth. She had a small hole on her back where they had been crawling inside of her. They were everywhere. Then it came time to look at the teeth. Most of the teeth were so loose that they just twisted them a bit and they just came right out. We headed back to the shelter with antibiotics and the hope that she would improve after all she had been through and all that had been done to help her. 
I was overjoyed the next day to see that she was eating again and getting a bit stronger. We were looking for a name and had many great suggestions, however, Mona had the suggestion of "Journey" and we all loved the day right away.
As time went by, Journey improved, and we could see her fun personality a little more each day. When she knew I was making her food, she would stand on her hind legs and dance until I gave her the bowl. I was so relieved. She had overcome everything she had been through and come out healthy and happy. Even though she lost most of her teeth, she was once again able to eat some small kibble.   
Since then, Journey has moved in to a new quiet home where she will finally have life on easy street. Her journey did not start well but is finally headed in the right direction. 
I want to thank all of the volunteers for everything they did to help. I am grateful this is not something we deal with on a daily basis, however, it does happen. I'm so proud of our volunteers step up no matter how bad a situation is. Also, a special Thank You to York Animal Clinic for their part in helping Journey make it through. 
Get local news delivered to your inbox!
Subscribe to our Daily Headlines newsletter.