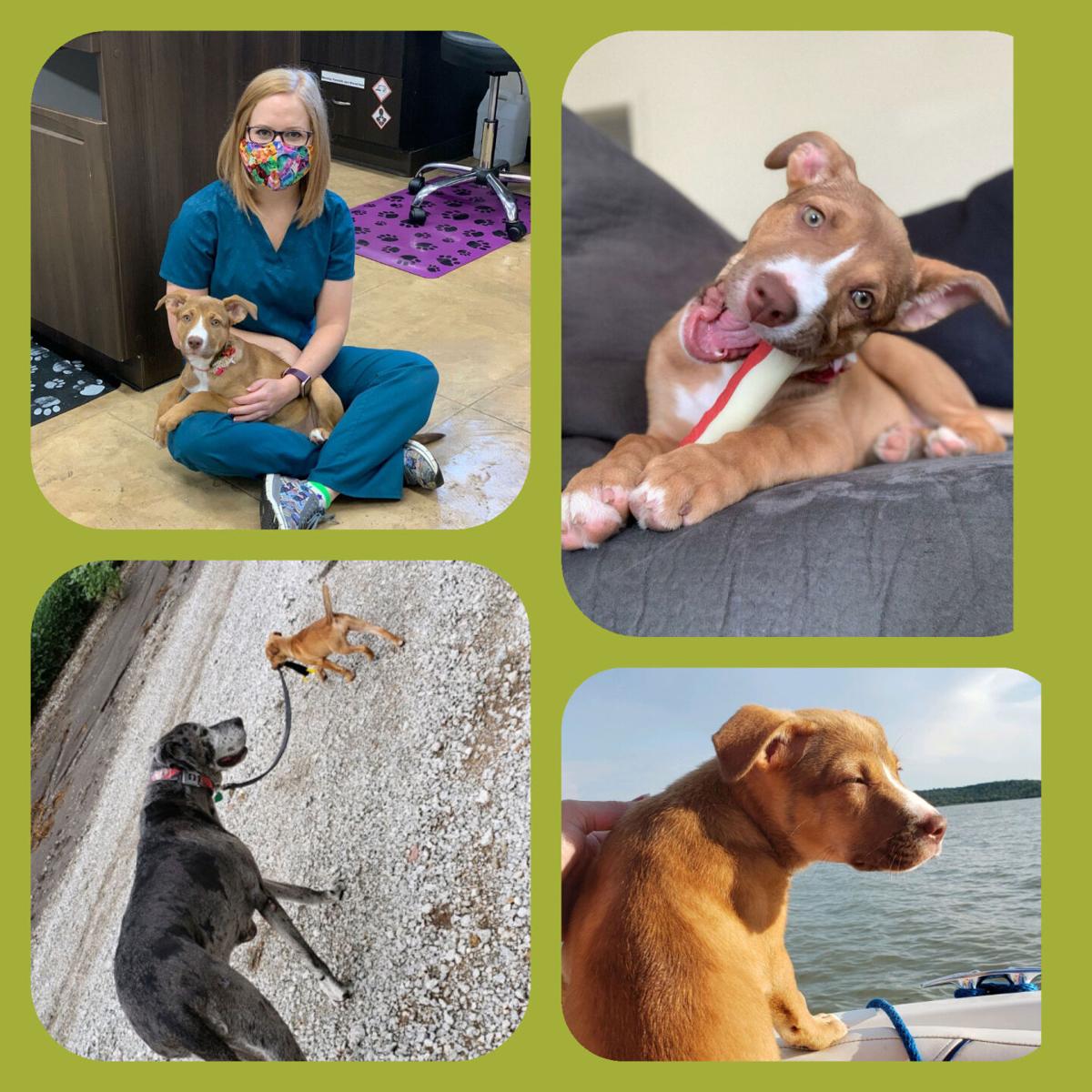 I know most times when I answer my phone to an unknown number I realize it might be something to do with a dog needing help.
This ring was no different, except, this time I knew the person on the other end as a volunteer from the shelter. It was Dawn, who told me a friend of hers had received a call from her son about a dog he had acquired. Apparently he needed help finding a home for the dog.
I always wonder if I should ask about the reason, because sometimes it can be incredibly sad and sometimes it can make me very angry. This call brought out the angry emotion and a bit of sadness. I never understand how someone could treat a puppy this way.
The son had been at a dog park when he saw someone yelling and kicking a puppy. He asked the person why she was doing this and she replied, "Just take the dog!"
Of course, her reply was a little more colorful than I can put in print. So the person took the dog even though he already had a dog and knew he couldn't keep her. So, he contacted his mom, who in turn contacted our volunteer Dawn.
I told Dawn I would love to help but of course had just taken in double-digit numbers of dog in the last few days and I didn't have room. I asked if they could foster for a few days until I could make room. Dawn arranged it, and back to work I went, continuing to adopt dogs to make room for this little girl.
In a day or so, I received a text from someone who had adopted a Great Dane from me several years ago. It is a small world for sure, as she told me she was the one fostering the dog. Krista is such a great dog owner and I was thrilled she was the one fostering this little girl. She told me she had named her Annie.
Annie was able to have many great experiences with Krista and her family in the week they had her. She took many walks and had fun on their boat. She was learning tricks and house training as well. Annie was very fortunate to have such a great foster care home after what was witnessed at the dog park just days earlier. I believe Krista's son was in the right place at the right time, or who knows what would have happened to this pup.
The day came and I had room for Annie. She was brought to the shelter by Krista who had a whole bag of things she had purchased for her. You could tell right away she had become very attached to this sweet little pup; however, it was not the proper time for them to be taking in another dog permanently. I promised her I would find her the best home possible and told her not to worry.
I advertised Annie on our website after we had vaccinated and vetted her. I received a couple applications that were very good. The first family came to visit; Annie was just too much for their current dog. I was disappointed but moved on to the next applicant. The next applicant took one look at Annie and I could tell it was love at first sight.
Since that day, I've received several pictures. I can tell Annie is in the best home possible. I can see in the pictures that she loves her new human mom Tiffany and she is so happy. Tiffany is a vet tech, so Annie gets to go to work with her most of the time. She tells me if they have to be gone and leave her home, Annie (now Brandy) likes to listen to classical music to sooth herself until they arrive back home.
Brandy is mostly house trained now and is picking up tricks very quickly. She already knows, sit, lay, up, shake, high five, sit pretty, and is currently working on roll over. As I had said, sometimes I hate to hear the reason a dog needs help because it can trigger sadness, anger or a variety of emotions. My emotions about Brandy in her new home are complete joy and happiness for her!!! She finally has the life she deserves.
I want to thank Krista and her son for rescuing her and keeping her safe and happy until I could get her in at the shelter, and to Dawn as well for reaching out to me. Also thanks to all the shelter volunteers for taking care of her until I could find this special home for her.
Get local news delivered to your inbox!
Subscribe to our Daily Headlines newsletter.