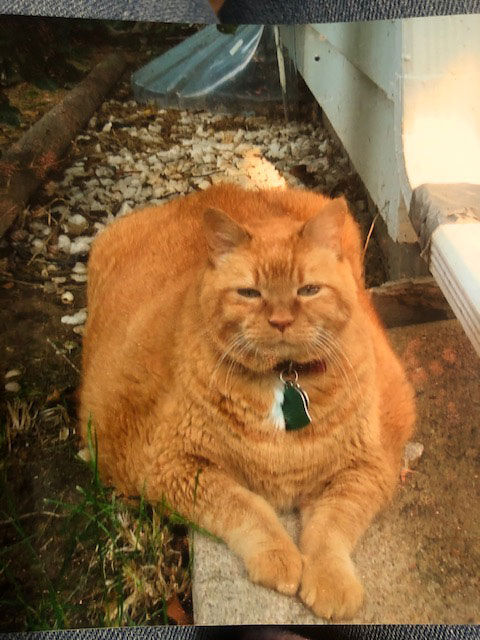 For some reason I have been thinking about Tom Clerc this week.
Sometimes it good to stop, look back and remember.
Today I am stepping away from the hectic past weeks and remembering a good friend and a simply amazing cat named Samson.
Our neighborhood just recently lost Samson -- a truly amazing cat who resided at Tom and Ruth Clerc's home.
Tom adopted Samson at a shelter in Colorado. For over 15 years, Samson gave as much love as he received.
With recent health problems for Tom and Ruth, Samson was the stabilizing factor in their lives. With Ruth's recent move to the Hearthstone, Tom and Samson became even closer and were best friends.
Several months ago, Tom was hospitalized for a number of weeks. Tom asked me if I knew anyone who could check on Samson while he was gone. I said, "Yes I think there is someone who would do that."
So began my relationship with Samson.
Every morning and every evening, I would make my daily rounds to feed Samson, give him his twice-daily arthritis pill, change his water and clean his litter box. And there were more personal duties as well as Samson weighed 28 pounds.
He had massive shoulders and this little tiny head. When he walked, he swayed from side to side. And before you jump to conclusions, Samson was on a low weight dry diet. Tom was diligent in only giving treats that were less than one calorie per treat and his special diet was overseen by the staff at Gloystein's.
I knew that Samson was spoiled when I watched him lay down next to his food and water and ate from his elevated food dish. He didn't like to stand, and with the elevated dish it was level with his head. Samson even had his favorite litter. I never tested the waters, I just purchased what Tom said Samson preferred.
Samson and I grew to be very good friends. After his grooming, feeding and meds were taken care of, I would put on his leash and he would saunter around in Tom's backyard, lifting his head to sniff the air, checking out the various spots on the patio before lying down to catch a few of the sun's rays.
Each evening I would call Tom and Samson would get close to the phone receiver when he heard Tom's voice. His motor would kick in and he would butt the receiver as was his mode of conversation.
During one of our conversations, Tom said that he wished he had a full-view screen door in his kitchen so Samson could watch the birds and squirrels while lying on the floor. He thought Samson would be less lonely if he could see out more easily.
That was easy to solve. The door was purchased and Bob and Gary installed it within a few days. I reported that yes, Samson did enjoy lying and watching the activities in the yard although he enjoyed it more when lying on a soft layer of towels. Tom then said maybe he would enjoy the front door with a full view. Again Bob and Gary installed a full-view screen door on the front door. Now Samson could look out not only on the patio, but also to the driveway and street.
Just think, all of this was done without communication. Samson's needs and wants were met without a single word being said. Just those gold eyes watching Tom's every move and Tom in tune with his needs and wants.
I had thought about bringing Samson to our house but with all the other cats and kittens I thought he would be most happy in his own home. Bringing him here would be like taking grandpa to stay at a childcare facility. There would be too much commotion and noise -- and he wouldn't have his king size bed to curl up in, complete with little steps up the side so he didn't have to jump up or down. I can still see him lumbering down the hallway from the bedroom when I called his name. He was such a big regal cat -- if you could overlook the swinging belly, oversized front shoulders and his attitude saying "I'm the bomb."
Today is a sad day. Today Tom did his last and most loving thing for Samson. Samson was diagnosed this week with kidney failure and although medical care was given immediately, the diagnosis was not good. Tom told me that he would not allow his loyal friend Samson to suffer.
So today with his daughter, Conny, and her husband Pat, Tom made the difficult trip to Gloystein's and with compassion and understanding, Dr. Jennifer stopped the suffering of Samson. \
Today Samson crossed over the Rainbow Bridge.
And today, the neighborhood and acquaintances of Tom's family will mourn with Tom on the passing of a very special cat.
Get local news delivered to your inbox!
Subscribe to our Daily Headlines newsletter.