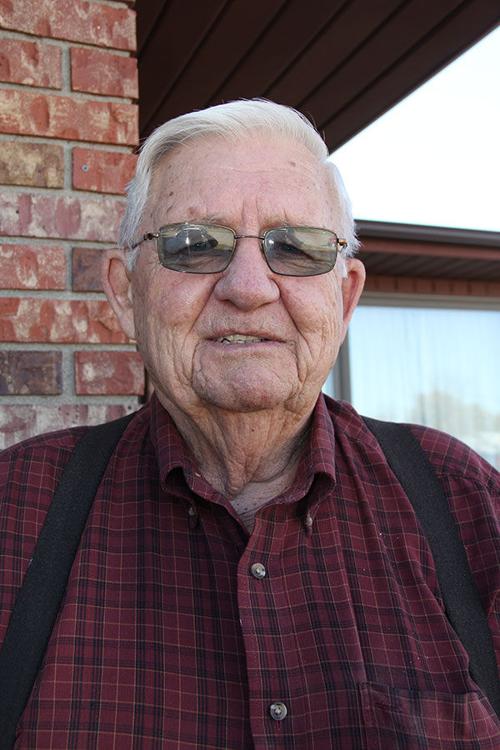 HENDERSON – It was a dark and dreary night in August, 1955.
Probably about 3 a.m., Joe Pankratz remembers.
This small town 18-year-old boy was on a bus, looking through the pitch black and pouring rain at a guard station and a military facility surrounded by chain link fence.
Inside that fence awaited him weeks of boot camp and the start of years of military service.
"I looked out that window, into the dark, at Cape May, New Jersey, and I thought, 'Holy Mackerel, what did I get myself into?'" the now-83-year-old Pankratz says, chuckling.
In the mid-1950s, it was somewhat unheard of for a young Mennonite man such as himself, from a town historically Mennonite, to be going off the military service in the first place. His culture and religion encouraged church-oriented service duty instead of military service because of the thoroughly engrained conscientious objector stance.
Pankratz tells his story, from his cozy Henderson home where he lives with his lifelong love, Em.
"I've lived in Henderson my entire life, with the exception of those four years with the Coast Guard," Pankratz says. "A guy who was older than me, a friend who had gone off to college in Lincoln, told me his draft number was going to come up. He thought we should enlist, go to the Coast Guard. The Coast Guard always intrigued me. Back then, we had news reels at the movie theaters and I remember seeing a reel about going to the Coast Guard that showed water rescues and I thought that was interesting. So the friend in Lincoln, me and my cousin decided to do it. We went to Omaha to see a recruiter. Well, the guy from Lincoln didn't end up doing it, but me and my cousin, we did.
"I decided to go this route, I guess it was kind of an adventure," Pankratz said. "I was young and single, and I wanted to see a different part of the world. And I sure did. We got on a train in York which took us to Omaha. The next morning, they flew us to Philadelphia. We got there about midnight, and a bus came for all us recruits in Philly. I just remember it was in a really nasty neighborhood, there weren't even any street lights. And then we went to Cape May. I remember how it started raining."
And as he sat outside Camp May, in that bus, in the dark, pouring rain, wondering what he'd gotten himself into . . . and what his life would become . . . and what days awaited him behind that fence . . . he admits he was a little nervous.
"But then, they came and got us, they marched us to the supply building and issued us everything we needed," Pankratz continued. "And then it was off to the barracks where we finally were able to go to bed at about 4 a.m., only to be awakened at 5 a.m. and off we went."
For anyone thinking that Coast Guard boot camp meant less marching . . . think again.
"We marched and we marched," Pankratz remembers, laughing. "I wore out boots after boots. We had 13 weeks of boot camp, longer than others. We did more darn marching. That very first morning, we got our GI haircuts, the marching started and we had to carry these big rifles everywhere we marched. We went to classes. You know, that forlorn feeling I felt, that early first morning in the dark and the rain? That feeling went away just as soon as the sun came up. We got used to it and we trained hard. It was six weeks before we ever went through those gates again, when they let us have intermittent passes."
After he graduated from boot camp, his first assignment was to the Gulf, in New Orleans.
"But I only spent about a week there," Pankratz said. "Then, I was assigned to a buoy tender in Galveston, Texas. That assignment was to aid in navigation, maintain the buoys and their beacon lights in the ship channels and intercoastal waterways."
And it was a busy job because ships passing through those channels and waterways consistently hit the buoy platforms and damaged them.
"We would have to go out, rebuild the structures and replace the lights," Pankratz said, adding it happened "again and again."
He thinks he was given that duty because he had listed woodworking as one of his skills, when he started his service.
Eventually, he was asked what school within the Coast Guard realm he wanted to attend.
"I had no idea," Pankratz said. "I put down radar because I thought it sounded interesting."
He spent six months on his buoy duty and then was sent to Groton, Conn., for four months. While there, he attended radar school, where he obviously learned about radar, sonar and navigation. He then worked at a combat information center where plotting and navigation took place.
Upon graduation from that leg of his journey, was sent back to New Orleans and eventually Galveston again, where he was assigned to search and rescue.
"I remember I was on a small boat, there were only like 11-12 of us on there," Pankratz said. "I was the only radar/radio operator/navigator we had. It wasn't a bad duty, it just seemed like every time we got a call to go out and save someone, it was really bad weather and that sometimes meant hanging over the rail being seasick."
The rescue calls ranged in nature, he said.
"Most of the time, they had engine trouble or something and we'd have to go to tow them back in," Pankratz recalls. "We serviced the shrimp fleets a lot. Hundreds of shrimp boats would be out there at one time – I remember we went out after one, to help them, and I looked out into the dark skies and the sea, and they all had their lights on . . . there were so many it was like driving through Omaha. Then we'd have to find the one that was in trouble. One good thing about serving those fleets, when they had trouble, was that we'd usually come back with a five-gallon budget of fresh shrimp . . . that was a good thing."
He was on search and rescue there for a year or more . . . he frequently put in for a transfer, as he had been wanting to get on a ship out of San Diego.
"But the head guy, he always said he disapproved of the transfer," Pankratz said, "so it never happened and it never happened. I spoke with an office person who wondered about my many transfer requests, adding that the officer in charge 'will never approve it because you are the only guy who knows the water around here.' I resigned myself to the fact that I would be staying there."
Eventually, "lo and behold, I was transferred to Grand Isle, Louisiana, which is a true island. Back then, it was considered isolated duty. Em and I, a few years ago, went back to visit that island and it's now packed full of housing and people. It was surprising – but then again, it's been 60 years since I'd been back there."
When he arrived at Grand Isle, he and his fellow crew members were presented with a boat and orders from the officer overseeing them.
"The board looked really tough when we got it, and the officer in charge said we had three months before inspection and we had to have everything up to snuff. He said if we got the job done, he would make it worth our time. So we got to work."
They rebuilt the boat and Pankratz taught his fellow Coast Guard members Morse Code and Semaphore (messaging through the use of flags).
"I got them going enough to pass the inspection," he said, chuckling. "Our officer in command then gave us four days off, for liberty. And it was back to search and rescue, plus a lot of clean up duty after hurricanes."
Eventually, it was time for Pankratz to return to Henderson. It was August, 1959.
And it was time for more adventures. When he came home, he said his brother-in-law was having health problems, so he helped him with his farm work.
"I didn't know anything much about farming, but he told me what I needed to do and I did it. I was just a grunt all over again," Pankratz chuckled. "Then, Em came into my life, we got married, had our three girls, and I worked for a contractor building houses. Then he had me and another guy do all the interior finishes," which stemmed from his lifelong talent in the woodworking craft, which he continues today. Pankratz bought a concrete business, worked in utility construction.
"And then I drove a truck," Pankratz said. "I drove a truck and after two years, Em joined me. We were long distance truck drivers, going here to the West Coast every single week. She also learned to drive, got her CDL. We spent 16 years going to the coast, putting on between 4,000 and 6,000 miles a week."
Again, he was off on an adventure.
Today, he and Em enjoy their hometown of Henderson as well as their retirement years.
But he still thinks back to those four years with the Coast Guard.
"It was just a totally different life," Pankratz said. "To this day, I enjoy boats and ships. A while back, Em and I and the family went to Galveston, to take a look at where I had been, and we got to see a submarine and a destroyer, I just eat that stuff up. I love it."
How does a kid from water body-barren Henderson, Nebraska learn to become one with the sea and comfortable in such duty?
"Well, we did a lot, a lot of intense training, obviously, a lot with rescue swimming," he said. "We had to jump off towers while wearing heavy packs and drag people to safety and go through all the rescue breathing operations. That was a whole different method of what is now CPR – thankfully, I never had to employ that."
One rescue mission that sticks out in his mind is when they had to jump into action and put out a fire on a boat – a situation that could easily have turned deadly.
"That experience got me interested in being on the volunteer fire department back home," Pankratz said. "I was active on the Henderson Fire Department for 30 years, being assistant fire chief for 19 years and fire chief for five years. I guess the training I had in the Coast Guard became part of who I am and I could come back and utilize that, to help this community if I could."
He said, looking back, that he had a lot of great friends during his years of service, "but we never really kept in touch. It's probably because we all were moved around so much, and I guess none of us were really that type of people in which we carried through with communicating after it was over. We were really good friends, we just didn't stay in contact."
The best part of being in the Coast Guard, Pankratz says, "was helping other people, when they were in trouble and there were quite a few. And there was the comradery of a bunch of young kids who got together from all over the country and meshed together as a team. That was really kind of neat."
The worst part? Those bouts of sea sickness.
"Yes, we got used to it, sure, but you just can't imagine what it feels like. It's one of the worst feelings in the world," he explained. "Once, we were on a boat so small that it would pitch and roll at the same time. It had a heck of a violent motion. I remember there were about four or five of us that were really bad. But when we came back into calm waters, everyone just perked up. The cook went below deck, cleaned up the mess of everything that had been thrown about down there, and made us some food. Yep, once we got to calm waters, everyone perked up and all the tails were bushy again. But oh boy, when you are out in that condition, it's just so bad."
Pankratz said they had few close calls with being the victims of a disaster themselves, although one rescue call had them in extremely high surf, "the water came over the boat and I thought we were going to roll, but we didn't."
It's been decades since his service, but Pankratz remember it all so clearly.
"I definitely think military service is a valuable experience and education for young people," he said. "I saw many guys make big turnarounds because before that, they had no discipline in their lives. I saw a lot of them come in boys and leave as men. It made a big difference.
"I feel good about my service to the country," Pankratz said with a reflective look in his eyes. "I am also very thankful to the VA for all their help now, with my medical care. They have been very good to me. I know, there have been problems in other places in the country, but here in Nebraska, we are treated as good as we can be. And when I pull out my VA card, if people at hotels or cafes want to know if I'm a veteran, they thank me for my service and I get warm fuzzies from that. I'm just so glad I went to the Coast Guard, that I went into military service when I was 18. I don't regret it at all. And I'm proud of my services, I'd do it all again."
Be the first to know
Get local news delivered to your inbox!