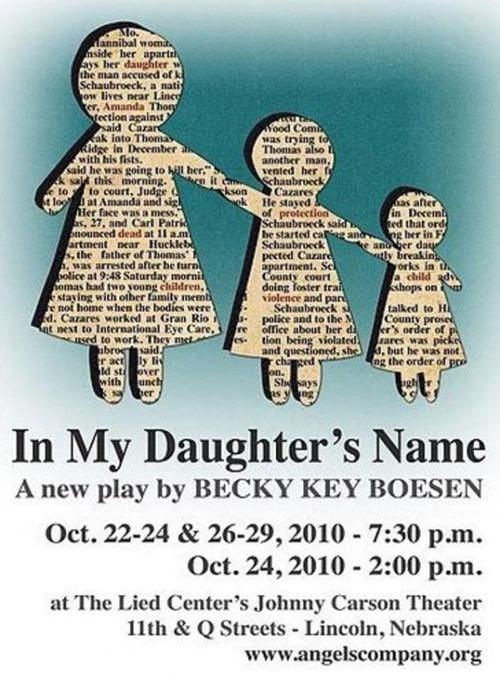 UTICA — Grace (Jody) Schaubroeck of Utica trusts Becky Key Boesen with her daughter's story.
Boesen's play "In My Daughter's Name" was inspired by the story of Schaubroeck's daughter, Amanda Thomas, a 27-year-old mother of two who was murdered in her sleep allegedly by her former boyfriend and father of her son Manuel G. Cazares on February 28, 2009 in Hannibal, Mo. Thomas' friend, Carl Epley, was murdered beside her that same night. Angel's Theater will present the play at the Lied Center's Johnny Carson Theater in Lincoln Oct. 22-24 and 26-29 at 7:30 p.m. and Oct. 24 at 2 p.m.
Schaubroeck is also the mother of Kelcie and Cole Schaubroeck, who are both students at Centennial Public School in Utica. Grace is an artist, a CASA volunteer and program support worker at KVC Behavioral Health. Through her work at KVC, she performs direct services with families who are in need of parenting curriculum, safety assessments and services in their homes. She supervises the safety of children and helps to reunify children with their families if that's part of the program.
"I get down on the floor of their lives with them and help them rebuild their families," Grace said.
It was through her work as an artist that Grace came in contact with Boesen. Boesen was gathering volunteers through the Lincoln Arts Council, and a friend gave Grace Boesen's name. After Boesen contacted her, the two women became Facebook friends.
Not long before getting in contact with Grace, Boesen had joined the Facebook group Voices for Amanda. Boesen was blown away by Thomas' story. It was keeping her up at nights. But she did not know at the time she had already spoken with Thomas' mother.
Because Grace goes by Grace Jolene Stoneking for her art, Boesen did not realize who she was getting to know. But soon it was revealed to her and the chance to tell Thomas' story on the stage was made possible.
"One day we had playful bantering back and forth on Facebook," Grace said.
Boesen visited Grace's home page and saw her children's names and their ages listed on her profile. That's when she read "Amanda R. Thomas, Deceased."
"The hairs on the back of her neck stood up because she realized she became friends with the mother of the girl whose story was keeping her up at nights," Grace said.
When Boesen had first read about Thomas' story through the Voices for Amanda Facebook group, she had been writing another play for over a year. However, Grace said, she laid her pencil down after reading Thomas' story because she just couldn't write the other story when she couldn't get Thomas out of her mind.
After Boesen realized who Grace was, she asked her if they could meet in Lincoln. They went to a restaurant and talked for almost an hour.
"I could tell she was genuinely humanly invested in telling this story," Grace said. "It wasn't like it was frivolous to her. She was very emotional, very touched and compelled to write this story. She asked me if I could trust her with this story. She gave me time to think about it, but by the end of lunch, I knew I was going to say yes."
Although it's not a biography per se, Grace said the play has a dual purpose of telling their story while also educating; bringing awareness; and finding a way for people to learn about the dynamics of domestic violence, how quickly it can escalate to a dangerous situation and how the system often lets victims down.
"The play to me reestablished my faith that there is a higher purpose for everything because I was so focused on telling her story and all I wanted was for people to listen to her story and understand it," Grace said.
As someone who works in the child welfare system, Grace knows the system and the signs of domestic violence. However, she feels the system she knows so well let her daughter down.
"If it could happen to my kiddo who was loved and intelligent and whose mother worked in the child welfare system," Grace said, it seems that even when everything is done right, "domestic violence can take lives."
When the Angels Theatre Company came to Boesen and told her they wanted to carry her story, Grace was reaffirmed that there is a plan and a purpose for all of this. Grace is thankful that the play is part of Angels Theatre.
"Angels has such a positive reputation for bringing socially pertinent stories to the stage," Grace noted. "I couldn't ask for a better theater company. I think it's amazing that we have a play produced by a theater company of this caliber and a venue and it's about a story of a family in Utica, Neb."
Grace understands the potential of sharing her daughter's story in this way.
"Theater touches people in ways unlike any other media source. Theater lives and breathes. It's art in action," she said.
Grace wasn't involved in the writing process, but she and Boesen spent a lot of time together. She gave Boesen all of her photo albums from all the years of Thomas' life as well as journals and letters.
"[Boesen] fell in love with who Amanda was and feels like she knows her. In order for her to know the story, I felt like I wanted to share my story of how all of this began," Grace said.
Grace has similar hopes for the play.
"We want people to fall in love with Amanda, and in turn by doing so, see that we all have Amandas in our lives," Grace said.
Whether they are a sister, a friend, a mother or a cousin, we all know an Amanda who is being hurt by the person who they trust and love in their lives, Grace added. For those who are being hurt, Grace said they hope they will be encouraged to seek help. They also want people to pay attention to those around them.
"If they suspect someone is being abused or in an unhealthy relationship, ask them if they are OK. Let them know they are concerned for them and offer themselves as an ally and help them," Grace said.
If you are worried about someone, Grace suggests telling them, "Let me know if I can help you. I'm afraid for what might happen."
She said people will run the risk of alienating that person and they may be met with reluctance, but if they can make themselves available, it only takes a few people to really help.
"The victim is usually very distrustful and very afraid," Grace said.
October is Domestic Violence Awareness Month, and Grace has advice for those who are suffering. The first step to take, Grace noted, is to contact a domestic violence agency who can help victims explore their options and develop a plan that is safe for them.
"One of the worst and most common examples of really poor advice is 'You need to leave him,'" Grace stated.
A woman is at more risk of danger if she leaves without a plan.
"When an abuser feels he is losing control, he will very often escalate his control," Grace said.
That's why it is incredibly important to have a plan, because it's just not as simple as up and leaving, she noted. Reaching out to the people you know you can trust is critical.
"The more people [she knows] and can weave that net when she and her children decide to jump, the better her chances are at succeeding and removing herself and her children from the unsafe environment," Grace said.
However, domestic violence is a difficult issue to work through.
"Domestic violence is mind-bogglingly complicated. There is no easy answer, no template for success. Every person's experience is unique," Grace said.
This is why enlisting the help of trained professionals that can help victims maneuver the legal system, the judicial system and the social system is paramount, Grace explained. Because when a victim leaves, Grace said, she will be faced with a labyrinth of stuff that she needs to deal with. A victim will have to work through issues regarding employment, safe housing, cars and more.
"It's endless," Grace said.
The victim not only has the burden of getting herself safe, but she is also faced with the burden of putting her life back together.
"When a community does not support that, she often gets victimized by the exact same people she hoped she can run to," Grace said.
Support is key in easing these burdens. Without support, hope can be a hard thing to find. It's also important to know where to place the blame.
"Whenever you hear of a woman being abused, in whatever capacity, people ask all sorts of questions among themselves," Grace said.
Grace said these questions usually include "'Why doesn't she just leave?', 'What did she do to make him do that?', 'Why does she put up with it?' or 'Why does she keep picking these guys?'"
Even by commiserating or feeling sympathy for her, the questions people usually ask often put the focus on the victim and label her as the responsible one in the situation, Grace explained. She wonders why no one ever asks "Why does he abuse her?" or "What can we do to help her?"
"In My Daughter's Name" will hopefully give people a chance to really consider the truth in so many domestic violence stories and will provide an opportunity to spread awareness. Grace knows her daughter would be proud.
"Amanda would have been deeply touched and honored to know her story has been carried like a banner to so many lives. Each person leaving that theater will hold a stone to cast upon the sea. Each and every ripple will touch others and will carry hope for other victims and their families," Grace said.
Editor's note: Cazares has been charged with two counts of second-degree murder and armed criminal action following the deaths of Thomas and Epley. A trial is pending.
Be the first to know
Get local news delivered to your inbox!