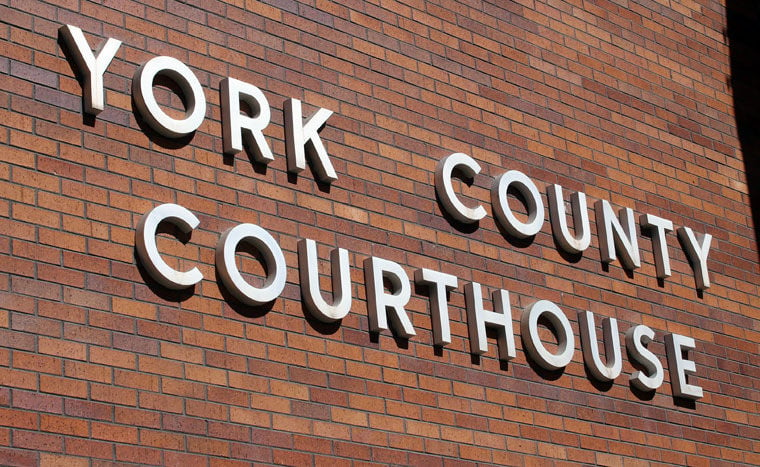 YORK – Danielle Root, 34, of Gresham, was sentenced to jail time, in York County District Court this past week, in a case where she was charged with felony possession of methamphetamine after a situation in which she resisted arrest.
According to court documents, this case began when the York County Sheriff's Department was dispatched to York Mobile Plaza, regarding an argument between Root and a man.
The argument apparently stemmed from her using a vehicle without permission, the investigating deputy said in the affidavit.
The deputy says Root indicated she had permission to use the vehicle; the man who owned it said she did not, as she had a suspended license and he didn't want to have his vehicle towed.
After a passenger in the vehicle was arrested for drug possession, the deputy says, "Root was digging around in the rear seat area of the vehicle. I again ordered her out of the vehicle and escorted her to the rear-most portion of the vehicle. I ordered her to place her hands flat on the trunk lid of the vehicle to which she did not comply. As I was attempting to place her into investigative detention, her body went limp and she tried to fall to the ground. Throughout this process, she continued to yell and scream. She refused to get up and kept pulling her hands to her front. I ordered her several times to put her hands behind her back but she refused to comply."
Root was eventually taken into custody and placed into the rear of a patrol unit. "When placed into the rear of my patrol unit, she refused to get in and pushed her feet against the door jam as to prevent me from pushing her into the vehicle," the deputy's report says.
He also indicates it took a sheriff's lieutenant and himself to get her in, to secure the door.
During a search of the vehicle, deputies found THC wax, raw marijuana, various pipes, and a small clear vial with a gold cap containing a white powdery residue that field tested positive for methamphetamine. All the items were found in Root's purse.
The deputy said during an interview at the jail Root "admitted to smoking methamphetamine approximately 1-2 weeks prior and said she is a daily cannabis user and had used prior to police contact."
Root earlier pleaded no contest to possession of methamphetamine, a Class 4 felony; obstructing a police officer, a misdemeanor; and unauthorized use of a vehicle, a misdemeanor.
This week, during District Court proceedings, her attorney, Steven Fillman, said his client was sorry for missing her appointments with probation officers in the preparation of her pre-sentence investigation. He said she had issues with access to a telephone and misunderstood a date for her interview.
"She has a job and she's a productive member of society right now, we are asking for a continuance so she can complete her participation in the PSI," Fillman said.
"She has missed numerous occasions to contact probation," said York County Attorney John Lyons. "Many times she just didn't show up. This just doesn't fly. She has made no efforts. Everyone is here, the pre-sentence report is here, there is no reason to continue."
Judge James Stecker agreed and said they would move forward with sentencing.
"Probation recommends a straight sentence, due to her unwillingness to participate, and I agree," Lyons said. "She has a history of failures to appear, she continues unlawful behavior, confinement is necessary."
"I'm asking the court to consider a sentence of time already served," Fillman said. "She has some things on her record, but she doesn't have the worst record. This was a non-violent crime and she could have cooperated better with the law enforcement officer."
"I'm really sorry for my actions," Root told the judge. "If I go to jail, it will make me backtrack even more."
"Your evaluation recommends treatment, have you done any?" Judge Stecker asked Root, saying she hadn't. "Your criminal history includes theft, possession of a controlled substance, another theft, possession of marijuana, domestic assault, driving under suspension, possession with the intent to deliver, bad checks, another driving under suspension and theft. This involved methamphetamine, obstructing an officer and unauthorized use of a vehicle. You failed at probation two times, you have a history of failures to appear. And the court finds it hollow that you've done nothing for treatment while you had months to do so. You make a lot of excuses and the court does not find you fit for probation."
For possession of methamphetamine, she was sentenced to 120 days in jail. For obstructing a police officer, she was sentenced to 30 days in jail and for unauthorized use of a vehicle she was sentenced to 30 days. These will be consecutive, the judge said, so they will total 180 days, with credit for 58 days already served.