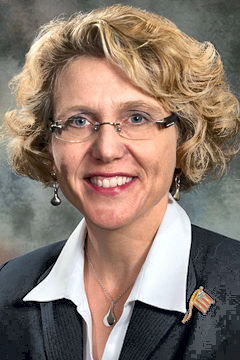 YORK – York has a new city administrator.
Dr. Sue Crawford was officially approved by the city council during a special meeting held Thursday, April 29.
"This process has gone on quite a while and I would like to introduce Dr. Sue Crawford," Mayor Barry Redfern said to those in attendance, which included department heads and a number of city employees.
Crawford told the council, administration and city workers how she grew up in a community that was similar in size to York, "so I feel like I'm coming home."
She explained how she has worked with local governments and in the unicameral for eight years.
Dr. Crawford recently finished two terms in the Nebraska State Legislature (eventually terming out from that elected position). During her eight years in the Nebraska Legislature, she served on the Urban Affairs Committee, which focuses on municipal law. She was the chairman of that committee in 2015 and 2016.
"I fell in love with public service while serving in the Unicameral and I look forward to stepping into full time public service for the city of York," she said.
She has taught public management and other political science courses at Creighton University for over 25 years. With her years of teaching in public management, she brings expertise to the management tasks at hand in the city.
She received her Ph.D. in political science, with a minor in public management, from Indiana University.
She has published two books, 14 journal articles and 11 book chapters with colleagues from various disciplines and universities.
Dr. Crawford was selected for the Bellevue Chamber Distinguished Service Award in 2020 and as the Sarpy County Elected Official of the Year in 2017.
Regarding community engagement activities, Dr. Crawford worked to provide state information and access to district communication outreach to various state, local and nonprofit leaders during the COVID pandemic and after the floods of 2019. She has raised funds and worked to increase public safety awareness as a board member of the Bellevue Public Safety Foundation. She has also served on the Charles Drew Health Center Board of Directors and has been a volunteer with Green Bellevue and Eastern Nebraska Community Action.
"I see my responsibility in helping you serve the city," Crawford said to the council members. "And I want to help match the talents and the passions of the employees with the needs of the community. I feel passionate about this role."
Redfern said he created two pages of questions, comments and ideas which he gave to her to review.
"And then in turn, she came back with two more pages of questions, comments and ideas," Mayor Redfern told the council. "And as of now, we have six pages of things to address, look at, achieve. We have a lot to do and we are ready to get started."
"It is very exciting to see all the things going on in York and I'm excited to jump in," Dr. Crawford said.
Now that she has been officially appointed, she will retire from her professor position at Creighton and move to York. She will be wrapping up her courses for the spring semester as she begins her new position here.