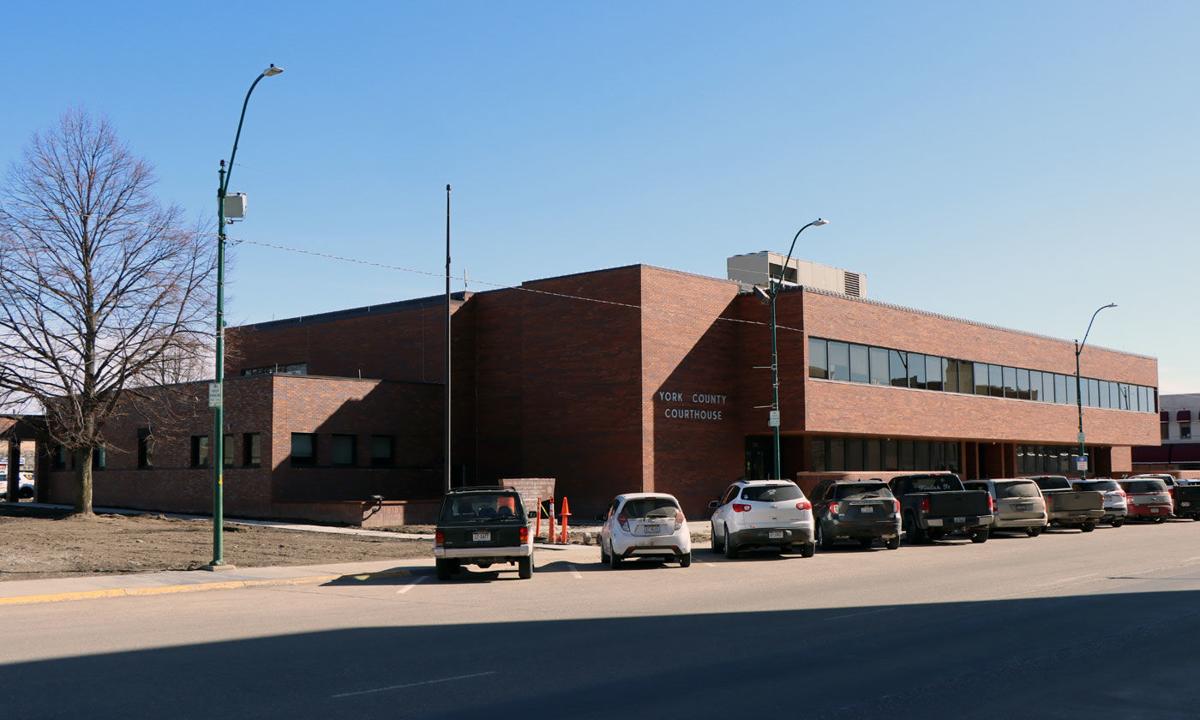 YORK – Sentencing proceedings were held this past week in York County District Court where Daniel R. Alexander, 31, of Fairmont who was convicted of first degree domestic assault and child abuse.
He appeared before Judge James Stecker.
According to court documents, this case began when officers with the York Police Department were dispatched to the 3300 Block of North Lincoln Avenue.
The officer who filed the probable cause affidavit says that when he got out of his vehicle, Alexander and "his 4-year-old daughter ran to me. Both were crying and yelling for help. Daniel stated to me that he had pushed (the victim) down to the ground and she was now bleeding from the back of her head. I quickly went to the front door of the apartment and observed a female lying on the ground, bleeding from her head. I observed a laceration on the back of her head with blood pouring out. Her injuries were serious enough to render her unconscious, but she was breathing. I instructed Daniel to get me paper towels and I held them to the back of her head until paramedics arrived. While I was holding the paper towels to her head, Daniel kept saying, 'This is my fault.'
"Once paramedics arrived, she began to speak. She was very confused and screaming in pain. Paramedics took her to the emergency room. Two children were present in the house," the court document continues. "The 4-year-old was present and saw the entire ordeal until I instructed (a deputy with the sheriff's department) to take her to her bedroom where their 2-year-old daughter was sleeping.
"The state of the house was deplorable. There was trash everywhere and clothes and toys completed covered the floor in each bedroom. Daniel took me to his bedroom. I could not see the actual floor," the officer says in his report. "It was covered with clothing and trash. There were also concentrated THC containers and alcohol containers on a coffee table, completely accessible to either child. Also, on the coffee table and floor, were multiple cigarette butts directly accessible to both children. The bottoms of the 4-year-old's feet were completely black, like she had been walking around on dirty floors for days. The children's bedroom floor was covered in toys. The only part of the floor that was visible was right by the door approaching one of the beds. There were sticky fly traps hung on the ceiling that were completely full of flies. They were so full that dead flies had begun falling on the floor. There were also dead flies and fly feces stuck in cobwebs in the hallway.
"There was a child's toilet in the kitchen with feces inside," the officer's report says. "The counters were covered with empty plastic grocery bags and trash. The kitchen ceiling appeared to be caving in and had a part of the plaster missing. Insulation was sagging down through the ceiling with obvious signs of water damage. The kitchen and living room floors also had what appeared to be dirty diapers in multiple spots. The refrigerator in the living room had food inside but had spilled foot items on the shelves. The refrigerator and freezer both emitted a foul odor."
The officer said the victim of the assault had given responding officers consent to go in each room of the house. That included "a locked room the 4-year-old called the 'smoking room.' In this room officers located marijuana pipes, concentrated THC pipes and containers, and alcohol container. The overall condition of the residence was in such disarray that it is not safe for the children's mental or physical health."
Initially, he was facing the possibility of a maximum sentence of 23 years in prison.
During sentencing proceedings, his attorney, York County Public Defender David Michel said, "my client understands that his actions and only his actions led to where he is today and he accepts responsibility. He has a history of trauma which he is addressing through counseling. We feel probation would be the best way for him to move forward."
Alexander apologized to the court and said he was nervous. "The actions that got me here today are unacceptable. And I've lost the people I love the most due to that. I have been clean one year and one day now and I'm going to meetings daily. I live in a ¾-way house and I'm putting my best foot forward."
"If you look at your prior criminal record, you should be nervous because it's horrible," Judge Stecker said to Alexander. "Your record is long and it is also full of non-compliance. But I do see the efforts you've made and that gives me hope you've seen a side of life that you want instead of going back into the ways of your history. You've been working on your problems and I see you taking ownership."
Judge Stecker sentenced him to three years of traditional probation to include three 30-day stints in jail, in the future, which can be waived if he is found to be in compliance with the terms of his probation. Judge Stecker also read a very long list of conditions that must be met.
"This is not an easy probation order," Judge Stecker told Alexander, "but if you comply and stay true to your treatment, you will do well for yourself and those who you love."