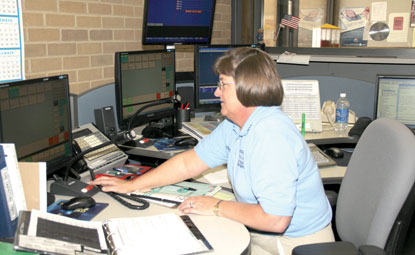 YORK – In the front corner of the York Police Department sits a large desk on which multiple computer monitors, microphones, keyboards, files and notebooks have taken up residence.
It's at this desk that police dispatcher, Deb Hansen, has sat when she's come to work for the last 30 years.
She and the other dispatchers work seven, 12-hour shifts in a two-week pay period with every other weekend off and about half of the holidays off.
"Whether they're busy or slow, those 12-hour days can get long sometimes," Hansen said.  
For a newcomer who's viewing the multiple computer screens on the desk, it looks confusing and just a little bit overwhelming.
"It's not as overwhelming as it looks," Hansen said with a laugh.
There are two monitors for dispatching calls, just in case more than one call comes in at the same time.
One is set to the police department and another to the fire department.
Another monitor is for 9-1-1 calls.
When someone makes a 9-1-1 call, if they're calling from a landline, their name, address and phone number will appear on the screen.
If they're calling from a cell phone, only the phone number will pop up.
Another monitor is for non-emergency issues like loose dogs, traffic hazards, noise complaints and other problems.
The final computer is what Hansen uses for codes called in by police officers.
If an officer has someone pulled over and wants to check their driving record, criminal record or see if there are any arrest warrants out for them, he or she will call in the code and information to Hansen, who then enters it into the computer and then relays the information that comes up back to the officer.
Usually there is only one dispatcher working. In cases where there's an armed robbery or a house fire where multiple units are on the scene, the department might call in another dispatcher to help get everyone where they need to go and to keep things running smoothly.
Knowing how to multi task is a must, Hansen said. Sometimes, she'll have a phone on each ear and be speaking in to the scanner all at the same time.
She has to be able to keep everyone calm and from getting flustered while still making sure her officers or the fire department knows where they need to go and the people on the lines know that there's help on the way or that their problem will be taken care of.
"It's all about taking care of the mental checklist in your mind," she said. "You don't have time, you have to do it quick."
And while her track record is excellent, she does make mistakes every once in awhile.
The one that pops to mind immediately is the time she dispatched the fire department to an address on Ohio Avenue instead of the correct one on Iowa Avenue.
Thankfully she realized her mistake and was able to correct it before the fire trucks had even left the station.
"We're all human and we're going to make mistakes," she said. "You just have to make sure that mistake is minimal."
No day at the station is the same, Hansen said. That's what she likes about the job. She could have one day where the phone is ringing off the hook and multiple emergency and non-emergency calls are coming in.
Some of those calls can get really strange. People will call in anything and everything they see that bothers them.
"Some days I just hang up the phone and think, 'thank God its not a picture phone' because I just have this confused look on my face and I'm thinking 'now what do I do with that,'" she said.
But she knows that helping the public and those callers is a part of her duty.
"On the (officers) patches, it says 'to serve and protect,'" she said. "The serve part comes first. We have to serve the community."
One of the hardest parts of her job is the possibility of someone calling in an emergency and it's a friend or family member in trouble, she said.
"I've had people who called and the first thing they said was 'Oh thank God it's you, Deb,'" she said.
Usually it makes them more comfortable to be speaking to someone they know, Hansen said.
"You don't want to get emotional but you are human and you're going to have emotion," she said.
"But your first job is to help people so that's what we try to do as best as we can. You take three to five minutes to do your job and then you walk away, take a breath and get refocused."