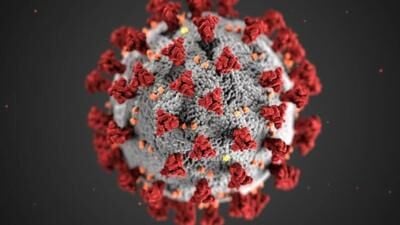 YORK – The trend of new COVID-19 cases in the health district continues to be on an upward trajectory with daily case counts the highest they've been in a year.
As of Wednesday, Jan. 12, the Four Corners Health Department was reporting a new 7-day case total of 412 in the district.
Thursday morning, during a community briefing session, Four Corners Director Laura McDougall said the current surge is due to the Omicron variant.
"We are having a large, large surge of cases right now, there are so many out there," McDougall said. "We had 412 cases in the past seven days and the number of positive cases in the district just yesterday alone was 98. Things are really picking up. We'd been in a surge with Delta earlier and now it's even higher with Omicron."
She said there were 131 new COVID cases in York County in the last seven days.
McDougall said the health department continues to get a lot of questions – many calls – about what people are supposed to do regarding quarantining after they test positive. She noted the CDC recently changed guidelines. She explained that Day Zero – the day a person starts to have symptoms and/or tests positive – is the first of five days that person must isolate. After five days, if the person has no fever and is no longer having symptoms, they can go back to work or school but they need to wear a mask for five more days.
"So in essence, it is still in a form of isolation for 10 days," McDougall said.
"Omicron is very contagious and people are getting sicker faster," she said further. "It is important to do what we can to slow it down. And we are seeing vaccinated people come down with it, as well as people who already have had COVID. In the last seven days, 10% of those who tested positive in the district had previously tested positive for COVID. So keep in mind that just because you have had COVID before or you are vaccinated, you can still get it, so take all the steps to protect yourself and others."
She also noted that monoclonal treatments that had been widely and effectively used in the past, to treat COVID, are not as effective with the Omicron variant. And the treatment that is most effective against Omicron is not readily available.
Margaret Brink, Four Corners board president, said she was concerned "about a lot of activities that are going to be happening in the near future, with a lot of crowds. Please, please, take precautions. Keep vigilant and wear the dang masks. And thank you to Jim (Ulrich, CEO of York General Health Care Services), Laura (McDougall) and all their staffs for supporting the crazies who don't get vaccinated."
Ulrich reported, during the community briefing, that seven-day rolling counts of new cases have "essentially doubled in the state. Nebraska went from 9,676 in a 7-day period to now 19,241 in a week. Regarding the number of statewide hospitalizations, the number was 445 on Christmas Day and on Jan. 11 it was 641. Has that made it harder for us to transfer patients? Yes.
"At York General Hospital, we had 25 employees out for COVID reasons – of those, 21 had COVID," Ulrich continued. "That does strain our system. The good news is that for the most part, most had minor symptoms and are back as quick as they can be. We have only had one inpatient with COVID here and there – we have only one right now. We continue to give monoclonal injections and we do have a limited amount of the treatment Laura was earlier describing. We gave 19 treatments this past week.
"The Hearthstone has had some positive residents, but they are doing well and have mild symptoms," Ulrich said. "When the community spread gets so high, there is really no way to keep it out of our facilities."
He said the hospital's overall census is a little higher than normal and the number of people coming to the emergency room (for all types of reasons) has been a little higher than average. He also noted testing supplies are getting low. And he noted that the Quick Clinic set a record for the number of patients seen in a day, last Tuesday, as they hit the 41 mark by 5:30 p.m., with 2 ½ hours still to go before closing.
Heartland Superintendent Brad Best reported that COVID, influenza and other illnesses have hit that community this week, leading to the closure of the elementary school for the rest of the week.
"Earlier this week, we had an absence rate of 20% in the elementary school and by yesterday morning it went to 35%," Best said. "Also, half our staff was out. So we made the decision to close the elementary today and tomorrow and then see where we are at next Monday."
He said the Heartland high school is still open, but they do have a 15% absence rate at this time.
"We are hoping a 4-day break will help us turn the corner," Best said.
He also noted because they don't have detailed information on case numbers, per types of confirmed illnesses, "right or wrong, we are lumping illness into one category because with these many absences and illness we just had to close the elementary wring."
Tyler Hinton from York College reported that the case numbers on that campus "are pretty minimal, as we have less than 10 students in quarantine at this time."
York Superintendent Mitch Bartholomew was unable to be part of the community briefing, but the York Public Schools' data dashboard (on Thursday morning) showed very low numbers regarding COVID cases. There were no cases being reported among students or staff at York's elementary school; only one student/staff member was reported as being absent due to COVID at the middle school; and only one student/staff member was being reported as absent due to COVID at the high school.