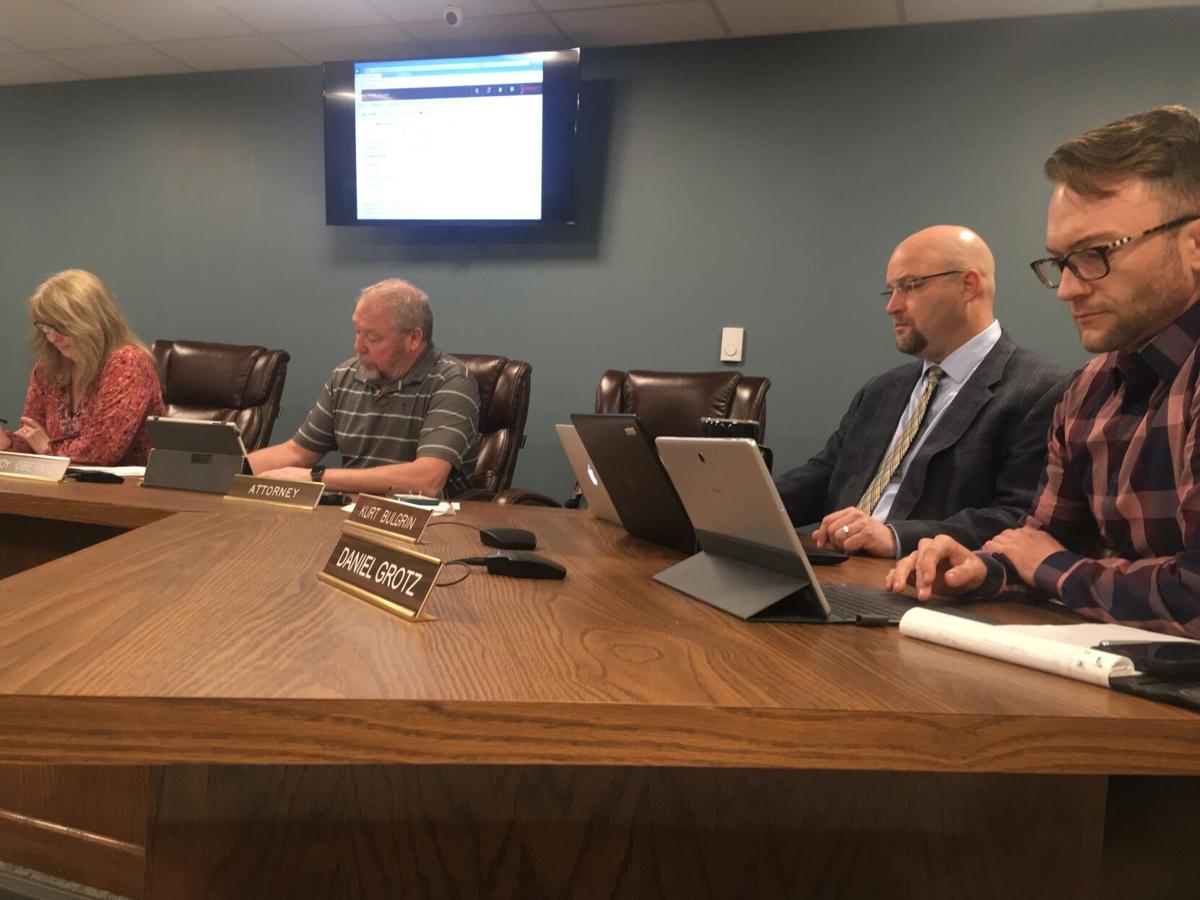 YORK – The York County Commissioners have held a special hearing/meeting during which they addressed allegations against York County Attorney John Lyons.
They have also stated they will take formal action at their next regular meeting – scheduled for Tuesday, Sept. 21 – regarding whether or not they will be terminating Lyons from his position.
Lyons did not attend the special hearing.
At the opening of the special hearing, York County Commissioner Randy Obermier said, "Today's meeting is for the purpose of addressing the allegations against John Lyons as specified in the Aug. 25, 2021 hearing notice that was issued to Mr. Lyons. While the hearing was initially set for Sept. 7, it was postponed by the agreement of the parties until today, Sept. 15.
"As set forth more fully in the hearing notice, Mr. Lyons has been informed that he may be terminated from his job as the county attorney for York County for the reasons set forth in that notice. Generally speaking, those reasons included that Mr. Lyons signed a contract with Clay County to serve as its interim county attorney for at least six months," Obermier said, "but renewable at 12-month intervals. The Clay County contract was signed by Mr. Lyons on July 28, 2021, the day after the York County Board of Commissioners unanimously declined to allow Mr. Lyons to devote less than his full time to the legal work of York County.
"Mr. Lyons' actions in entering the Clay County contract appear to have violated his agreement with York County to serve as its county attorney," Obermier continued. "Specifically, prior to Mr. Lyons' appointment to the position of York County Attorney on Dec. 31, 2019:
• The board made clear to Mr. Lyons that he would be required to devote his full-time to the legal work of York County, and he acknowledged that he understood that expectation prior to being appointed to the York County attorney position.
• This agreement was in accordance with Resolution #17-45 which was passed by the board on Dec. 5, 2017, which set the salaries of elected officials for 2019, 2020, 2021 and 2022 and also stated that the board required the county attorney position to remain a full-time position with no private practice allowed except as authorized by the board of commissioners.
• Resolution #17-45 was passed in accordance with Nebraska Revised Statutory Section 23-1206.01, which specifically allows counties such as York County to adopt a resolution specifying that the county attorney shall devote his or her full time to the legal work of the county and not engage in the private practice of law directly or indirectly."
"Mr. Lyons requested that this hearing be held in open session and the board planned to offer Mr. Lyons the opportunity to respond to the allegations against him," Obermier said, "which Mr. Lyons knew. However, at approximately 10 a.m. today (an hour before the special meeting/hearing began), Mr. Lyons' attorney contacted the attorneys for the board and informed them for the first time that Mr. Lyons did not plan to participate in the hearing. Rather, the attorney asked that his letter be considered Mr. Lyons' submission with regard to the hearing. The board will consider the letter submitted together with the other information and evidence it has gathered. A vote on this matter will not be held today. Rather, given the seriousness of this matter, the board intends to consider and review the information presented by Mr. Lyons and hold its vote at a later meeting of the board at which all members are able to be physically present."
Some of the members of the county board could not be physically present at this week's special meeting and were available via Zoom.
The letter Obermier referred to was submitted by David Lopez, an attorney hired by Lyons to represent him.
The letter included that "we have repeatedly informed the board, through counsel, that the board lacks authority under Nebraska law to terminate Mr. Lyons by non-judicial means. Due to the lack of any legal basis for the board to conduct such termination proceedings, Mr. Lyons will not participate in the hearing in person. This letter is his submission with regard to the hearing.
"I repeat what has been conveyed multiple times over the past several weeks to the board and its counsel: Mr. Lyons is a county officer and, as such, can only be removed from office under the provisions of Nebraska law which specifically govern the removal of county officers. Although Mr. Lyons was appointed to the office of county attorney, he holds that office as an incumbent no differently than had he been elected."
Lopez cites numerous state statutes in his letter.
"I note that, notwithstanding the strength of his legal position, Mr. Lyons has made several good faith attempts over the last several weeks to resolve this dispute amicably," Lopez says in their statement. "Those attempts have even included offers to enter into a new agreement specifying the terms and conditions of Mr. Lyons' appointment, provided any such agreement respects his statutory officer protections. Mr. Lyons' resolution efforts have been unsuccessful, owing entirely to the board's insistence, communicated through counsel, on viewing his legal status as a mere at-will county employee. That position can only be driven by the fundamental erroneous legal conclusion that Mr. Lyons is not a county officer, which is simply wrong.
"Mr. Lyons remains optimistic that although the board is apparently moving ahead with its purported termination hearing, the board will ultimately cease further non-judicial termination proceedings against him. If the board takes any step to terminate him, however, Mr. Lyons will pursue all available legal remedies, including those already specified in past correspondence. He may seek to recover any damages he sustains through federal civil rights claims brought against members of the board in their personal capacities.
"To be sure," Lopez continued, "the board is mistaken that Mr. Lyons' contract with Clay County is impermissible or violates his legal obligations to York County. If necessary, Mr. Lyons will vigorously contest any such allegations in the appropriate venue and at the appropriate time. His arguments include, but are not limited to: 1) that the Dec. 5, 2017 resolution does not proscribe the Clay County prosecutorial services contact executed by Mr. Lyons; 2) that Mr. Lyons has not been engaged in the private practice of law; and 3) that Mr. Lyons has at all times rendered full-time service to the York County Attorney's Office. At present, however, the focus of our submission is the illegality of the board's non-judicial termination proceedings. For these reasons, and for those specified in prior correspondence, I respectfully demand that the board cease and desist all non-judicial efforts to remove Mr. Lyons from office."