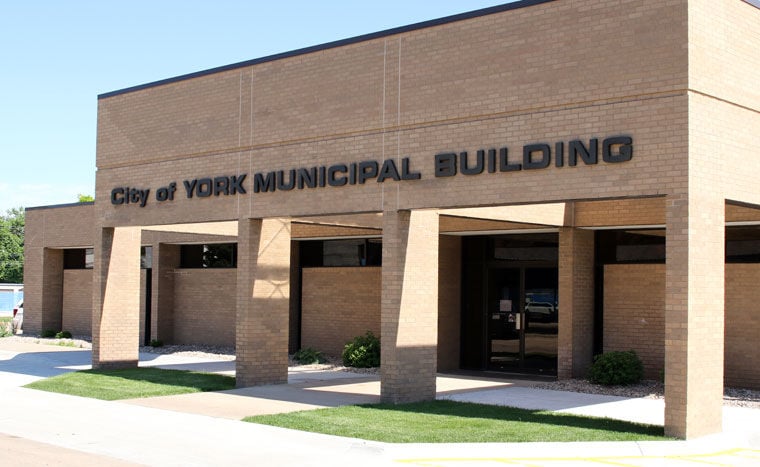 YORK – This week, Steve Postier, who was recently elected to a seat on the city council, asked for his residential/business property to be annexed into the city prior to him taking the oath of office on Dec. 3.
Without the annexation, he cannot take the oath of office on that date because he doesn't live inside city limits.
He filed his petition for annexation Tuesday and the first reading of an ordinance regarding the annexation took place Thursday night before the city council.
York City Attorney Charles Campbell explained to the council that annexation ordinances require three readings – meaning three separate meetings of the council – before a vote can be taken.
The council moved on with the first reading and the second reading will take place during the meeting of Dec. 3. The third reading will take place Dec. 17.
Because the annexation ordinance process will not be completed by the start of the meeting on Dec. 3, Postier will not be able to take the oath of office at that designated time, which is required by state statutes.
So, as explained by Campbell, that seat at the council will be declared vacant and then it is up to the mayor to bring forward a recommendation for someone to fill that seat. The council then has the responsibility to vote yes or no regarding the mayor's recommendation.
There was nearly an hour of conversation on the matter Thursday night.
"Before we start, Charley (Campbell) has informed me that we can't suspend the rules on this ordinance, it has to have three readings," Mayor Barry Redfern said at the beginning of the ordinance reading.
"No action can be taken tonight, regarding this annexation, it can only be done after a third reading," Campbell said.
"I want to thank the voters for their support," Postier said. "When I decided to run it was a desire to serve the community. I didn't know the process and was referring to the past when Jeff Pieper was annexed in."
Councilman Jeff Pieper, during his first election, was a resident of the city when he filed. During the election cycle that year, he moved to a different location where part of the property was inside city limits and part of it was out. He asked for annexation of the rest of his property which happened before the oath of office was administered. He took the oath and has been on the council since.
"I spoke to Charley (Campbell) and he said that as long as I live in city limits, I could be sworn in," Postier said. "He did say it would likely be a months-long process. I assumed that the oath of office would take place in late January. The date was never fully disclosed and I realize it is my own fault that I was not aware of the date. Now I am requesting that you waive the three readings. I ask for the same process offered to Jeff (Pieper). Then this unfortunate situation goes away. The council could also have a special meeting, which I do realize is difficult with next week being Thanksgiving."
A third option Postier offered was that a sitting councilmember who will be leaving office could stay on until he is qualified – after Dec. 17.
"There are these three options and I would truly appreciate help in this matter so we can move forward with growing York," Postier said to the council.
He also offered legal opinions from other situations in which he felt the three ordinance readings could be waived.
"Annexation ordinances require three readings, it cannot be waived," Campbell said. "I'm simply advising that there must be three separate readings, three separate meetings."
"We already have a meeting on Tuesday (regarding a possible mask mandate for the city) and there isn't time to get another meeting scheduled and advertised as it is not a good week with Thanksgiving and all. The council is just not in a good position to do that," Mayor Redfern said.
Councilmember Sheila Hubbard said she appreciated Postier and his family coming back to York to live and work and be part of the community.
"I have had many people contact me today, who said they voted for you and they would like to see you run again in two years," Hubbard said to Postier. "The idea of a special meeting is pushing at the council to make an exception. Council members have to be qualified electors and when you filed you were not. I don't want this to turn into a thing where someone from somewhere else can say 'I'll file to run and then move into York. One person told me they wondered if you were going to see if you won first. I just said it is a confusing situation."
"I thought I had plenty of time to complete the process," Postier said. "If I was told it had to be done before the election, I would have."
"A lot of people have talked to me about this today and they have asked why you didn't do this right away," said Councilman Matt Wagner. "I spent a lot of time talking with Charley about this today and it looks like you shouldn't have even been on the ballot. A lot of people don't think this was done the right way. Many said you should do your annexation now and then run again later. I dealt with this all day today."
Postier asked Pieper to talk about his situation. Pieper explained, as had already been explained, that he was a citizen of York when he filed to run for election, he moved to a different location during that year, then asked for the whole property to be annexed before he took the oath of office.
"That situation is what I've been following this whole time and I reached out to the city with my questions," Postier said. "If you don't want to have a special meeting or waive the three readings, I fully intend to pursue annexation. I intend to complete that process."
There were questions as to whether the planning commission would need to hear the annexation petition before the council, and Campbell said that was not required.
"First of all, congratulations on winning the election," Jerad Sorgenfrei said to Postier. "I think the question is whether he should have been on the ballot, that's a discussion that needs to be held. This does highlight issues of who is eligible. I think one would assume if you can't vote for yourself you shouldn't be running. The annexation is one separate issue and it also creates questions about grandfathering in of the kennels."
Campbell had said earlier that Postier's dog kenneling business would not require a special zoning exception as it would be grandfathered in if he was granted annexation.
"I do think he'd be better off to annex in and then run later," Sorgenfrei said. "Then questions could be avoided regarding if he just wants to be in the city to be a city council member."
"I also want to congratulate him," said Vicki Northrop. "I have heard concerns from multiple people who have contacted me about the process. It is my understanding that Mr. Postier knew that he needed to be a resident of the City of York before he filed as a city council candidate. All state statutes I have read spell out the rules for Nebraska stating that a candidate for city council must be a resident of the city before the election. The term 'qualified elector' at the time of election is found in both city and state statutes.
"If you are not a resident until you are elected, how can you have a direct connection to the concerns of the taxpaying residents who understand and experience the effects of the taxes, water bills and sales taxes we pay?" Northrop continued. "This statute is not intended to be at the candidate's convenience. What kind of precedent will this set?
"As city council and mayor candidates stated, it is important that our city administration and department heads live within the city of York," Northrop said. "It is equally as important that those standards are adhered to by the candidates for the city council. Eight of the nine primary candidates were qualified electors living as residents of the city at the time of filing and election.
"Again, the state statutes I have read spell out the rules for Nebraska stating that a candidate for city council must be a resident of the city before the election," Northrop said to the council. "A conflict of interest has been created by the person who gave advice to Mr. Postier and who is now interpreting the law for the city council. A more ethical action by the city attorney would have been to have Mr. Postier obtain advice from his own personal legal counsel. Where are the checks and balances when the person interpreting the law for the council is also giving advice to the person seeking annexation? This has set a concerning precedent for advice that is given out by the city attorney outside of city personnel.
"In this day and age with frequent recall efforts and civil lawsuits occurring, I would encourage you to be thoughtful about the decision that you are making tonight and the message that it sends to the taxpaying residents of York who ethically participated in and voted in this election. As you reflect on your decision tonight, please consider that no other reason has been brought forward to annex this property other than to seat Stephen Postier on the city council. There should be a high level of trust here at this table between you and the residents of York. Being a city council member is a position that involves integrity, knowledge and leadership. Why would you want to make a decision based on fixing a mistake that was unethically made in an election process, as opposed to making a decision that will affect the honesty and integrity of the council going forward?"
Postier responded, saying Campbell did not give him legal advice, "he just told me about how annexation works. All the legal stuff I did in my own research. The precedent was already set – I get the filing was a little different. The voters did elect me, I was open about my intent and have been as above board as possible."
"In all of my calls I received, those who said they voted for you, they didn't understand why you didn't do this earlier," Hubbard said to Postier. "I think if you were an eligible candidate you should have been able to vote for yourself."
"Yours were different circumstances than Jeff's (Pieper)," Councilman Ron Saathoff said to Postier. "He lived in the city when he filed to run, you did not. So you are telling me that someone from out in the country by Waco then can run and then we go out and have to annex his farm?"
"If they ask, yes, or if they move into the city," Postier said. "It's my understanding that Orval Stahr did that very thing."
"You didn't think this thing through," Councilman Clarence Hoffman said to Postier. "You shouldn't have been voting, let alone tell us how this should be done now. I think you should cool your heels and run again."
Paul Bethune addressed the council, saying, "On Sept. 19, through his Facebook page, I asked him if he lived in city limits. He responded, "I will voluntarily annex when I'm elected.' He had no intent to annex unless he was elected, that's in his own words."
Hubbard asked to read a letter she received from Kathy Johnson, saying Johnson was unable to attend the meeting. From the letter, she read, "I would assume that someone with the courthouse staff would have spoken up about this at the time of filing. It seems to me he wanted to run for a position of any kind. And will he be required to hook up to city services like all the others who were annexed into the city on South Grant? I have wonder if he would have asked for annexation if he had not been elected. I think he should turn down the seat now, annex in and run in two years. That would be a better representation of his intention."
One gentleman in the audience said he's known Postier for a long time, "and it surprises me what is going on here. He was elected. I didn't know he was not a resident until a couple of weeks ago. I voted for him. So I'm surprised he's getting the run around here. So what? He practically lives in the city and he is willing to pay the extra to do it. I got the impression he didn't know, I think he and Charley (Campbell) both kind of dropped the ball and they shouldn't have."
Councilman-elect Jerry Wilkinson addressed the council, saying, "I'm kind of conflicted about this, as it appears there was a problem with beginning of the process. When you go to the courthouse to file to run, they determine all that then and there at the county level, whether you qualify as a candidate. That plays into this and that is a part of the process where there is a question. That is where the scrutiny is, where citizenship is determined. When I filed with the county clerk's office, they at the county clerk's office cleared me and then I brought my filing documents to the city and paid the fee. So this really needs to be clarified at the county level as well."
"So our next scheduled meeting is Dec. 3," said Mayor Redfern. "Are any of you interested in a special meeting?"
"I feel that he has been disingenuous in bringing this to the council and making us, the council, the bad guys," said Councilman Ron Mogul. "This is not our fault, it is not us who have done anything wrong. Stephen (Postier) did. He didn't annex his property and it falls down to where he didn't do his business as he should have. I'm not up for another special meeting. This is not about anything we did, this is nothing that we are responsible for."
"I don't know why this responsibility would fall to us," Saathoff said. "Everyone else was citizens of York. Jeff's (Pieper's) case was different as he was a citizen – and that's comparing apples with oranges. I don't think the responsibility falls on us – and like Jerry (Wilkinson) said, this process was broken down at the courthouse when you filed. And you should have started this annexation process before filing."
"I think this would be a good thing, the annexation, it would add to our property tax base and that would be a positive for the city," Pieper said. "I wish the best to everybody and hope to move forward in a positive fashion."
"Everyone who has contacted me about this said they felt like he was sneaking into the system," said Councilman Scott Van Esch. "They said he should have started this process early on, and that they didn't like that all of a sudden he says he didn't realize the dates. I don't think we need a special meeting to reconcile this."
The first reading was declared complete and the council will move on to the second reading regarding the annexation on Dec. 3.
Be the first to know
Get local news delivered to your inbox!