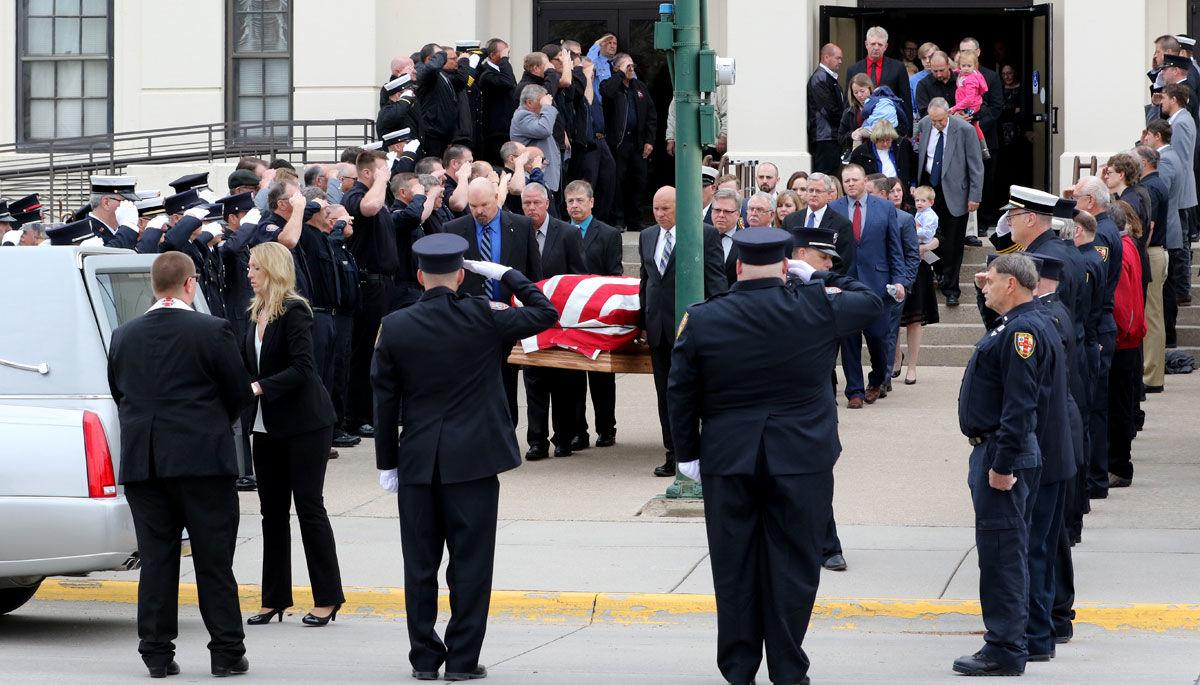 YORK – "Real heroes don't wear capes."
Those were the words on a plaque, lying on a table of memories, just feet from the flag-draped coffin holding the body of York Fire Captain Jim Matzner.
The 29-year veteran of York Fire and Rescue unexpectedly passed away on Friday, April 26.
On Wednesday, May 1, the York community was joined by firefighters, first responders and law enforcement from around the state, to honor and remember the life of a man many have said was a real hero.
An honor guard of two stood watch over the coffin continuously throughout the funeral services held at the historic York City Auditorium.
Hundreds of people filed in to pay their respects. Members of the emergency response community filled the right side of the auditorium. The left side was reserved for family, friends, neighbors . . . as well as retired firefighters, fire chiefs and others who spent a good deal of their career working with Matzner. And there were many in the balcony, there to reflect on a life well lived.
"Well done, my good and faithful one," were the lyrics played as the processional slowly made its way to the front of the auditorium. "Now you are home."
Jake Matzner, the captain's son, read thoughts he jotted down early last Saturday morning, as he awoke the day after his father's passing and the realization of grief was prevalent.
He noted that the time was 6:06 a.m.
His father's badge number just happened to be 6:06.
And in those early morning hours, he said he asked himself, "What is a hero, some may ask. I don't think I told him, but he was my hero. I was so proud to be his son. He was always there to help out anyone who needed it. He would help organize a major event or fix the brakes on your truck, or travel three hours to help some friends work on a house."
Of course, there were also nearly three decades of serving his community – being one of those people who came to the rescue whenever someone needed help.
"After Dad passed away, one of the first messages I received was from someone who said they respected my father," Jake said. "That struck a chord with me. I won't forget that message for the rest of my time on earth.
"Why was he a hero?" the younger Matzner said. "I remember I was nine or 10 years old, and my brother, Adam, and I were home on a snow day. It was really cold and icy out. And we saw an elderly lady lying in front of our house, she had slipped and fallen. My dad had just worked a 24-hour shift, but he ran out, got her, brought her into the house and cared for her until his co-workers arrived to take her to the hospital. He was a hero, he helped that lady like he did countless others both on and off duty. He was a hero. Please, don't wait to tell someone they are your hero."
"For the past few days, I've been thinking about why we admire some people more than others," said another of Captain Matzner's sons, Matthew. "I've come to the conclusion that when it comes to someone being admired, substance means more than style. And my father was full of substance. Substance is when you conduct yourself with honor, respect and dignity and you are reliable. He embodied all those things. We were fortunate to have such a servant in our lives, someone who did so much for other people.
"What makes a good person, what makes an admired person, what makes someone respected?" Matthew asked. "It's acting out the virtues he had every day. We must help others by giving more. He was an example of how to live a virtuous life. I was the luckiest kid in the world to have you as my dad and I promise to live up to the standards you set for us all."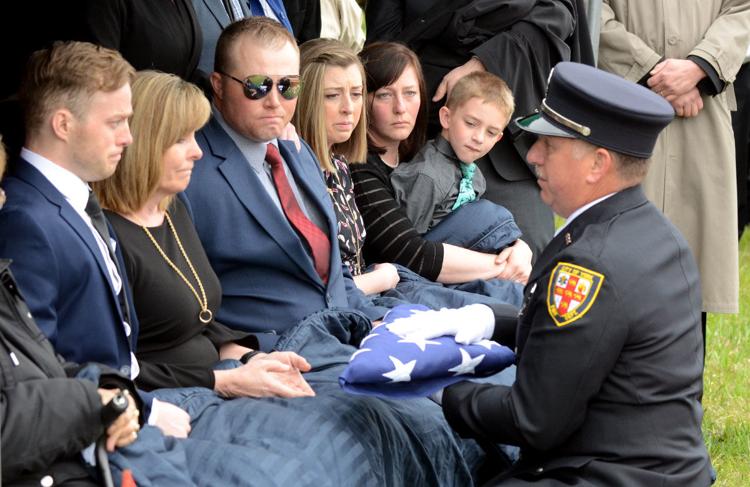 York Fireman and EMT Dan Robinson, also a 29-year veteran of the department and a shift mate of Captain Matzner's, read the Firemen's Prayer.
"When I am called to duty, God, wherever flames may rage, give me strength to save a life, whatever be its age. Help me embrace a little child before it is too late, or save an older person from the horror of that fate. Enable me to be alert, and hear the weakest shout, quickly and efficiently to put the fire out. I want to fill my calling, to give the best in me, to guard my friend and neighbor, and protect his property. And if according to your will I must answer death's call, bless with your protecting hand, my family one and all."
Robinson noted he was reading directly from the piece of paper, on which the poem was printed, "which had been hanging on the wall in Jim's man cave. Those are words that Jim lived by."
"Jim was everything you needed him to be," said Waco Fire Department Chaplain Matt Mau. "He had a desire to help and he was there to do so. There is no greater love than lying down one's life for another, this was the example Jesus gave us. We are to show love and serve with the knowledge and faith that Jesus first did that for us."
Upon the conclusion of the funeral service, all the firefighters – representing dozens of departments – formed two lines, on either side of the auditorium entrance. Overhead a giant American flag – hung from the aerial trucks owned by York and Polk County fire departments – gently moved in the breeze.
The body of Captain Matzner was carried between the firefighters as they stood at attention – with his family following close behind. People from the community stood outside and watched, removing their hats and placing hands over hearts.
And there were other firefighters – representing five departments – manning the York fire station so Captain Matzner's co-workers could say a final farewell.
The caravan included fire trucks from York and McCool Junction (for which he was also a volunteer member) – donned in black bunting and displaying Captain Matzner's bunker gear.
The procession wound past the fire station where Captain Matzner spent so many years of his life. It also moved through the heart of York where many stood along the streets to pay their respects.
Soon, they reached their destination at the McCool Junction Cemetery, where Captain Matzner was laid to rest.
And at 11:44 a.m., York County Dispatch issued last call. The message was of deep regret regarding Captain Matzner's passing and recognition of his service.
"Thank you for your dedication," the dispatcher said, as the message from emergency radios pierced the silence. "Captain Matzner, this is your last call. We have the watch from here."
Real heroes don't wear capes.
Sometimes they wear bunker gear, like Captain Jim Matzner.
Be the first to know
Get local news delivered to your inbox!