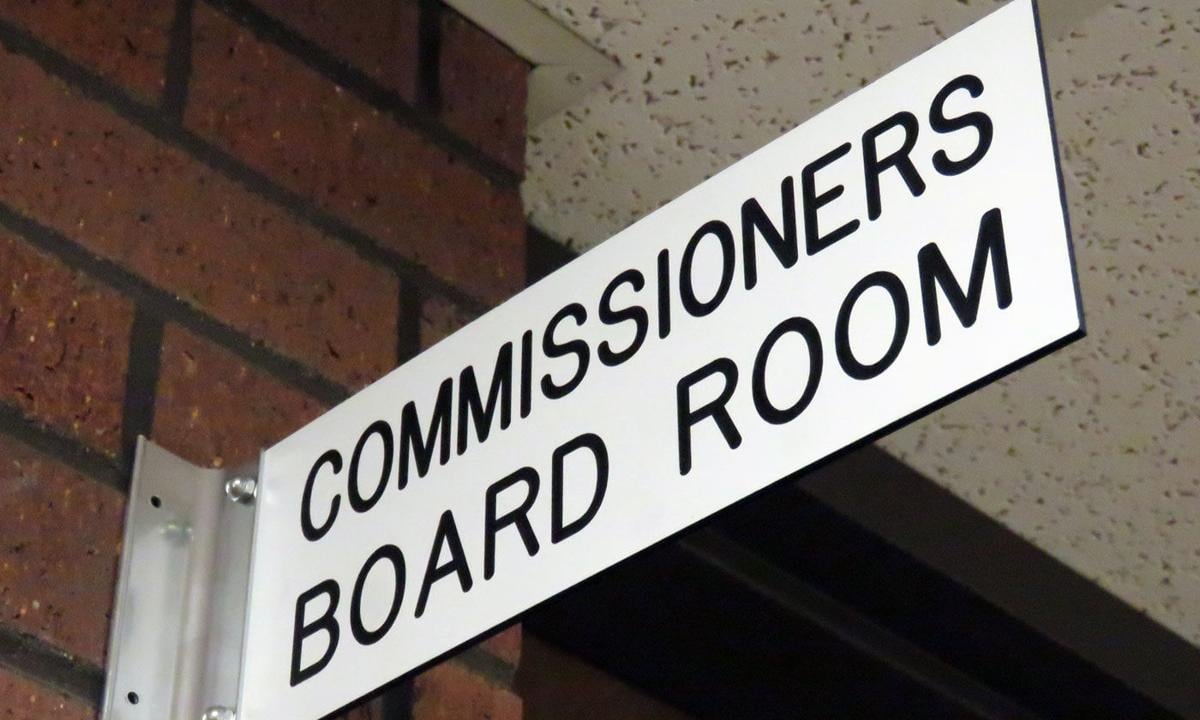 YORK – The York County Commissioners said no to a proposal from York County Attorney John Lyons, on Tuesday, in which he asked for their blessing for him to sign a six-month contract with Clay County to serve them as well in the capacity of county attorney.
The proposal included that if after the six-month time period it seemed feasible, the county could then consider an interlocal agreement with Clay County that would further extend that arrangement, with him serving both counties and being paid by both counties to do so.
Lyons explained to the commissioners, "One of our neighbors to the southwest, Clay County, lost their county attorney and they have had a vacancy they are unable to fill. The Nebraska Attorney General's office has taken on some of the cases there. I met with the attorney general's office and they suggested a way to help them out temporarily. The election commission allows for purposes such as this. With your blessing, I negotiated a six-month contract. I think before we get into bed with a long-term agreement, it would be good to do this for six months first. I negotiated a rate. If so, I would go there three days a month for court and the rest of the work can be done remotely."
Lyons added that there are indications, in the future, the state might start migrating toward more of a district attorney type of structure – with one attorney in one location serving as the district attorney and deputies on the ground in the different counties in that district.
If that would ever happen, Lyons said he felt "this location would be a prime location for a district attorney's office. Merrick County doesn't have a permanent county attorney now and Polk County's attorney is out and I don't know if he has a successor. If we could pick up a string of counties, we could expand our efforts in stopping drug and human trafficking, drug interdiction, investigations, etc., with one main administrative attorney and deputies in each county.
"My pay, now, in York County, is below what was recommended by NACO (the Nebraska Association of County Officials) in 2019," Lyons said to the county board. "And private practice creates a conflict of interest, I promised when I was hired a year and a half ago that I would not do private practice. I am asking for your support for a six-month contract that might lead to something beneficial."
"You brought that up, that we allowed private practice, but that was for things like wills and that type of work," said Commissioner Jack Sikes. "These counties are in these places because they did not follow through with their responsibility to hire and pay qualified people. This should not be placed on York County's shoulders. Seems to me we're being asked to supplement other counties who don't pay enough to keep their attorneys. Management has a lot to do with it. But I don't see why we would contract with another county because they don't want to pay a livable wage."
"Regarding that issue with wills – wills can create conflict as well," Lyons responded. "I represent the county in all aspects. Merrick County offered $90,000 for a county attorney and their caseload is way less than here and they got not one taker. You pay me less than $90,000. That's the choice I made because I thought there might be opportunity to make money elsewhere. At the end of the six months, if it fits, then we could do an interlocal. I think there is an opportunity here for a win/win for everyone."
"You brought up the NACO recommendations," said Commissioner Bill Bamesberger. "Well, they also said county commissioners should be paid $57,000 and that's not going to happen. We have an interlocal, as an example, with Fillmore County regarding our veterans service officer – they pay the county a fee and his pay stays the same. I think we'd need to collect a fee and we pay our attorney. And with the caseload we have here, I don't know if we can afford to share the county attorney with another county."
Earlier in the meeting, Lyons reported to the county board members that his office filed 185 felony cases in the last fiscal year and for this fiscal year they are on track to file approximately 250, which would be the highest caseload ever for York County.
"Does Clay County have a deputy county attorney now?" asked Commissioner Kurt Bulgrin.
"I talked with their chairman about their issues and while I'm sympathetic to what they have going on there, I see this as a Clay County problem spilling over to be a York County problem," said Commissioner Randy Obermier. "York County is a close second to Platte County regarding caseload, and we have a much lower population. And for Clay County, this would still only be a Band-Aid. If we choose to allow this contract, are we saying we'd be interested later in an interlocal? I think the state should look into this."
"We have done everything this county has asked of us," Lyons said.
"We aren't questioning that," Obermier responded. "I'm asking if we want to go down this road."
"I put out there the shortest time I thought would be prudent," Lyons said. "If it doesn't work out for an interlocal agreement, then they will have to put someone else in that position. I'm telling you it will be good in the long run. I'm asking for your blessing, I need this."
"So it just comes down to money," Obermier said.
"I've built a legacy for you," Lyons said to the commissioners, "and that's something that has never been done by any of my predecessors. You mentioned earlier that I always tell you how busy we are – it is a point of pride and we have worked hard to improve this community and it's working. Business leaders tell me how happy they are with the progress. I'm trying to build my own legacy too. I want to say I left something better than I found it. I want this place to be better than I found it."
"They, Clay County, have a deputy county attorney who is not doing their job," Commissioner Bulgrin said. "Where is their deputy attorney? That's the job, when the elected official cannot serve, the deputy steps in. This is a Clay County problem. I think we need to wait for guidance from the attorney general. I'm not comfortable with a contract for this with Clay County. It's their problem."
"I'm not asking for York County to have a contract with Clay County, but rather for me to have a contract with them," Lyons said.
"Well, I'm going to say no," Bulgrin responded.
Commissioner Daniel Grotz said he wondered how Lyons foresaw keeping the expenses separate, "because it sounds like it could get messy."
"They have their own budget," Lyons answered.
"I appreciate all you have done for York County, you have done an outstanding job," Commissioner Bamesberger said to Lyons. "But I don't think I want to share you with another county."
"If we have that many felony cases, that big of a caseload . . ." Obermier added.
"Our public defender does have a private practice and he closes his office on Fridays," Lyons told the county board. "I put in 80 hours a week. I'm sorry you do not agree. I'd think the work I have done had built good will. I relied on the word of the board when I was hired."