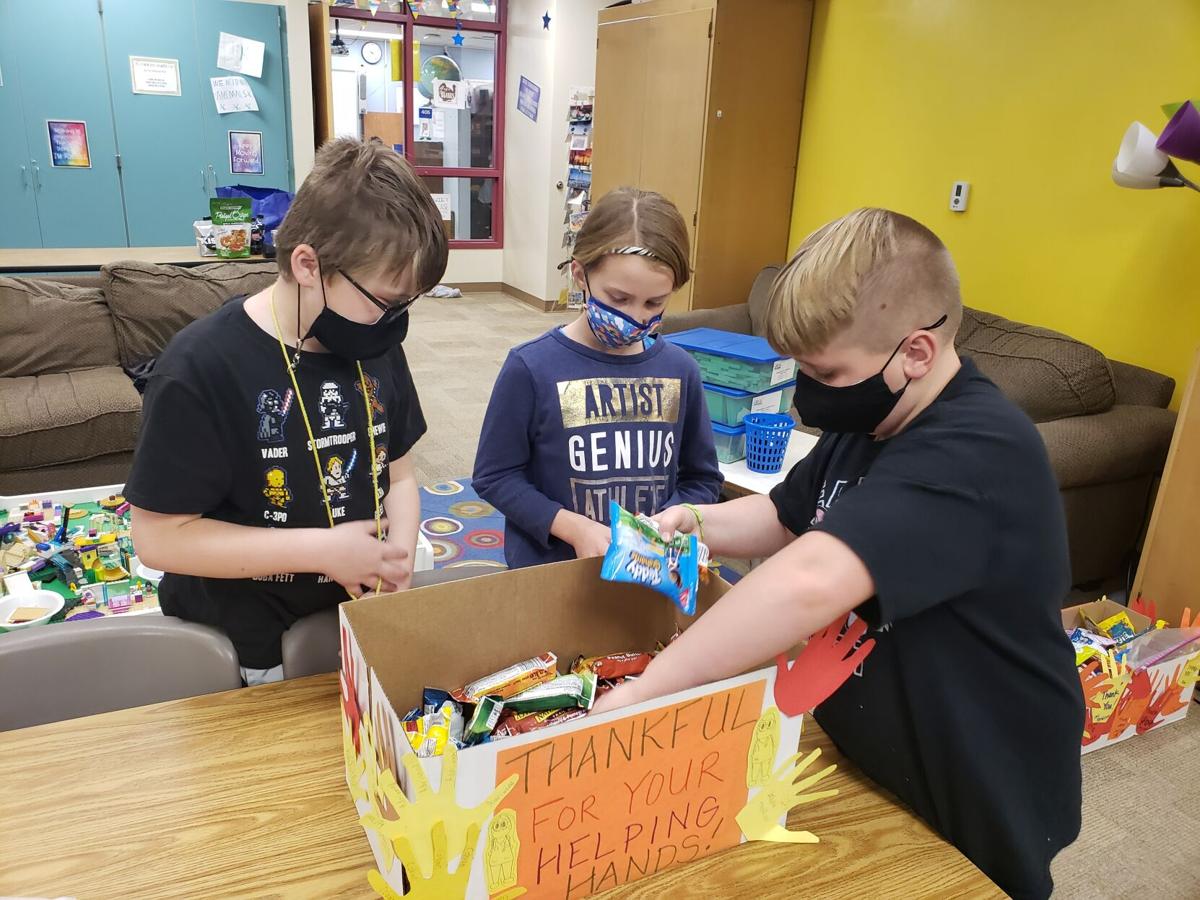 YORK – York Elementary School fourth-graders are carrying on what just might become a YES Thanksgiving tradition, answering the question: "What can you do to help your community?"
"This is the second year of our Reading Series addressing the question," explained YES fourth-grade teacher Audrey Loosvelt. "Last year was our first project where we visited residents at the Mahoney House."
Because of the novel coronavirus, students had to rethink their plan. "Kids brainstormed ideas that included helping health workers, volunteering at Adopt-a-Pet, and cleaning up trash in parks and around town," Loosvelt said. After brainstorming, the students decided to thank the community's healthcare professionals. "All the doctors and nurses work hard for others, so it was nice to do something for them," said student Kya Palik.
Kerry Peterson's class came together to made cards and assembled pre-packaged treats and drinks. Trent Colle's class made a "Thank You Book" for their special recipients.
"Along with the prepackaged snacks and cards, we made buttons with encouragement messages that promote wearing a mask for the health care workers to wear," Loosvelt said.
"This is just one small way to help them realize the importance of showing gratitude to community helpers such as Healthcare professionals -- especially during a time like we are in," Peterson said. Fourth-grader Annabelle Wiedeman said she agreed the timing was right. "I think it is a really nice thing to do for helpers in our community. Without the health care workers, COVID would get really bad and we would have to go back to online which was not great."
Colle said the project helped open his students' eyes to the extent health care workers help their communities. "The healthcare workers, the ones on the front line, the ones who are putting in countless hours behind the scenes, from every doctor, nurse, receptionist, business worker, pharmacist, therapist; we want you to know that we 'see you' and we 'thank you,'"
"It feels really nice to do this, and I'm really proud to be doing it. Especially this year, the healthcare workers have done a lot for us to keep us safe," said fourth-grade student Camila Chavez. "
Beyond supporting health care workers, the project gives an even broader learning experience for the students. "This teaches them gratitude and learning how important their community is to them. We have expressed, especially this year, to be grateful for what we have, not for what we don't have," Peterson said.
"Kids should understand that we need to rely on each other to make this community, and overall, this world, a special place to live," Colle said. That understanding comes from discourse within the classroom, fourth-grade teacher Karee Kern said. "This has opened up great discussion about how we can do our part as community members to recognize the work these people have done and continue to do for us to keep our community thriving."
Loosvelt said she and her fellow educators were inspired by the students' enthusiasm. "Kids are such an important part of any community and always willing to help. It's great for them to see that they can make a difference in the community of York."