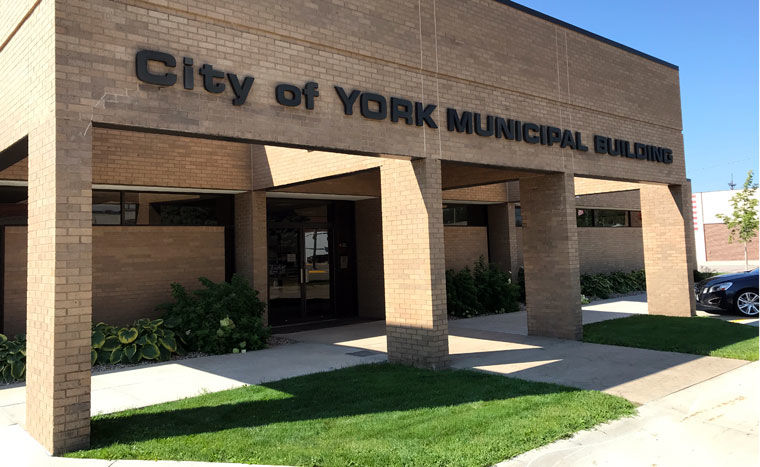 YORK – The City of York's mask mandate has been extended to the end of February.
The decision was made Thursday night during a public meeting before the city's board of health.
The board of health was created many years ago but had very rarely – if ever – convened. The intent of the board is to address public health emergencies – and it was convened in November to consider a mask mandate as the COVID-19 cases in York were soaring at that time.
Sitting on the board of health are the mayor (Barry Redfern), president of the council (Jeff Pieper), city physician (Dr. Joseph Erwin), city administrator (Joe Frei) and police chief (Ed Tjaden).
The decision to extend the mandate came by way of a 3-2 vote, after extensive testimony from those in attendance.
A crowd of approximately 35 people (with a considerable number being young children) was in attendance at the city council chambers – with about half of those refusing to wear a mask, some stating it infringed on their rights. Some said they didn't want to disrupt the proceedings, but would not be putting on masks. Another person in the crowd said he would "gladly pay the fine" but would not be complying.
No tickets were issued and no one was escorted from the building, everyone was allowed to stay and testify if they chose to do so.
Mayor Redfern opened the meeting, explaining that the intent was to consider whether the mandate that had been approved on Nov. 24 should be extended.
"The last time we were here and I spoke before you, we were in a very precarious situation," Four Corners Health Director Laura McDougall said to the board. "We had a terrible peak at that time, with large numbers of hospitalizations and cases and increased transmission. At this time, you can see that we've come off that peak and we attribute that to what the community has done – many things have contributed to us coming off that peak, including the wearing of masks. We have started to plateau with the level of transmission but the number of cases is still significant."
She noted that there were 51 new COVID-19 cases in the past week. In early August, there were nine cases in a week.
"Our goal is to see 1.4 cases a day in York County, so the number is higher than we would like it to be," McDougall continued. "We have the goal, along with our medical partners, to get as many people vaccinated as possible. We would like to see the most at-risk vaccinated now and we've given all the vaccinations we have been given so far. We just don't have the supply right now and we are waiting for the second round.
"We need to buy some more time, in order to protect people, and we still have a significant number of cases," McDougall said. "We want to commend the community for the progress we've made, but our work is not done."
A man, who said he was from Henderson, addressed the board, saying he felt the mask mandate "is an infringement of our civil liberty. I was discouraged that non-elected people made this mandate. I've quit coming to York now for shopping, I go somewhere else. You can punish me for not covering my face – because where does this end? I have a one-year-old daughter and I want her to grow up in a free America. Let us live in peace as free Americans. I believe if you extend this mandate, it is an attempt at tyranny. I will not comply."
York General Health Care Services CEO Jim Ulrich told the board he wanted to illustrate "the impact that the implementation of the masking policy had, as well as other efforts to slow the spread of COVID-19, such as social distancing, frequent hand washing, and avoiding crowded places, close contacts and confined spaces.
"According to the Department of Health and Human Services website, statewide COVID-19 hospitalizations peaked at 987 back on Nov. 20 (907 on Nov. 30). Since that time, COVID-19 statewide hospitalizations have been on a steady decline to 677 on Dec. 15, 544 on Dec. 30, and 449 as of Jan. 13. This change, since Nov. 30, represents a 50.5 percent decrease. This decrease has been a tremendous relief to our hospital bed capacity statewide and our healthcare resources as well. However, we still have a ways to go, to return to the levels below 200 experienced last fall, and continue to return our hospital capacity to more traditional levels.
"Specifically, at York General Hospital, Nov. 1-Nov. 30, we treated 33 COVID-19 inpatients," Ulrich continued. "From Dec. 1-31, we treated 17 COVID-19 inpatients, a 48.4 percent decrease. From Jan. 1-Jan. 11, we have/are treating seven COVID-19 inpatients, with three currently in house. These numbers have greatly decreased, but further decreases in our COVID-19 census on the patient floor will allow us to treat more patients with other healthcare needs in the communities we serve.
"During these same periods of comparison, from Nov. 1-Nov. 30, we treated 69 COVID-19 patients in our emergency department, or 18.21 of total emergency patients see during that time period," Ulrich said further. "From Dec. 1-31, we treated 38 COVID-19 patients in our emergency department, or 10.9 percent of total emergency patients seen. This represents a 44.9 decrease. From Jan. 1-11, we have treated 14 COVID-19 patients in our emergency department or 10 percent of total emergency patients seen. This is on pace to continue the level of decrease from November.
"At this time, things are certainly less hectic on the COVID-19 front at both the Hearthstone skilled nursing facility and Willow Brook assisted living," he said. "Back in November, the Hearthstone had a high of six COVID patients and a number of staff that were out due to COVID-related reasons as well. During that time, all of our neighborhoods were under isolation and heavy restrictions. Today, the Hearthstone has one neighborhood under yellow zone restrictions due to one COVID positive staff member and all the other neighborhoods are under green zone restrictions. Today, there are no COVID positive residents. During November, the Willow Brook also experienced a few COVID positive residents and staff. Today, the Willow Brook is starting back up inside resident visits with social distancing, masking and partitions in place with no COVID positive residents."
Regarding vaccinations, Ulrich noted that five-eight medical professionals are required to properly staff the vaccination clinic. "On the past two Tuesdays, we have vaccinated 160 and 50 individuals, 421 total so far, in addition to our weekly outpatient COVID testing and TestNebraska COVID testing. Keeping our staff healthy helps put a lot less strain on the rest of the organization to meet all the other medical/healthcare needs of the patients and residents we continue to serve.
"The decrease/improvement in COVID-19 numbers is very evident," Ulrich said. "We recommend extending the current masking policy to mid-March, thereby enabling us to continue vaccinating our healthcare professionals and at-risk populations."
At that point, a woman holding an infant stepped forward to address the board, saying she is from Omaha and "was asked to be here. Masks raise the risk of infection and asymptomatic people are not a threat. This is a violation of the state constitution and our religious beliefs. No man, no mask, no vaccine can stop a God-made virus. We urge you to let the mandate run out."
She also passed out cards to the board, which indicated that she was representing a group called Nebraskans Against Government Overreach.
York physician, Dr. Jill Fickenscher, presented the board with a letter of recommendation to extend the mandate, which she said was signed by multiple healthcare providers in the York area.
"We feel that masks work," Dr. Fickenscher said. "Since the policy was implemented, the numbers are down to a manageable level although they are not yet to where we want them to be."
She noted that masks alone do not provide 100 percent protection from the virus, but that they are highly effective when accompanied by other protocol.
"The transmission is still higher than what we want," she said. "During your last meeting, you said this could be reassessed, and now looking at the data, we can see that the masking policy has been effective. We are asking for the policy to be continued as we work to get the most vulnerable vaccinated. Now is not the time to let up. I know there are some voices of dissent but many, many people have told me they appreciate the mandate and feel more comfortable now in York – and I'd like to speak on their behalf too. I ask you to extend the mandate."
Jerad Sorgenfrei said he had "more questions than anything. I've seen people in violation of the mandate so it seems mute if it is not enforced. I thought the goal was to free up space in the hospitals and now it's about getting out more vaccinations. There are downsides of mask wearing for certain people with medical issues. It just seems like we will keep carrying on and on, until there are no more cases or no one gets sick at all? I've been wearing masks and will continue to do so. Let the people use their common sense."
A woman addressed the board, saying she resides in Peru, Nebr. "You are infringing on how people choose to take care of themselves." She also argued at length that team sports should not be allowed as long as businesses are required to mandate mask wearing of their customers. "Businesses are hurting – why are team sports essential?"
Another woman, who said she was from Omaha, said she was there to stand up against tyranny. "What makes you superior, a medical degree? Or that your name was known enough for you to be appointed to this board?" she asked the board of health members. "If you are equal to us, you shouldn't assume that your fellow town people are that stupid."
"I'm Rebecca Colburn, I'm from Henderson and I'm a registered nurse," one woman said as she introduced herself to the board. "I've heard both sides. One thing I've read online is that there were no greater number of deaths in 2020 than there were in 2019. I get that people with COVID have died – I've seen it – but what about the number of flu deaths? And what really happened in China, have you investigated that? That makes the whole agenda a lot scarier for a lot of us. What are we doing here? And Bill Gates and others have been vocal about depopulation. I'm just throwing that out there. I'm concerned to see our small community forcing these things on our people. I love living here and taking care of people, this is nothing personal. It is just a big issue, we need to come down on the right side of history."
Council Vice President Pieper noted that he was not on the board of health last November. Due to reorganization of the council which took place since, he now is.
"So here we are," Pieper said. "My duty is to listen to the community members and an overwhelming number of people in opposition to the mandate have reached out to me. They are not against wearing masks, they just don't want it by mandate. I feel it's not right, to be done with government force. I urge people to use masks but not by mandate. And I genuinely want to thank the medical professionals for their work to protect us."
"When we met in November, I was reluctant regarding the mandate, but the cases were spiking and we wanted the numbers to come down," said City Administrator Joe Frei. "I've read a lot of information about what many communities are doing. This isn't being mandated by the federal government or the governor. I see a lot of masks lying in parking lots and blowing in the wind, and it's troubling as they are not being treated as bio hazardous. For various reasons, I think we need to use our own personal conscience. I think businesses can mandate mask wearing if they want to and individuals can decide whether they want to wear masks or not. I will vote against extending the mandate."
"Again, I'm not against masks or their effectiveness," Pieper said. "I think we should have a personal choice and people can make their own decisions."
"Personally, I believe that masks are effective," said Police Chief Tjaden. "I believe this board is legal but the civil liberties issue is the biggest hang-up for me. I think we should all wear masks but I'm not an elected official. I would rather see this passed on to the city council. I feel we should do something, and this has been working. I'm a big supporter of masks, but again, my hang up is with the civil liberties portion of this."
"In all my years of serving on the council, I never knew what the board of health even did," said Mayor Redfern. "This was passed, this board was formed, many years ago for this type of emergency. I talked to Joe (Frei) about this today and I'm not big on telling people what to do. I also have high respect for the medical professionals and their effort to keep this situation under control. Our businesses are open and that's partly because of businesses' effort and medical professionals' efforts to keep people safe. It's hard not to listen to the professionals in this area. It's a struggle for me."
Pieper made the motion to let the mask mandate expire, which was seconded by Frei. They voted in favor of the expiration, the other three members voted no.
"I have to go with the science," Chief Tjaden said.
Dr. Erwin made the motion to extend the mask mandate to Feb. 28, which was seconded by Chief Tjaden. They, along with Mayor Redfern, voted for the extension. Pieper and Frei voted no.