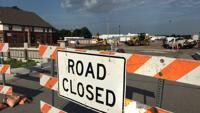 YORK – The city will do more than $5 million in bonding to finance a large project that will result in a new Blackburn Avenue Bridge and the repair/replacement of problem street areas.
Now the task at hand is to prioritize the projects that need to take place first.
Terry Brown, from Benesch (who has been acting as the city's engineer for the past four years), addressed the city council about the process.
"Your job now is to decide what to spend the money on," Brown said to the council and administration. "We will look at the city's one- and six-year plan. The idea is to take that plan, look at higher traffic areas and put together a list to at least start looking at. Then we will take comments, add more in, take some out – then, in November, go through for a final list. We will then create the project and take it to design and engineering."
He noted areas with high levels of school traffic; a couple of areas that saw really heavy traffic as detours during the city's recent water main project; sections of 14th, 19th and Nebraska Avenue (as a few examples) where the paving surface isn't holding up well. He also noted some areas at the interchange where connections could be made with frontage roads, as well as some street extensions.
It was noted there are 76 miles of streets in the city – so there are a lot of areas to consider.
"The reality is that no matter the amount we set (for the bonding), it's not enough and we need to prioritize what makes sense," said Mayor Barry Redfern. "We need to decide how to prioritize in order to get the most bang for the community."
Council member Jennifer Sheppard asked if something could be done to convert the gravel streets to paving. Mayor Redfern explained that in order for that to happen, a paving district would need to be created (which is required when a street is converted for the first time), which would require 51% of adjacent property owners to agree to participate in that financially. "And historically, up to this point, they haven't, and that's why those streets are still gravel."
Councilman Jerry Wilkinson asked if adjacent property owners benefitting from extensions to service roads in the interchange would also have to participate financially – Brown said yes, that would be the case.
"What factors do you use to decide whether to replace surfaces with asphalt or concrete?" Wilkinson asked further. Brown said they would look at loads and truck traffic, traffic numbers, etc.
"This is just to start the conversation, so for the next few weeks, see what you drive over, note problems you might find, we will create a list and he will come back in November," Mayor Redfern said to the council members. "We will start making the list and break it down from there."