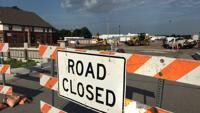 YORK – The York City Council has approved the issuance of highway allocation fund pledge bonds in the amount of $5.75 million in order to complete a number of street improvement projects and replace the Blackburn Bridge.
"We have been talking about this a long time," Mayor Barry Redfern said before the discussion began during the council's recent meeting.
The council has been talking about this all year as interest rates are historically low right now.
And, as discussed before, by bidding out one large project (rather than stringing along a bunch of small projects over the course of a long period of time), there will be cost savings as contractors will likely have more competitive bids and will be able to do small projects cheaper because there will be a series of them taking place.
Scott Keene of Piper Sandler, who has been working with the city regarding bond projects for many years, addressed the council. He had earlier conversations with the council on this topic, working toward what they wanted to see – and was asked to come back with figures regarding a 10-year maturity plan.
It was noted the city has already saved up $930,000 in highway allocation funds for the reconstruction of the Blackburn Bridge and another $375,000 would be bonded to get that project done (that particular part of the bonds project would be funded over a three-year period of time and will be paid back with future highway allocation funds).
The interest rate will likely come in at 1.1-1.4% -- again, historically low.
"I feel good about these interest rates," Keene told the council. "Banks are still actively buying municipal bonds and they like 1-10-year issuances."
Following the council's unanimous vote in favor, Mayor Redfern added, "This will put us in a position to make an impact and make repairs."
Other than the Blackburn Bridge, the other specific projects to be accomplished have not yet been determined. The city has its one- and six-year street/bridge program which highlights priority projects – they will be referring to that. The council members, along with public works staff, will be considering which specific projects should be prioritized for this major project – that will be discussed over the next month or so with the entire project likely to be solidified in November.