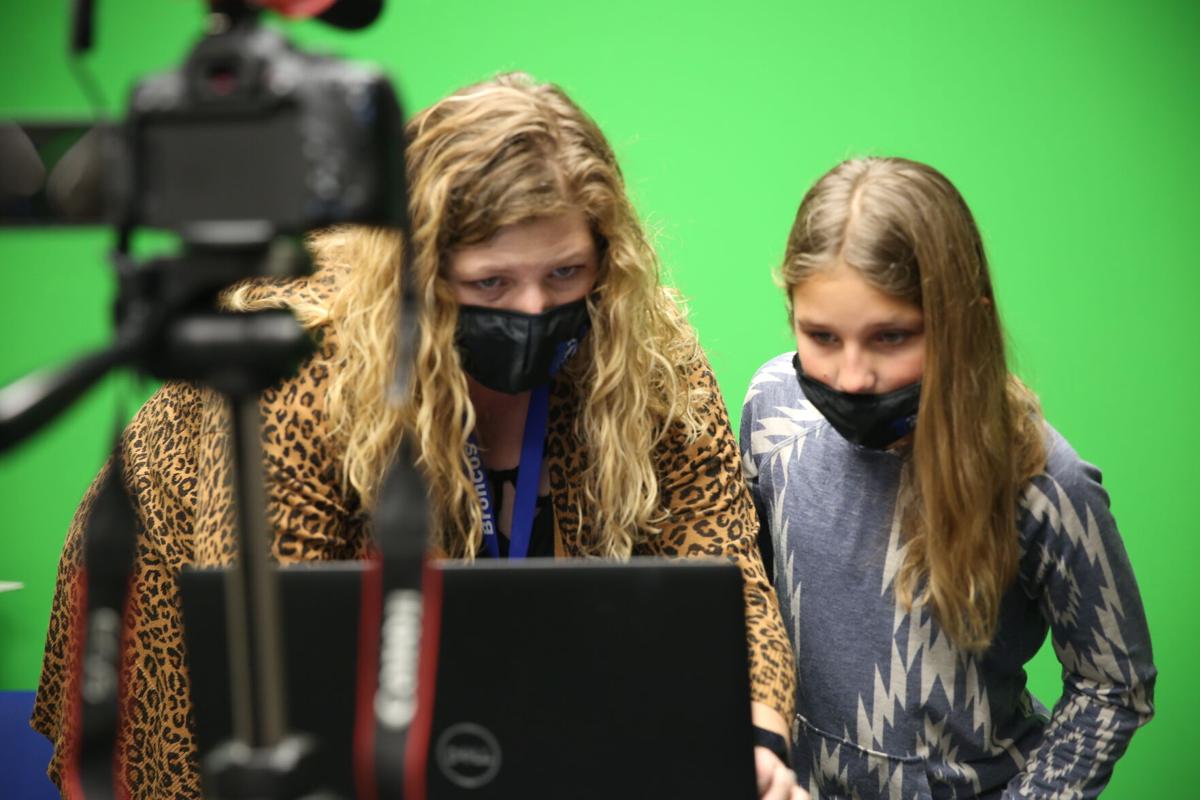 UTICA – The project started with plastic tablecloths hung against a Centennial Elementary School Library wall and an educator's curious mind.
"I had interest in using a green screen," said Jessica Breitkreutz, Centennial's Technology Integration Specialist. "I had seen a lot of different projects in media centers and I thought it would be really fun to try."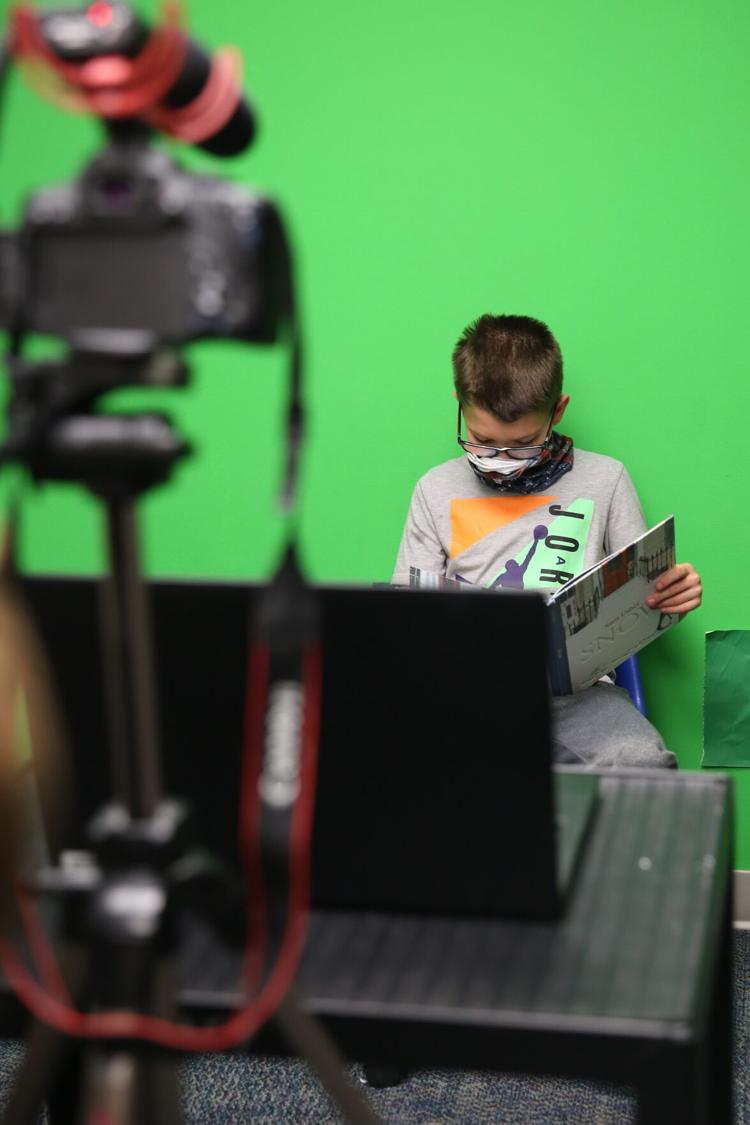 With that, Bronco News was born. The weekly newscast is produced at the elementary level, led by Breitkreutz, and in Centennial High School's Video Editing Class taught by Centennial's Computer Teacher Leah Pankoke.
In Breitkreutz's group, there are six 5th-graders, though the project is open to 4th-graders as well. Bronco News is one of several offering in Centennial Elementary's "Social Groups" programming. Students are matched with school activities, working together for a common goal – whether it be helping in the school kitchen, or spending time with Centennial's kindergarteners. Groupings are selected based on social groups survey; a list of social group projects are given and students rank them in order of which they would like to participate in. "If we didn't have the social group they wouldn't have this experience," Breitkreutz said.
The process is a reality check to student-broadcasters, being used to seeing seamless professional productions on TV and online. "They think it's going to be easy, but it's really not," Breitkreutz said. After a little time, however, they "run with it," she said. "Within the first week they get really comfortable in front of the camera."
The group's participants also learn what happens behind the camera. "Every week we can choose what we talk about. We come up with extra ones sometimes and keep those," said Bronco News team member Chase Pankoke. Paityn Scheele, who is also in the Bronco News social group, said hunting for story ideas is a team effort. "Sometimes we ask each other to get them faster."
Some of Scheele's favorite Bronco News topics require a lot of getting into different classrooms to dig for stories. "I like to do Weird Facts and Top Campers," she said. "You get to talk to all of the teachers and see what the students are doing."
"Top Campers recognizes students who are doing the right thing," Breitkreutz explained. Combining that with Bronco News itself offers another element contributing to Centennial's sense of community. "It gives them some ownership of our school. It allows the kids to shine," Breitkreutz said. "There no real way to let that student share. This is a way to show off our students."
In addition to Top Campers, other segments covered in the weekly broadcast are: Top Stories, Sports, Weather, Birthdays, Weird Facts, Books, Bloopers. Thursday Bronco News member Kolton Prashek read a selection from a book for the camera, introducing his fellow students to a new title.
Bloopers, however, are getting scarce, Breitkreutz said. "They're getting really good so we don't have many bloopers."
Part of that could be due to their latest way of getting the broadcast ready. In the days of green plastic tablecloths, the students wrote news scripts with good-old-fashioned pencil and paper. Now they use an app on their Chromebooks to use as a teleprompter.
The green screen concept has garnered a lot of interest from the Bronco News team. News broadcast members Abbie Walgren, Gabe Dwerlkotte and Cat Mill said different backgrounds are applied to their green screen based on segment, including celebratory digital confetti as the Birthday backdrop and a campfire for Top Campers.
In the newsroom Prashek pointed out green covering for outlets, explaining that without them the green screen background doesn't look right after filming. Now instead of using green plastic tablecloths ("they're cheap," Breitkreutz said with a shrug), a wall in the "newsroom" is painted green.
Bronco News social group students spend time not only in front of the green screen, but in the library researching and writing. They sacrifice two recesses a week to work on Bronco News, but the group seemed to think it was worth it. Pankoke summed it up: "Being able to film and be with my friends is a lot of fun."