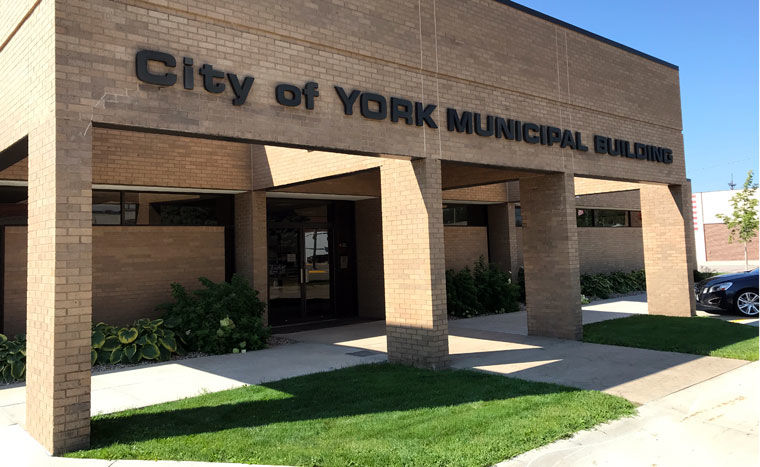 YORK – This is the third installment from this week's political forum which featured candidates seeking seats on the York City Council and the position as Mayor of York.
The event, sponsored and conducted by KOOL Radio and the York News-Times, included each candidate having the opportunity to introduce themselves, answer three randomly drawn questions (in randomly drawn order) and finish with one question posed to all of them.
The moderators of the event were Carrie Colburn from the York News-Times and Gene Curtis from KOOL Radio.
While the public could attend in person, they also were able to hear the forum live via the radio and watch/listen via Zoom. A full recording of the forum is available for further viewing online. That recording can be found at www.yorknewstimes.com and is in segments to make for easy viewing.
Seeking the seat of York mayor are Barry Redfern and Ron Mogul.
Seeking the four seats on the York City Council are Matt Wagner, Jerry Wilkinson, Jerad Sorgenfrei, Karen Harris, Diane Wolfe, Clarence Hoffman, Steve Postier and Vicki Northrop.
All were in attendance, with the exception of Wagner who unfortunately was unable to attend due to illness. The York News-Times has reached out to Wagner with questions randomly drawn for him, which he will have the opportunity to answer as well, should he choose to do so.
Continuing today and throughout the week, the YNT will recap the forum responses from the candidates.
Today will feature the second round of randomly selected questions – the order of the candidates was also randomly selected.
The following were the questions that were drawn and the responses from the candidates (in the order they were drawn):
Q: Do you feel the city's responses in the different phases of the pandemic were appropriate, adequate, responsible, etc.?
Sorgenfrei: I feel the city did do a good job implementing the response. There was a lot of confusion and there's still a fair amount of confusion because there are a lot of moving parts. It's been a difficult thing for every level of government and every organization to deal with. What I saw in York was community and government working together to solve problems. I think it wasn't an issue of being at odds with each other. I think the residents have done a fantastic job implementing measures asked of them. I see young people walking around all over this community wearing masks – it's amazing how young people take up what they are asked to do and it's the older generations that often have a harder time with that. So I commend the younger generation for taking on the challenges we put in front of them. Businesses have been incredibly innovative in trying to deliver goods and services to customers while keeping them safe. I think's the proper approach – to let enterprise create the right solutions and government to create incentives to produce solutions. They are the front lines, they see what people need and they are at the most risk and have the most in the game. Everyone worked together and I'm proud how everyone responded.
Q: If elected, how would you work to address increasing the amount of people moving into the city?
Mogul: I think it's a good thing to have more people move into our community. I think a lot of folks are missing out on living in the fantastic place that is York, Nebraska. We have a lot of things to be proud of, lots of great amenities. We have a lot of new housing going up right now. We need to do a better job of marketing ourselves. We're kind of small town in that we have that small town feel where we don't like to brag about ourselves. We don't like to put out there the good things we have going on. I think it's really important that we do that, we need to tell people what we've got and why York is a fantastic place to live. But that being said, I don't want to lose our small town feel. It's nice to know the people you see in the grocery store and you say hi to. It's nice to know the people in your church. We need to save that if we can/ But at the same time, we need to do a better job of marketing ourselves. That's one of the communication things we've let go by the wayside over the years. That's not something that's brand new, I just think we need to announce what we've got going on in York because it's pretty darn terrific.
Q: A business is looking to open a location in York. You are asked to share with them what you think is the city's biggest attribute. What would you say? If elected to city council, how in your role do you support that attribute?
Wolfe: The people is the city's biggest attribute. I think the people of York do an amazing job at making others feel welcome. We support our businesses here, our churches do a fantastic job reaching out to make sure they feel welcome. We have an amazing school system. We have our parks, our swimming pool, our new ballfield complex. It's the people that put it all together and that's what I would tell them.
Q: Do you support the national "defund police" movement?
Wilkinson: No. Absolutely not. There would be no reason to do that. The reason for government is to provide safety for the people who live in this country and in our communities. If they want to do that, why don't they just fire themselves then? The answer is no.
Q: If elected, how would you work to address increasing the amount of people moving into the city?
Redfern: I think that's what we've been addressing, when you look at the new apartments being built the new residential areas and all we have to offer. Look at the quality of the schools, the quality of life we have. I don't think there are many towns of 8,000 that can compare to us. And this has been over decades and decades. As Ron said, we have to promote ourselves and say there is a place to live here. If you talk to our businesses, almost everyone needs more employees. So we have to keep working on housing, selling our quality of life that York has. If they want to come here, this is a community that will welcome them.
Q: If elected, how would you work to support city endeavors to clean up abandoned, dilapidated and neglected properties?
Northrop: If elected, the first thing I'd do regarding this issue is say let's find out what programs and grants are available, that we could apply for, to go in and help these property owners. Maybe we could offer some assistance in helping them get their properties cleaned up. I believe sometimes we have to teach people what to do to care for their properties. Maybe they weren't raised with the knowledge of what to do or maybe they haven't been taught or they don't have the funds to handle their properties properly. Maybe as a city we could go out to see what we can do to help them. We don't want to alienate people and make people feel bad about what's in their home or on their property. We want to make them feel like they are part of the community and that they belong here.
Q: The city has historically had great partnerships with a number of entities. What other partnerships do you feel would be beneficial toward economic development, law enforcement, human resources, etc.?
Harris: In addition to this, we have already have a partnership with York County Development Corporation obviously. We write grants for various things through partnerships. I think there are various government agencies that we have been acquainted with, if you look to see what you want to achieve, there are those that can give you a list to help you accomplish your goals. Off the top of my head I can't tell you because I'm not sure.
Q: The city has historically had great partnerships with a number of entities. What other partnerships do you feel would be beneficial toward economic development, law enforcement, human resources, etc.?
Postier: In addition to the relationships we already have with many different groups, I think expanding the relationship with the York County Development Corporation is important – which plays a big part in this community. And we should reach out to have better partnerships with the state. We have the state highway system through here and I think there are things to gain by furthering that relationship. I also think locally the health coalition is a major player in helping people in this community. And also, with dilapidated houses and with lawn care – we might need some help with that. There are groups and organizations here to help citizens in our town and furthering those relationships, with the schools, the college, etc. growing those and expanding those relationships is a great way to keep moving this community forward.
Q: In light of recent passages of special permits for a number of different types of industries and businesses, a number of regulations were created that those businesses have to follow in order to be allowed. How would you ensure that the stipulations of those ordinances/allowances are followed? Whose role is it to police special permit regulations?
Hoffman: This is an easy one, I guess. I'd lay it on the mayor (laughing). We haven't seen too many problems with that. Big cities probably need it. Our city is clean. We're not perfect but we're not bad. I think people watch that. Some won't hurt anything, some might smell bad and that's a problem. I don't see a big problem in York, Nebraska. People are pretty good about it.
Be the first to know
Get local news delivered to your inbox!