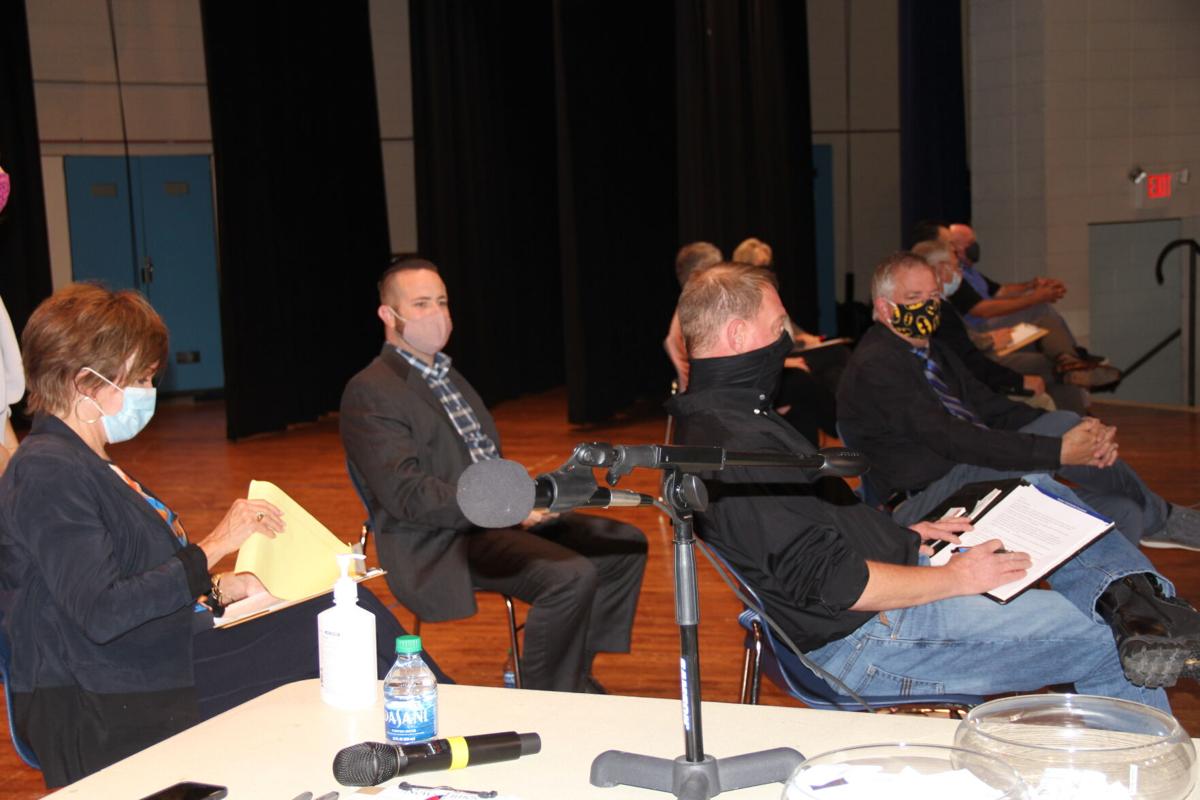 YORK – This is the second installment from this week's political forum which featured candidates seeking seats on the York City Council and the position as Mayor of York.
The event, sponsored and conducted by KOOL Radio and the York News-Times, included each candidate having the opportunity to introduce themselves, answer three randomly drawn questions (in randomly drawn order) and finish with one question posed to all of them.
The moderators of the event were Carrie Colburn from the York News-Times and Gene Curtis from KOOL Radio.
While the public could attend in person, they also were able to hear the forum live via the radio and watch/listen via Zoom. A full recording of the forum is available for further viewing online. That recording can be found at www.yorknewstimes.com and is in segments to make for easy viewing.
Seeking the seat of York mayor are Barry Redfern and Ron Mogul.
Seeking the four seats on the York City Council are Matt Wagner, Jerry Wilkinson, Jerad Sorgenfrei, Karen Harris, Diane Wolfe, Clarence Hoffman, Steve Postier and Vicki Northrop.
All were in attendance, with the exception of Wagner who unfortunately was unable to attend due to illness. The York News-Times has reached out to Wagner with questions randomly drawn for him, which he will have the opportunity to answer as well, should he choose to do so.
Continuing today and into the week, the YNT will recap the forum responses from the candidates.
Today will feature the first round of randomly selected questions – the order of the candidates was also randomly selected:
The following question was posed of Northrop: "Do you feel the city's responses in the different phases of the pandemic were appropriate, adequate, responsible, etc.?"
She responded, "In York, we have had multiple different things that had to be done during the pandemic and I believe York was progressive in staying on top of what needed to be done to make things safe for others. I believe York was progressive in staying on top of what needed to be done. As a working member of the community, I was one of the lucky people who received messages on Thursday mornings from all the different departments and entities who talked about the progress, and kept people in the know about the requirements from Four Corners Health Department and I appreciated being kept in the loop all the time. I felt we were well informed. I felt York did a great job, keeping us aware of what to do during this pandemic.
The next question was asked of Hoffman: "At the York News-Times, we get a lot of questions about recycling. Right now, York doesn't have recycling services and there appears to be no easy solutions. Do you have any ideas about how to bring back recycling services to York?"
Hoffman responded that "the problem is there is not a market for them right now. We can take care of our rubber, there is a place that goes. The big problem is there is nowhere to go with it. We have one of our people here in York who is hauling it away and it's costing him to do it. But he's doing it. I'm not sure what they are doing with it on the other end."
Postier was asked, "While you are all running for your own reasons, how will you also work to listen to the varying views of York residents and work for the taxpayers?"
Postier's response was that, "As a council member, that's the job, to listen to everyone's concerns and questions. A big thing as council member is we need to make it easy for constituents and residents to approach the council members with ideas and concerns, ways to reach out to the administration. And look at ways to better work with businesses on how they can work with the city regarding ordinances and if they need special permits. I know recently with the McLean Beef deal there was an issue with the zoning committee, they had to go to the council and that was a confusing process. I'd like to see a clearer way for that so constituents can reach out to city council members and administration with those types of questions. I'd like to see clearer ways through those processes.
Harris was drawn next and asked, "Nearly every week, for many years, the Wonderline receives at least one question pertaining to bad smelling water in residents' homes. It's been said that the only way to stop this naturally occurring issue is to have a water treatment plant, which is very expensive. Do you think now is the time to start the process toward that very expensive project?"
"Honestly, I don't know," Harris responded. "I know there have been complaints about smelly water. I know the complaints my husband used to get about smelly water. I think with the work that's being done on the sewage treatment plant and other water projects it might be the time to look at it. But I don't have the background to answer that off the top of my head."
Wolfe was asked, "With the city's finances currently stable, are there specific projects that you feel should be undertaken in the future?"
Wolfe responded, "At this time, I think we need to stay within our budget and keep things steady. We need to look into projects maybe for the future. There are things we need to pay for, such as police cruisers, fire department items, things that have been neglected in the past that need to be updated, including buildings. We need to keep it level and not start anything new as of yet."
Mogul was asked, "In these trying times, what can elected city officials do to support local businesses?"
Mogul responded, "Wow, well that's a no brainer for me – my wife is the executive director of the York Area Chamber of Commerce. Shop local, that's number one. Shop there. Tell others why you shop in local businesses. Show what you bought from local businesses. Get gift certificates. We have to support our downtown and local businesses as much as we can. I know I appreciate it when people come into my business. That's the easy answer. Support them and work with those folks. Most businesses in town, if you want something from them that they don't have, they will find a way to get it for you."
Sorgenfrei was asked, "In light of recent passages of special permits for a number of different types of industries and businesses, a number of regulations were created that those businesses have to follow in order to be allowed. How would you ensure that the stipulations of those ordinances/allowances are followed? Whose role is it to police special permit regulations?"
Sorgenfrei said that, "I was somewhat involved with one of these issues in particular and I was attending council meetings after which permits were issued. I think policing of the permits is important. It was important that there were considerations given and the businesses have some incentives to follow the rules. That being said, I'm not sure that the council went far enough in understanding the issue as a whole when this came before them. It was something that came up and kind of blindsided the community as a whole. I felt everyone was playing catch-up to understand the issue from the beginning. I think much more consideration could have been given to the type of need that it serves in the community as well as working with other communities that have already dealt with this issue. A proactive approach is necessary. Being reactive will serve the issue short-term but it won't solve the longer term. It is important the council considers the issue before them as well as the long-term effects."
Redfern was asked: "In these trying times, what can elected city officials do to support local businesses?"
Redfern responded that "We have to support local businesses. We have a great business community. The council really got behind the downtown revitalization/development projects – you see all that happening now, with facades and buildings, it continues on right now. We also used some of our CDBG funds to provide some COVID relief to help some York businesses, that was a good use of those funds. It's important to do whatever we can when new rules are being put in place and new ordinances are being considered and we have to think how that will affect them. But again, shop in York."
Wilkinson was asked, "A business is looking to open a location in York. You are asked to share with them what you think is the city's biggest attribute. What would you say? If elected to city council, how in your role do you support that attribute?"
Wilkinson responded: "We have seen a lot of new businesses open here lately in York and I do have to believe that the customer base is one of our greatest attributes. A lot of that is due to our location in Nebraska and really the United States. We have Interstate 80 and Highway 81 running through here. It's location, location. And I think as a council, we have to make sure that location is attractive – in laws and abilities and services – to those businesses that want to open up here. And I think those businesses need to understand that information and I think that could be presented in a different way as well."
Editor's note: The YNT will be published the responses from two more rounds of questions, as well as closing remarks, in the upcoming publications this week.
Be the first to know
Get local news delivered to your inbox!