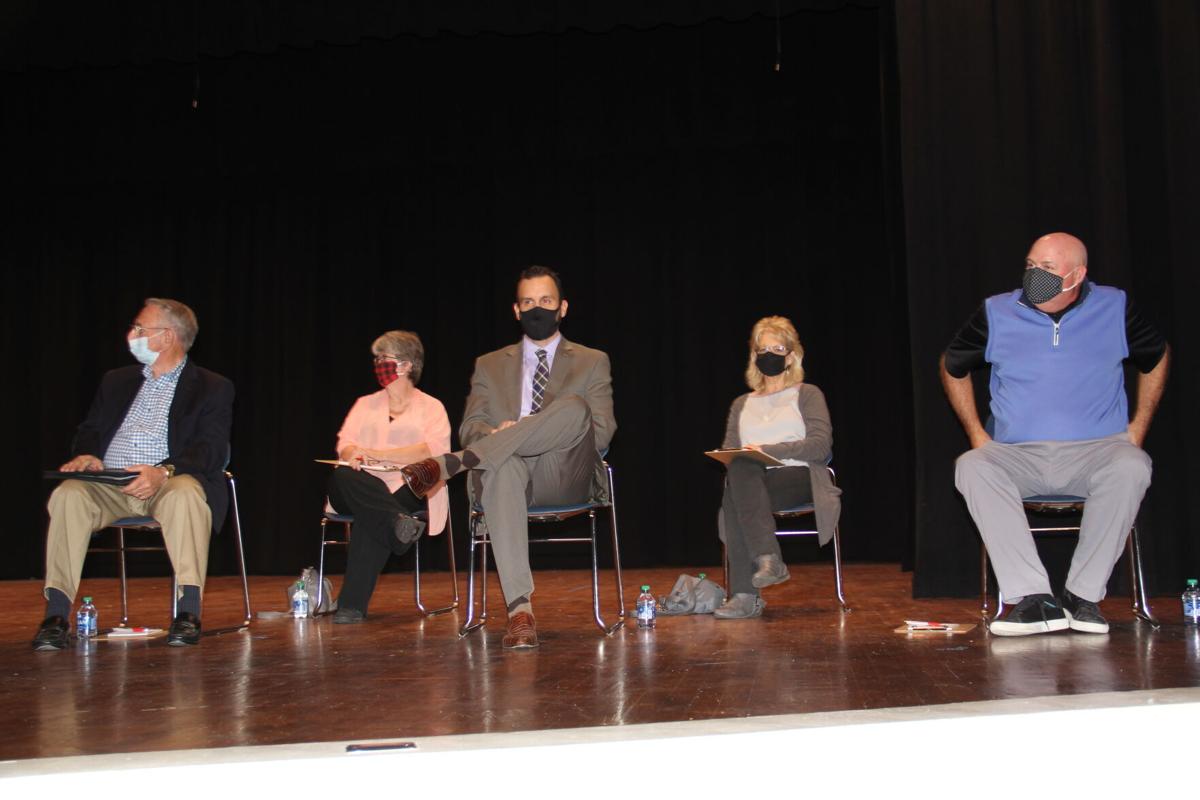 YORK – This is the fourth installment from this week's political forum which featured candidates seeking seats on the York City Council and the position as Mayor of York.
The event, sponsored and conducted by KOOL Radio and the York News-Times, included each candidate having the opportunity to introduce themselves, answer three randomly drawn questions (in randomly drawn order) and finish with one question posed to all of them.
The moderators of the event were Carrie Colburn from the York News-Times and Gene Curtis from KOOL Radio.
While the public could attend in person, they also were able to hear the forum live via the radio and watch/listen via Zoom. A full recording of the forum is available for further viewing online. That recording can be found at www.yorknewstimes.com and is in segments to make for easy viewing.
Seeking the seat of York mayor are Barry Redfern and Ron Mogul.
Seeking the four seats on the York City Council are Matt Wagner, Jerry Wilkinson, Jerad Sorgenfrei, Karen Harris, Diane Wolfe, Clarence Hoffman, Steve Postier and Vicki Northrop.
All were in attendance, with the exception of Wagner who unfortunately was unable to attend due to illness. The York News-Times has reached out to Wagner with questions randomly drawn for him, which he will have the opportunity to answer as well, should he choose to do so.
Continuing today and into Tuesday, the YNT will recap the forum responses from the candidates.
Today will feature the third round of randomly selected questions – the order of the candidates was also randomly selected.
The following were the questions that were drawn and the responses from the candidates (in the order they were drawn):
Q: If elected, how would you work to address increasing the amount of people moving into the city?
Wolfe: It is a good thing to have more people come in, we have housing being built now and we are on a good road to that. But what we need now, though, are jobs. We need to have jobs to employ people here, to make sales and taxes and keep it all here in the community. We do want to keep our small town feel but we still want to grow. And I think that we can do that, we should do that and welcome them.
Q: While you are all running for your own reasons, how will you also work to listen to the varying views of York residents and work for the taxpayers?
Mogul: Not much has changed for me. For the last 16 years, the door has always been open and people always pick on me because I have the biggest door in town (laughing). I talk to people all the time. People come up to me and express their concerns, tell me my successes and failings. And that's good. I think it's wonderful that people in this community feel like their input matters and it does matter to me. I'm always willing to listen. I've always told people I may not be right all the time and you may be able to change my mind, I'm flexible. But at the end of the day, my opinion matters and my decision matters and I think you need to be able to look at yourself in the mirror at the end of the day and know you made the right decision – even though maybe some people won't agree with it. And that's what I'll continue to do.
Q: In these trying times, what can elected city officials do to support local businesses?
Sorgenfrei: I think officials need to work with local businesses to create the right incentives for businesses to flourish. I'd like to see incentives for entrepreneurs to come in to our community, feel comfortable starting businesses and know they will be supported. I think there's a tremendous advantage in the location of York, with the interstate intersection. I think if we're innovative we could bring in a lot of new businesses. York and many other rural communities have faced challenges over the years where farming represented a large part of the economy – and then there were fewer and fewer families. It's necessary to incentivize innovation so the right kinds of businesses will come in and utilize the many resources we have here in York.
Q: At the York News-Times, we get a lot of questions about recycling. Right now, York doesn't have recycling services and there appears to be no easy solutions. Do you have any ideas about how to bring back recycling services to York?
Postier: I wish there was an easy solution. I think it will take a community effort. It's a labor issue, it's a demand issue. Entrepreneurialism might be a solution. If there is a demand for recycled products, locally, then locally we could create a market to utilize that. In fact, one idea I've been toying with, and I reached out to the entrepreneurial program at York Public Schools, that may be a way to expand into the high school. There's a company that builds machines which take recycle plastic and they can learn to make products. It could be a partnership between the city and the York Public Schools to help teach about recycling and ways to use it and to teach kids to grow businesses locally and build on entrepreneurialism and keep kids in the community.
Q: At the York News-Times, we get a lot of questions about recycling. Right now, York doesn't have recycling services and there appears to be no easy solutions. Do you have any ideas about how to bring back recycling services to York?
Northrop: I've been out to Kopchos and we talked about setting up recycling out at Wessels. We talked about getting involved with the school and the FFA and the different groups to work out a program – maybe involving entrepreneurial programs, maybe involving the college if they are interested. So we can get the recycling program back in York. We could ask service groups to pitch in and help, if we all gathered together and helped each other. That was our thought when we started talking about and hearing about what the cost would be. I think there's a lot of different ideas and a lot of different ways . . . we need to continue looking rather than just assume there is no answer, that it's too expensive and we can't do it.
Q: Nearly every week, for many years, the Wonderline receives at least one question pertaining to bad smelling water in residents' homes. It's been said that the only way to stop this naturally occurring issue is to have a water treatment plant, which is very expensive. Do you think now is the time to start the process toward that very expensive project?
Redfern: No, I don't. Our water department guys are working on this. We just had a water study done in the last six months that said all our other things are in line and that we don't need a water treatment plant. This was done by an outside consulting group that we brought in to look at this issue. We did leave room for one in the well field if it becomes necessary. It is very expensive. For the most part, York has very good water. I am very sympathetic when people get that smell, but we are trying to treat that and they are trying to treat the wells now. I think that's the way we have to go with this instead of a multi-multi-million dollar project.
Q: If elected, how would you work to support city endeavors to clean up abandoned, dilapidated and neglected properties?
Wilkinson: It's pretty simple – you call the fire department, they need a place to practice . . . (laughing). I'm just kidding. But seriously, it is complicated, this situation we have in York. There are so many properties throughout the city that are run down and/or have a lot of junk in the yards. One big thing might be to form a committee that could find out the reasons why this is happening, find what the city could do about it and look at penalties but as well as what help might be available to help clean it up. It just brings down the whole community feel; it brings down your neighbor's property value if you don't take care of yours. And there are people renting to people who are allowing this to happen as well. It is definitely an issue we need to address – considering all the other questions about bringing people to York, it would help if the first thing they didn't see were houses falling down and junk in yards. That could help recruit people to move here also.
Q: With the growing number of COVID-19 cases, would you support a mask mandate in York?
Harris: I'm not sure it would fly. But Lincoln has one and I think adherence has been good. My husband and I, due to age, are in the risk category and I'd like to see it. So for me, I think a mask mandate seems logical. I don't know with the independent spirit of the people who live in this neck of the woods, if it would be well received. But I would like to see it if the risk factor continues to elevate.
Q: With the city's finances currently stable, are there specific projects that you feel should be undertaken in the future?
Hoffman: It's too bad, the money, they want to grab it and spend it. We've had some employment people that we didn't have. If we jump in and start spending it, we did when this question was first made. We don't want to stick out our foot too far, we have other stuff like the auditorium and that other building. And that's not cheap and they're trying to push us further. We can't be blasé about it.
Be the first to know
Get local news delivered to your inbox!