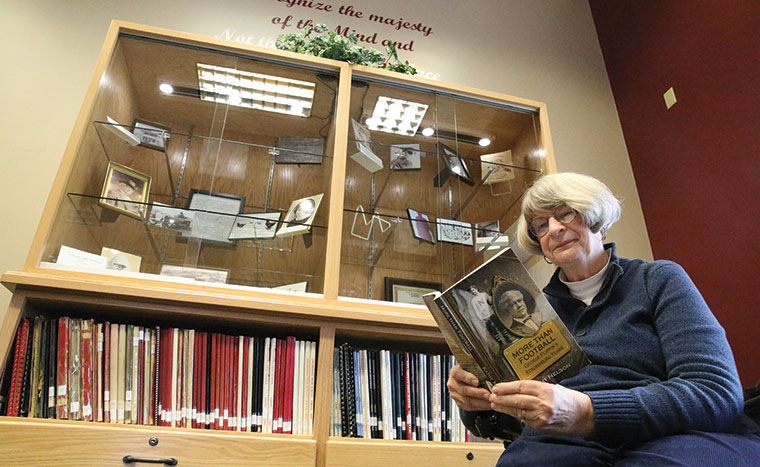 STROMSBURG – George Flippin may be best known as the first African-American football player at the University of Nebraska and rightly so.
In Stromsburg, however, much more than football is of note about this country doctor and society-altering man whose roots trace to his 1868 birth in Point Isabel, Ohio.
The many aspects of George Flippin's life in Nebraska are set forth in the book entitled "More than Football – George Flippin's Stromsburg Years" by local author and Flippin family historian Kathy Nelson, from whom copies are available for purchase.
Nelson said the Stromsburg City Council has declared Saturday to be George Flippin Day.
"There will be lots of (Flippin's) family here," she said.
Snack bars and coffee will be available to all.
In all, said Nelson, four generations of the family have resided in Stromsburg.
Charles Flippin, George's father, was a freed slave who fought – and also learned to read and write – in the Civil War.
Charles became a doctor and practiced medicine for a time in Henderson before the family relocated to Lincoln so George could play football, Nelson explained, noting that George "was the first African-American to play football at Nebraska." The time was the early 1890s.
In 1900 Dr. Charles Flippin opened a combination clinic and infirmary in Stromsburg.
'Then in 1907," said Nelson, "George comes to Stromsburg to practice medicine himself."
Though George left the University of Nebraska before obtaining enough academic credits to graduate, he nonetheless completed his medical studies and became a doctor by graduating – and playing football at $75 a season for – The College of Physicians and Surgeons in Chicago.
"He couldn't play for another team," said Nelson, "or he would forfeit the 75 dollars."
George's second wife, a white Stromsburg school teacher named Mertina Larson, married in 1910. The wedding took place just over the Nebraska border into Iowa because mixed-race marriages were very much illegal in this state.
"That law didn't change," said Nelson, "until 1963."
Nelson tells of a game the University of Missouri "refused to play because of George."
Nebraska would not bench him, Missouri forfeited and Nebraska was credited with a 1-0 win.
"George joked," Nelson said, 'I beat Missouri single-handedly."'
To say there was much more to the Flippin family story in Stromsburg – including George building the community's first hospital, a successful lawsuit when his voting rights were illegally denied and even court cases related to country abortions performed by Dr. Charles Flippin -- grossly understates the depth and breadth of their remarkable lives.
Thankfully the complete account to be found in Nelson's book is an enjoyable and enlightening read.
"More Than Football – George Flippin's Stromsburg Years" is one of 150 books selected from the 500 considered for official "Nebraska Statehood 150" designation.
Gordon Harrod, a great-great nephew, earlier accepted induction into the Nebraska Black Sports Hall of Fame for George. Nelson said Harrod will be there Saturday to present the Hall of Fame award to the library where it will be exhibited along with Nelson's extensive collection of photos, documents and other artifacts in a new display case.