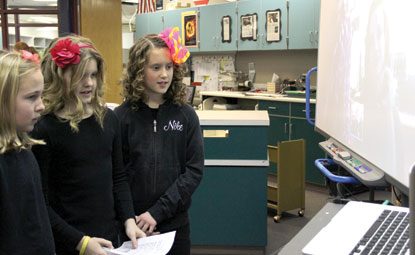 YORK – York Elementary School's team of silent film directors had an important meeting on Thursday.
It was a meeting with the creator of their favorite application: Silent Film Director.
The app is one where users can film, edit and produce their own silent movies.
The four girls, Lindsey Stuckey, Lilly Holthus, Aislinn Luther and Abbey Seevers, have been producing short, silent films on YES' iPads ever since the school's Media Director Craig Badura, showed them how.
An avid blogger, Badura wrote a blog post about the girls enjoying making silent films with the app. Somehow that blog post was read by Alexander Tsepko in the Ukraine, the creator of Silent Film Director.
Tsepko emailed Badura and then they began emailing back and forth, eventually set up a time for Tsepko to meet some of his biggest fans at YES.
On Thursday, the girls had the chance to call Tsepko and his marketing manager, Natalie Kinn, on Skype.
They asked him questions about how apps are created, why he likes creating apps, why he thinks Silent Film Director is so popular and what his favorite part of creating the Silent Film Director was.
Tsepko said that he believes Silent Film Director is popular because it's easy and fun.
"That's the basic secret, it's fun and people like having fun," he said.
"If you want to make something successful, make it simple and make it fun."
Developing apps and working with them is addicting, he said.
He said that he's addicted to the apps he makes and enjoys finding ways to use and improve them.
In fact, they're so addicting, that he's on them all the time, he said with a laugh.
"If one day you decide to become an app developer, get ready for a really, crazy time of your life," Tsepko said.
One of his favorite parts about making the apps, is the chance to connect with the people who use his apps.
"I have no idea where you are in Nebraska, but we can share Silent Film Director," he told the girls.
"It made us get acquainted."