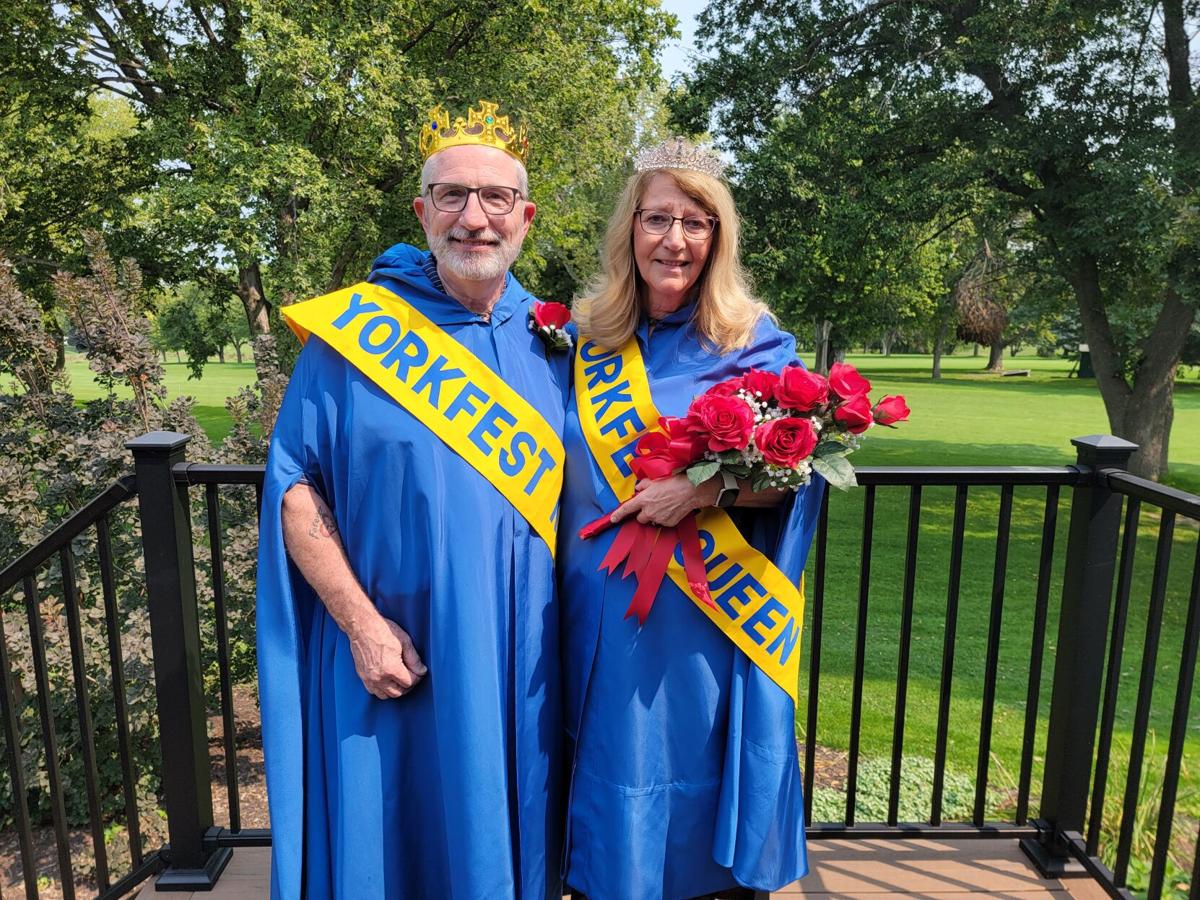 YORK – The 2021 Yorkfest King and Queen – Lonnie Berger and Marilyn Jackman – were crowned during the annual luncheon held Friday.
Jason Hirschfeld, the 2016 Yorkfest king, was the master of ceremonies and made presentations about the new king and queen.
During the coronation, many wonderful things were said about both, as the royalty committee accessed nominations prior to making their decision.
"The Yorkfest King for 2021 is someone who treats everyone around him exactly how he wants to be treated himself," was said about Berger. "For many of us, that's easier said than done. As a high school student he observed how important it was for his employers to treat employees with dignity and to give generously to the community. The nominating party indicated that philosophy must have made a lasting impression on him as he lives by that same creed today."
Berger, the owner of Wendy's in York, "is a busy employer but has found time to be active in his church, the York Chamber Ambassadors and in several productions at the Yorkshire Playhouse. Recently he is in the new 17-County Leadership program.
"As a young man," said one of the people who nominated him, "he worked for a couple of investors who owned a new restaurant along the interstate. From day one, he wanted to make certain the restaurant was not viewed as an interstate business but rather a community restaurant and nearly 40 years later, this business is definitely that."
Nominators said Berger "has made the hiring of individuals with various challenges a huge part of his business philosophy. These individuals are more than loyal employees, they are family. Many of these young employees have stayed with him for many years and into their adulthoods. In the 1980s, he began giving scholarships to his employees. In 2003, he became the sole owner of his restaurant and wanted to highlight the schools in York. He started a special 'Monday Night Out' for York Elementary School and expanded that over the years to include the Larsen Christian Academy, Emmanuel Faith Lutheran, McCool Junction and Heartland Schools. Through this program, a portion of the Monday night proceeds has gone back to the schools."
One person who nominated him reflected on something Berger said to them earlier. "When asked who inspired him the most over the years, he said his high school employers, Tommy Toms and Vern and Marilyn Trofolz, as well as business partners Raymond and Shirley Reetz and Clarence and Carolyn Hoffman, who showed him the value and importance of community."
The nominator said he wanted to mention a highlight of Berger's career: "He was the York Chamber President at the time and was thrilled when he was able to bring Dave Thomas, the founder of Wendy's, to York in 1990. Mr. Thomas was most impressed with all the marquees in town which were welcoming him to York. That spirit of cooperation between the restaurants in town is still evident today."
Berger was the 2009 recipient of the York Chamber's Community Service Award, as well.
Jackman, the new Yorkfest Queen, is one who nominators said "rarely, if ever, says 'no' when asked to assist with a project or volunteer in any capacity that will add value to our community. Even after she retired from her full-time job, this individual continued to look for ways to volunteer in the community. Specifically, in 2021 alone, she was quick to sign up to be a volunteer worker at the COVID shot clinic at the convention center and at about the same time, she raised her hand to be a volunteer screener at York General."
The person who nominated her said when he first met Jackman (when she arrived in York, some 18 years ago), she volunteered to be part of the Firecracker Frenzy Committee. "She was a tireless worker in the planning stages, especially in the fundraising effort. Her interest in the Frenzy activities is just as strong today as it was the day she joined the committee so many years ago. I guess one could say she has a blast working with and fundraising for the Frenzy.
"Her leadership and volunteering has never stopped since she arrived," the nominator said. "She was a long-term mentor for the TeamMates program – not only did she spend one hour a week with her mentee but also was a valuable member of the local TeamMates Board for several years.
"When asked to be a Chamber board member and later a member of the Executive Board which led to the Chamber presidency, she just said yes and got the job done. When she was selected to be an Ambassador and later its chairman, she said yes and got the job done. When she was chosen for important positions at her church, there were never any questions, she said yes and got the job done."
It was also noted she has been a Chamber Ambassador since 2009 and every year since she has been recognized as one of the Top 10 Ambassadors in the 80-member club.
Along with her volunteer work, Jackman had time to hold a full-time job, with Midwest Bank, being a valuable and trusted assistant to three bank presidents from 2003 until her retirement last year. In 2006, the bank's president recognized her dedication to the business and her potential by selecting her to attend Leadership York. Since her graduation from Leadership York, she has served on the Leadership York Committee to assist in the development and execution of the curriculum for the young leaders who represent their organizations.
She has also been a member of the York Kiwanis Club and the York Country Club.
Many were in attendance for the coronation luncheon at York Country Club, including a number of past kings and queens.
Yorkfest Royalty has been crowned during the annual community celebration since 1979. The following are the past kings and queens:
• 1979: Stan Hartman and Elaine Dahlgren
• 1980: Pete Frandsen and Deloris Baer
• 1981: Howard Harris and Gert Rogers
• 1982: Paul Geis and Barbara Furst
• 1983: Hollis Miller and Nettie Clark
• 1984: John Strand and Fern Rose
• 1985: Dean Sack and Agnes Conant
• 1986: Alvin Olson and Freddie Oglesby
• 1987: Hub Foster and Judi Nordlund
• 1988: Cub Baer and Dorothy May
• 1989: Howard Anderson and Margaret Jensen
• 1990: Miles Hildebrand and Alice Brouillette
• 1991: Kelly Holthus and Ann Kirkpatrick
• 1992: Clarence Churchill and Louise Gleason
• 1993: M.A. "Deb" Hartman and Sally Ruben
• 1994: Howard May and Arlene Splain
• 1995: Dan Barrett and Betty Bell
• 1996: Howard Blatchford and Yvonne Junge
• 1997: Duane Birt and Mary Crawford
• 1998: Dean Richardson and Kappy Bedient
• 1999: Dr. Charles Wempe and Mildred Goodban
• 2000: Dr. James Stansberry and Verna Wolfe
• 2001: John Munn and Ann Wagner
• 2002: Wes Tonniges and Darcy McBride
• 2003: George Crawford and Joyce Otoupal
• 2004: Les Olson and Gail Nordlund
• 2005: Jack Vincent and Ruth Krumbach
• 2006: Herb Heiden and Elaine Stuhr
• 2007: Dr. Darroll Loschen and Connie Hubbard
• 2008: Dr. Harold Rosenau and Toni Hess
• 2009: Bill Scheve and Bernie Scripture
• 2010: Kent Bedient and Konda Cooper
• 2011: Dr. Don Witte and Dr. Nancy Dob
• 2012: Tim Gardner and Jean Gardner
• 2013: Tommy Toms and Joan Strong
• 2014: Bob Sautter and Evelyn Campbell
• 2015: Leo Kloewer and Gayle Kloewer
• 2016:Jason Hirschfeld and Deb Stuhr